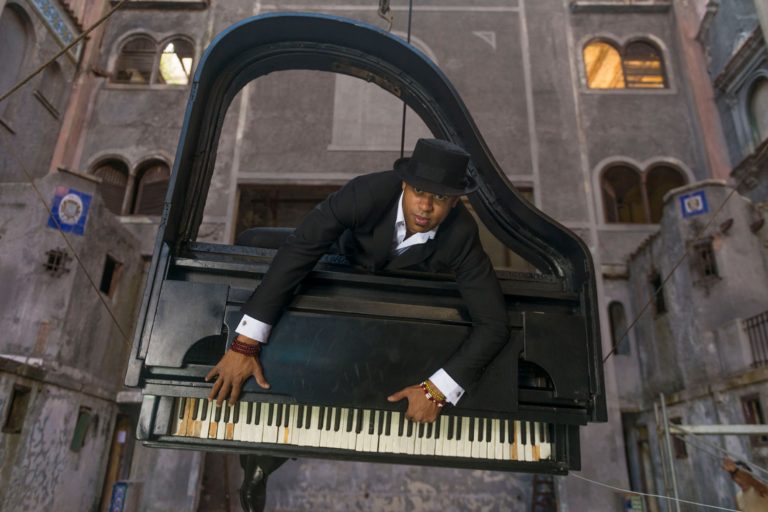 Arien Chang
His Own Manic Cuba: An Interview with Roberto Fonseca
03 March, 2017
From Buena Vista Social Club to Mayra Andrade and Raúl Midón, Roberto Fonseca has certainly earnt his reputation as an acclaimed jazz pianist and artist, and rightly so. A true Habanero, Fonseca is kicking off his tour of the UK this month championing his latest album, ABUC, a cacophonous and melodic ode to Cuba, full of enough tumbao and sabor to make even the most stubborn of feet tap.
Charlotte Mackenzie de Urrea caught up with him at his home in Havana, Cuba as he was preparing for his UK tour.
Cuba has an obvious influence in your music. Not only have you lived all your life on the island but you are proud of your heritage – can you tell us a bit more about what it's like living in Havana?
I still live in central Havana, right amongst all the theatres and cinemas. Havana is part of where my everything began. My family still lives here; it's my culture, my story. The very essence of being Cuban, our 'calor cubano no tiene precio' – it's priceless! I can still walk down the road and bump into my friends and family members, they are my community.
Tell us more about your childhood. You hail from a long family line of musicians and artists.
Growing up in the 80s in Havana was exciting. I'm from a very humble family. My father was studying percussion prior to leaving school in his teens. My Mum is a dancer; she loves music and rhythm. My older brothers are all artists too, so at home I was always surrounded by noise and music. We used to play all sorts at home; punk, jazz, funk, rock 'n' roll, whereas my Dad was a bit more old school; his preference being boleros and more traditional Cuban folk songs. My childhood was in such a diverse musical environment.
Let's talk more about ABUC. What does this album mean for you as an artist?
Well ABUC is 'Cuba' backwards. My intention for this work was to show the world, and people who've never been to Cuba or experienced what it's like to live here, the entire history of the island. I wanted to create a musical journey, from my roots right up to now and today. Turning Cuba inside out. It's also my first solo album, so I want to celebrate Cuban styles, fusions and rhythms'.
I want to use this album to show people who Roberto Fonseco really is, as both an artist and as an individual. In my seven other works I've enjoyed working with some fantastic artists and produced some great collaborative works, but this time it's my own personal project. I want to make people sit up, to show them that I'm a Cuban who is present in his own space and time, in his own Cubania, his own manic Cuba. Cuba va pa'lante!
You have an unusual link to jazz and still identify strongly with the genre. What brought that link about?
The jazz influence comes from my older brothers. One day one of them brought me home a cassette, and I was hooked! My Mum used to dance around to jazz, she loved it. I loved the greats, the jazz maestros like Keith Jarrett, Ray Bryant, Miles Davies. Me atrapo el jazz! (Jazz had me hooked!)
"Afro Mambo" is the first single from ABUC. The video is a chaotic mix of Orishas, Afro-dance and Cuban soul – where did its inspiration come from?
Cuban music is often full of its own clichés; people have a preconceived idea of Cuba and its music. So, I wanted to use this video to create my own chaotic cliché, breaking into a different kind of musical market. I am celebrating Cuban folklore in this work; its very essence and class.
The very essence of being Cuban and the role of class both are of huge value, and are a representation of Cuba today that I want to preserve through my work.
As you kick off your UK tour next month, what are you most looking forward to about playing for a British audience?
I like the UK and the British public, well they are so fortunate! The UK is full of great musicians and its musical heritage is something quite magic. Audiences in the UK have a great ear too.
Roberto Fonseca kicks off his UK tour on March 10th. Tour dates are below. Find out more about Fonseca, ABUC and his touring schedule at robertofonseca.com/en
UK Tour Dates:
March 10th Leeds, Howard Assembly Room
March 11th Coventry, Warwick Arts Centre
March 13th London, Barbican Centre
The line-up for the ABUC tour is: Roberto Fonseca (piano, keyboard, vocals), Ramses "Dinamite" Rodriguez (drums), Adel Gonzalez (percussion), Yandy Martinez (electric & acoustic bass), Javier Zalba (saxophone, flute, clarinet), Jimmy Jenks (saxophone), Matthew Simon (trumpet) and Ucha (vocals).

Follow Sounds and Colours: Facebook / Twitter / Instagram / Mixcloud / Soundcloud / Bandcamp

Subscribe to the Sounds and Colours Newsletter for regular updates, news and competitions bringing the best of Latin American culture direct to your Inbox.
Share: