Review
Roberto Fonseca – YO
At times it feels as if Roberto Fonseca's reputation has more to do with his time supporting Buena Vista Social Club on tour, performing cameos on the various albums spawned from that project, or more recently, for appearing on Gilles Peterson's Havana Cultura albums. In reality, it is for his solo work alone that he should be known, as Yo again shows Fonseca to be a top composer willing to experiment and push his sound into new territories.
YO begins with "80's", a hyper jazz fusion that recalls the percussive thrum of Carlinhos Brown at his most playful. It's a great start to the album, though the need for the last minute and a half of the track to revert to fluttering classical piano schtick is beyond me. It's also my main gripe with the album, as occasionally a need to flex musical muscle takes over the basic necessities of rhythm and melody (not to mention the flow between tracks).
Fonseca has shown himself in the past to be a musician and composer unafraid of moving into new territories, and this carries on with YO. Last year's AfroCubism album on World Village was a clear indication of the relationship between music from Mali and Cuba, and Fonseca continues with this theme, recruiting the likes of Baba Sissoko, Sekou Kouyate and Fatoumata Diawara for this album. These musicians combine brilliantly for "Bibisa" where Fonseca's flickering piano keys dance around Diawara's vocals, before the kora and n'goni take the track into a new realm entirely. It's a track that seamlessly combines the Cuban son rhythm with Malian vocals and instruments, and would have been one of the highlights of AfroCubism if it had been on that album.
[soundcloud url="http://api.soundcloud.com/tracks/37690262″ iframe="true" /]
Unfortunately the two other collaborations with African singers aren't quite so effective. Any dynamic between the musicians and vocals on "Chabani" are ruined by the over-active piano which takes centre stage, rarely allowing for real interaction with the other elements of the song. "Quien Soy Yo" suffers from problems with disparity. It begins with a balladic Cuban jazz piano motif before shifting into an easy-going Brazilian samba rhythm, upon which the vocals from Orchestra Baobab's Assane Mboup never seem to settle. Yet, at least it's problems are from over-reaching rather than "playing by numbers."
"Mi Negra Ave Maria" is the other major highlight of this album (adding to "80's" and "Bibisa"). It's soulful piano intro could even leave you thinking that Aretha Franklin's or Solomon Burke's voice was around the corner. Instead, the track takes a completely different turn with a simple drums and bass accompaniment augmenting a spoken word poem from Mike Ladd. Ladd, who rapped on last year's excellent US/Brazilian collaboration Ekundayo, here manages to elevate the track into an uplifting gospel ode (no doubt helped by the choir that emerge midway through his poem).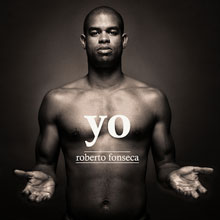 In short then, YO is an album that both delights and frustrates. It features a bevy of talents that at times collaborate to create unique, new textures that both hint at music we know well and new directions that we want to hear more of. At it's worst, those textures become confused and the results don't quite pan out as planned, or occasionally Fonseca himself reverts to his jazz background and decides the time is right for a piano solo that really wasn't warranted. Yet, these are moments that will appeal to some, and make the album an entirely intriguing listen that never once rests on it's laurels.
YO will be released on Jazz Village/Harmonia Mundi on 19th March 2012
[soundcloud url="http://api.soundcloud.com/tracks/36706300″ iframe="true" /]

Follow Sounds and Colours: Facebook / Twitter / Instagram / Mixcloud / Soundcloud / Bandcamp

Subscribe to the Sounds and Colours Newsletter for regular updates, news and competitions bringing the best of Latin American culture direct to your Inbox.
Share: