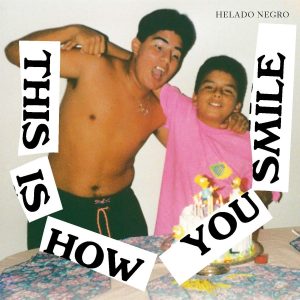 Review
Helado Negro – This is How You Smile
It's been ten years since the first Helado Negro release. And after a decade of touring, writing, experimenting and collaborating, it is clear from the opening piano chords on the initial track "Please Won't Please", that Helado Negro is home.
This is How You Smile, in line with other Helado discs, confronts political issues, holds tough realities close and defines and questions identity, but there is a calmness to this album that invites you to stop. And consider. There is a breezy confidence blowing through the tracks that wasn't so defined earlier in Roberto Carlos Lange's career.
"Running", a stand-out track of the album begs the listener to ebb their crazy pace and invites understanding. "I see you in my hands everyday", Helado sings effortlessly, the melody simple and repetitive allowing the calming bass to take centre stage with its tune curiously wandering. The song incites thankfulness for everything that's brought us to where we are, despite life's thorns and turns. We're running through it all, and this is a moment to contemplate just that.
"November 7" is a modest masterpiece featuring tinkling piano from Sufjan Stevens. The homely field recording that opens the track puts your feet on the carpet of a childhood home; the mind then wanders with ambient sounds and you're left with Stevens' simple but touching piano chords. The track is just over two minutes long. Closing the song here shows a decisiveness in artistry few musicians achieve.
There is a hint of Bon Iver in "November 7'", and in fact Lange worked similarly, hiding himself away in his music whilst writing, recording and producing the album – his own cabin in the woods. Roberto plays most of the instruments on the album, like the steel pans accompanying a guitar slightly ill-tuned from playing for hours on "Imagining What To Do". They evade those poppy summer sounds of 2016 and instead offer up a marimba lullaby.
The collaborations on this album are tenfold, with vocal samples from Puerto Rican indie pop duo Buscabulla and the punky Downtown Boys, electric guitar from Wye Oak and further collaborations with Xenia Rubinos and Colombian producer Ela Minus – "Fantasma Vaga" which she features on, is a distorted and intriguing track that stays with you.
The way most of these friends of his collaborated was through recordings shared via Whatsapp, little life notes. In some ways the album is written to a friend. It is warm and honest advice straight from the heart: "take care of people today" he tells us in "Two Lucky", "who are we to explain this history?" is a consolation and a resistance. The final, and most abstract track is titled "My Name is for My Friends".
The avant-garde production that peppered a lot of Helado's previous albums, inspired by the ragga and jungle records Roberto's brother (seen on the album sleeve) brought him is still there, although simplified. He's found his sound, seen his aura perhaps, as another track states. Roberto, a second-generation Ecuadorian growing up in South Florida, describes how he felt like an outsider within his own and other communities; he's made himself a home in electronic music. A world he's molded from life's experiences.
This feeling of belonging is contagious, and as a listener you open up, calmed, and ready to confront heavy themes. It speaks especially to second-generation kids, to diaspora folk and Latinx wanderers around the world paseando países nublados. The opening track "Please Won't Please" guides you through the loaded pains of being yourself: "Let me be, please won't please. Blush now, they can't know, lifelong history shows, that brown won't go, brown just glows." It's a poetic journey towards belonging.
This is How You Smile is available for streaming on Spotify, iTunes and Bandcamp now.

Follow Sounds and Colours: Facebook / Twitter / Instagram / Mixcloud / Soundcloud / Bandcamp

Subscribe to the Sounds and Colours Newsletter for regular updates, news and competitions bringing the best of Latin American culture direct to your Inbox.
Share: