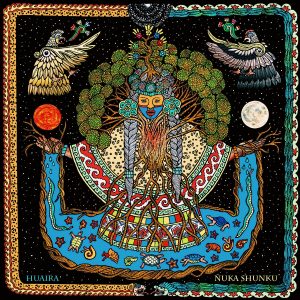 Review
Huaira – Ñuka Shunku
Amidst this 10+ year long- and lingering- journey of (re)discovery of musical treasures from South America, we seem to have finally reached the middle of the world, the centre line that runs through Ecuador, possibly the only place where one can trek her way from the Pacific coast to the deep Amazon challenging the mighty Andes midway, in less than three days. Music, too, follows nature, and the geographic and cultural exuberance of this country have finally made their way through optic fiber and sound waves onto the world stage.
The nation that nurtured the church organ- and Moog synth-led "Sanjuanitos" of Polibio Mayorga has seen an eruption in groundbreaking electronic acts such as Quixosis and EVHA. A testimony of the impact that their music is making among producers worldwide can be seen in a short documentary directed by Colombian film-maker Luis Antonio Delgado and released by the music tech company Native Instruments. Yet in a loose sense, we may pinpoint Ecuador's 'year zero at latitude zero' at the launch of ZZK Records' landmark album Prender El Alma by Quito producer Nicola Cruz in late 2015, which set the BPM counter back to the heartbeat of the earth at festival dance floors and urban coffe shops alike.
Out of Nicola's LP sprang the single "Colibria" featuring the hitherto internationally unknown singer Huaira ("wind" in Quechua). In a breeze, Huaira teamed up with multi-instrumentalist brothers Julio and Pablo Vicencio (winds and percussion) and Juan Diego Ilescas (guitar/programming), and after a notorious performance at the Nomade Festival in the south of Chile, the doors to European floors were left wide open. As if to crown Huaira's successful European tour in 2018, the band now delivers its debut work Ñuka Shunku, appropriately through the pan-global label Shika Shika.
Beyond Ecuadorian confines, Huaira's proposal extends the fractally-unfolding slow-tempo global music identity that has been redefining the dance experience with its nomadic grooves and organic samples; we are witnessing a scene in its full creative swing. Shika Shika, along with Brazilian collective Voodohop, are generating enough friction for this musical synergy to operate without borders. The label has put out releases by artists Barrio Lindo (Argentina), El Búho (UK), Matanza (Chile) and Spaniol (Brazil), but with Ñuka Shunku we are treated with a band-oriented work, recorded at the Vicencios' studio La Clave del Apu in Quito. In the words of its hosts: "it is not just a recording studio. Here we interact and help musicians craft beautiful products."
The results of this process immediately inform the listener about the wide-ranging timbre of Ecuador's indigenous instruments. You will likely not have heard of the chaschas, the pinquillo or the basto, but Huaira expertly wrap them up for you inside local rhythms such as albaso and the Afro-Ecuadorian bomba del chota. Ecuadorian folcloric music runs in the family of the Vicencio brothers, having themselves learned their trade not just as musicians but also as luthiers from their father, founder of the Andean folk band Altiplano. The strength of this genealogy pays off through the interplay between Pablo's percussion, setting a curious backwards upbeat – a link to the Afro-rooted rhythms of the Pacific – and the ancestral echoing generated by a dozen Andean wind instruments played by Julio. In spite of the obvious distances to subways and streetlights, Huaira treats urbanites with familiarity as Juan Diego's synth lines confidently ride on vintage as well as contemporary electronic influences, notably via the use of Minilogue and Rhodes keyboards. This component is further cemented in the track "Ñuka Shunku" (meaning "I am of pure heart", from which the name of the EP stems) with guest production work by El Búho and Minük.
This song also shines a bright midday light on Huaira's vocal and lyrical nuances. At times a bird, gliding and diving in manners reminiscent of Yma Sumac, oftentimes singing in Quechua, where, as with the pinquillo and the basto, the words may be unknown but the message comes across naturally. When Huaira switches to Spanish, it is as if we catch a glimpse of an underlying narrative, plentiful of allegories to – or conversations with – nature and archetypal symbols, of a worldview that remains pure and in touch with the spirit. With Ñuka Shunku, Huaira starts off in the best of spirits and confirms that indeed, Ecuador lies at the center of the globe.
Ñuka Shunku is available as a digital download and 7″ EP from Shika Shika's Bandcamp.

Follow Sounds and Colours: Facebook / Twitter / Instagram / Mixcloud / Soundcloud / Bandcamp

Subscribe to the Sounds and Colours Newsletter for regular updates, news and competitions bringing the best of Latin American culture direct to your Inbox.
Share: