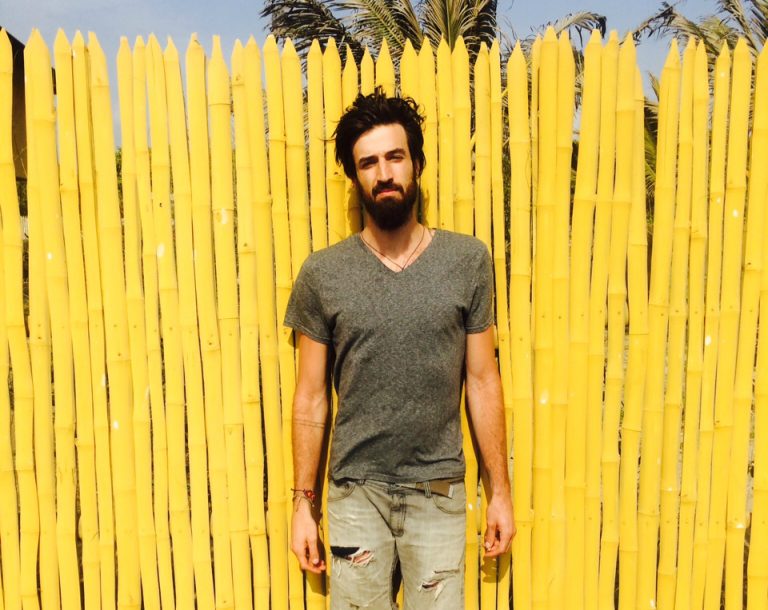 Cultures of the Past, Sounds of the Future: Introducing Ecuador's Quixosis
05 October, 2016
When I meet Quixosis, aka Daniel Lofredo Rota, in a Quito cafe, he is reading a book by prolific French-Chilean artist Alejandro Jodorowsky, who many look up to as a spiritual guide in Latin America. We immediately begin talking about mysticism, and Daniel remembers how tarot came into his life "in a totally crazy way" when he was going through a deep existential crisis in his early 20s, after he found cards on the ground. "I discovered they were loaded with symbolism, and it was not necessarily something rational to do, but at the time it helped me a lot," he explains.
"Cabala, or tarot, works not because it's inherently magical, but because it was born from a very primitive perception of the human being, like our battles in this world, our issues, etc."
The Andean cosmology is not so different in Daniel's opinion: after all, "it refers to the same existential trip of each human being: the Tarot is a book, the ayahuasca is a plant."
Daniel, with his tall, thin stature and goatee, could easily be confused with a modern Quichotte, the character he himself identifies with for his "clumsiness with a sense of grandeur." Quixosis refers to the disease of Quixote, his "folie des grandeurs," but also to the creative process that results in this peculiar musical journey.
Although you may doubt he is Ecuadorean at first glance, as white-skinned giants don't tend to roam the streets in the Andean country, you probably won't hear many other Ecuadoreans speaking so proudly about their roots.
Born and raised in Ecuador by parents with Argentine and Italian origins, Daniel almost never missed Inti Raymi (the annual celebration of the sun) which has such a prominent role in Quito.
Over the centuries, the Ecuadorean capital, also called 'the middle of the world' due to its unique location on the earth's equatorial line, has attracted the Mayas, the French, and our Ecuadorean ancestors, Daniel tells me, so they could observe the stars from the top of Quito's mountains, surrounded by the thick jungle.
Daniel is not being mystical, but he explains how this unique cosmic connection with the stars and earth is actually intertwined in Quiteños' daily lives: "for instance you have to seed tomatoes before the equinox so they become red, otherwise they will be a rotten green, and that's brilliant!"
This regional magnetism revolving around Quito also impacts the country's musical aesthetics, argues the DJ-producer. "I don't think we are doing ourselves any favours by categorizing ourselves as 'Andean music.'" This broad concept encompasses thousands of different genres and actually dates back to the 1960s, he recalls; it was invented by Argentines, Chileans, Bolivians, Peruvians, and later became very fashionable in Ecuador.
"But Ecuador has always been more isolated, with its own specificities, rooted in the earth: to each region corresponds dozens of different genres. For instance, in the province of Imbabura, there are at least 18 genres, each meant to entertain a specific moment in one night of a popular party: dancing downtempo before dinner, eating, dancing uptempo, then when the sun rises – the 'albazo' genre literally means 'dawn raid' – and even for the hangover!"
"For the sake of the future of Ecuadorean electronic music, producers need to understand the subtleties and richness of their local musical heritage, instead of copying some aesthetics found on the internet, as many do now across the world."
Daniel quite literally fell into music before he was born, with his mother making him listen to techno pioneer Jean-Michel Jarre when she was pregnant. He started studying violin when he was 7. "I had such a classical music education that I came to a point that I rejected music; but I recovered this taste with electro and noise, as 'traditional' electro music is somehow very connected with classical music."
Possibly because of his Italian background, Daniel focused especially on what he considers the first creators of electronic music in the world: the futurists. "They wanted to create the music of the future, cutting off their roots with the past, an aesthetic that engendered fascism. And I realized when I was using the synthesizers that I was also giving up my roots, I ended up drifting without identity."
But later, under the name of Quixosis, Daniel eventually connected again with his roots, using "in a subversive way" the same machines invented to get rid of the past in order to preserve Ecuador's traditional inheritage. "Subversive" in the sense that the margins appropriate themselves as the central culture, not the other way around: "We use the language of Western electro music in order to tell the story of traditional music, and to ourselves, Latinos, not to some British anthropologist, not in order to put it in a museum: it's a lively conversation between many people."
"All over the world, tapes and vinyls are rotting, and will disappear if we don't disseminate them with awareness and love," he adds.
Another life hazard put Daniel on the track back to his roots like a card found on the ground. His grandfather, who owned a music store in the 1950s, passed away, leaving Daniel hundreds of tapes and vinyls of Andean musical inheritance. "I had no alternative, I had to start listening and start understanding it all more deeply." [You can find out more about his investigations at his Memoria Análoga blog].
After several years studying visual arts in the United States, he returned to Quito, where he settled down, growing his own tomato plants in his backyard in accordance to the stars.
Traditional Ecuadorean music, he acknowledges, is not inherently indigenous, except maybe the music used in religious ceremonies by Shamans, but "meztiza": it's a mix of indigenous and European influences. "As soon as you're hearing a guitar, it's not indigenous anymore."
For instance, "both European and Ecuadorean music share characteristics like the ternal rhythm of waltz, although this rhythm is really typical of a lot of popular music across the world."
The first track introducing Quixosis' last EP, Telar, is actually a combination of traditional music from Ecuador (albazo) and Iran, where he spent several months playing with Sufi musicians. The EP also includes Afro rhythms, which are an important part of Ecuadorean musical heritage, and religious songs, as the latter "help create a connection between the spiritual and natural world."
"I see this album as an expression of my personal tension between technology and nature, as electro is also part of myself." However, "this album is less introspective, and is meant to move people to the dance-floor."
In this album, Daniel-Quixosis made the conscience effort to explore the local repertoire and put it in context, instead of digesting his foreign influences like in the previous albums.
"I would like this album to be part of this Latin American dialogue, to reappropriate our roots but also make this initiative normal: we should always create native sounds, this should not be new."
Telar is released by Frente Bolivarista. You can stream the album below:
[soundcloud url="https://api.soundcloud.com/playlists/249857620″ params="color=ff5500&auto_play=false&hide_related=false&show_comments=true&show_user=true&show_reposts=false" width="100%" height="450″ iframe="true" /]

Follow Sounds and Colours: Facebook / Twitter / Instagram / Mixcloud / Soundcloud / Bandcamp

Subscribe to the Sounds and Colours Newsletter for regular updates, news and competitions bringing the best of Latin American culture direct to your Inbox.
Share: