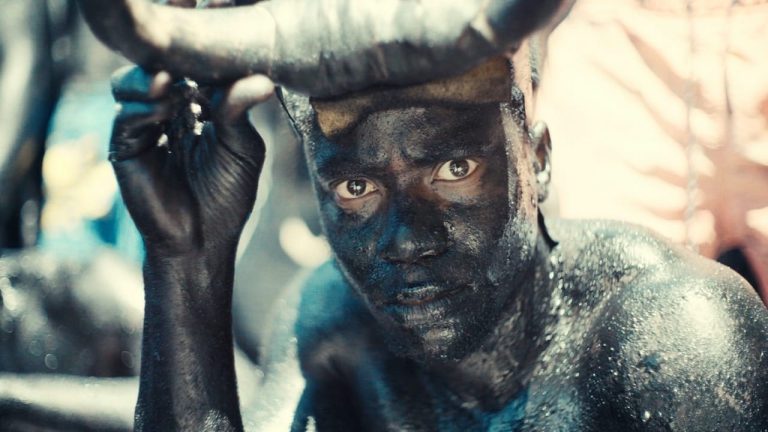 Kanaval: Three Centuries of Haitian History Told Through a Carnival Lens
10 October, 2022
Kanaval: A People's History of Haiti in Six Chapters is part of the Documentary Competition at this year's BFI London Film Festival, a competition with a brief to recognise 'feature-length documentaries with integrity, originality and social or cultural significance.'
Kanaval, directed by Leah Gordon and Eddie Hutton Mills, certainly fulfils that brief. In a little over an hour, the film takes us through over three centuries of Haitian history, from colonisation, slavery and revolution to the present-day plight of people living in the poorest country in the Western Hemisphere. This 'people's history' is told through six chapters filmed during Haiti's carnival preparations.
This history lesson through a carnival lens is not a sad story to watch; the history-heavy carnival troupes profiled in the documentary are clearly part of what makes Haiti's carnival celebrations so legendary. This film shows us how carnival is a vehicle by which Haitians can remember, teach, celebrate and transform their own history, with a mixture of misery, joy and madness, to paraphrase one of the quotes which appear on screen as punctuation between the six chapters. The carnival troupes feature 'zombies'; a traditional Haitian interpretation of maypole dancing; devils; dancers in huge papier-mâché masks; corrupt politicians; and a bunch of boys completely hidden under dry banana-leaf costumes, rustling as they run down the street. Mixed in with all the visual preparations are explanations of the religious and spiritual origins of many of the carnival traditions. The viewer gets a taste of the immense work and creativity that goes into carnival, even if the outfits are not made with expensive materials (there's one fun scene where we see cows' teeth being procured to make oversized 'mouths' for one set of costumes).
In one particularly impactful scene, a group of men and a few women paint each other's bodies with black paint in reference to the story of enslaved people making their skin darker to hold secret, hidden meetings in the run-up to the uprising against French colonial rule in the late 18th Century. At the end of Kanaval, the viewer watches the same group of people walking into the sea and washing the paint off their skin. It's a nice metaphor for the surreal state people enter into during carnival, almost like living a different reality in a different skin for a while.
Kanaval's success as a documentary is partly down to its unusual, beautiful cinematography. The film switches between black and white and colour, using both historical and present-day footage. Even the colourful parts of the film appear muted, almost as if some of the bright colours have been toned down. I feel that this reinforces the invitation to the viewer to leave behind any pre-existing stereotypical visions of carnival as purely spontaneous, care-free and hedonistic.
Another stereotype – or rather, prejudice – tackled in the documentary is the Haitian Vodou religion, with one of the narrators of Kanaval explaining how the narrative of mistrust and fear surrounding Vodou is linked to the colonial portrayal of the religion as evil and dangerous. And Haiti's colonial past and the legacy of violence and slavery are not sugar-coated in this documentary; several of the carnival troupes featured in the film make explicit references to both these things.
Kanaval packs a lot of history and politics into a short film and ties it together well. It's an education for viewers watching in 2022 with perhaps only a basic understanding of a small, proud country, currently beset by huge challenges including the aftermath of a global pandemic, civil unrest and the recent assassination of its president. The only thing I felt I wanted to see in the film was more female stories. The documentary does recognise that women are less visible in carnival celebrations and that some troupes are working to redress the balance. But it felt like perhaps the film could have tried harder to bring more female voices into the film.
Kanaval: A People's History of Haiti in Six Chapters recently screened as part of the BFI London Film Festival 2022 and is showing at London's ICA (Institute for Contemporary Arts) from Tuesday 15th November.

Follow Sounds and Colours: Facebook / Twitter / Instagram / Mixcloud / Soundcloud / Bandcamp

Subscribe to the Sounds and Colours Newsletter for regular updates, news and competitions bringing the best of Latin American culture direct to your Inbox.
Share: