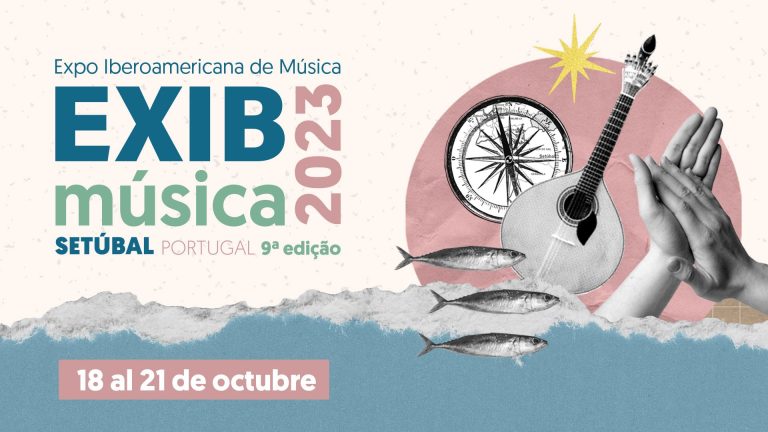 EXIB Ibero-American festival artist round-up
13 October, 2023
Once again the annual EXIB Ibero-American music showcase rolls into Portugal bringing some of the finest artists from Latin America and the Iberian Peninsula to Lisbon's neighbouring city Setubal. From 19-21 October over 20 concerts represent some of the finest live music diversity of the Ibero-American tradition-rooted music, while also offering workshops and activities to build mutual networks within the roots music industry. Sounds and Colours took a look at some of the artists taking part.
María Cristina Plata – Colombia
María Cristina Plata is a singer whose sound is inspired by Andean and Latin American
music. María Cristina's careful and beautiful work has been praised at various events,
including the Gran Mono Núñez, one of the most emblematic festivals of Colombian
folklore.
Laura Itandehui – Mexico
In the simplicity and sweetness of her voice, her instrument, and other minimal details,
Laura Itandehui is carving her path as a singer-songwriter with a vocal style infused with
her identity and roots sounds, both Latin American and Mexican.

Itandehui comes from a background in jazz and scat singing. For five years, she was the
vocalist of the National Jazz Orchestra of Mexico. Over time, she has shifted her focus
towards a more serene songwriting style, filled with personal stories and poetry.
Juliette Robles – Peru
The path followed by this artist of Peruvian heritage, born in Barcelona, is made up of
songs with rhythms from Latin American folklore, hints of electronica, and jazz harmonies.
Juliette Robles has created her world, where her experiences and roots coexist; the
lessons of modern and jazz with melodies found in Latin America.

In 2019, she released her first album and has performed in both Europe and South
American countries such as Peru, Argentina, and Chile. Her style is imbued with the
continuous discovery of her identity and style, influenced by her travels and studies in
music and sociology. She has toured Latin America and Spain and collaborated with other artists in her
ecosystem, including Silvana Estrada.
Ariel Brínguez Quintet – Cuba
Ariel Brínguez quintet bears the mark of its star, whose groove and authenticity have
brought a moving and resolute spirit to their Latin jazz style with the saxophone at the
forefront.

Ariel is a Cuban saxophonist, teacher, composer, and arranger who has earned
recognition in the Cuban and Spanish jazz circuits with his versatile interpretation. He has
been a member of the famous Latin jazz band "Maraca and Otra Visión" directed by
Maraca, with which he has participated in important jazz festivals like the Marciac Jazz
Festival in France. He has toured the world with various projects, such as the Latin Big Band of David Murray or the Cuban-Flamenco all-star band Son de Limón.
Ensamble B11 – Venezuela
Ensamble B11 are a melting-pot of sonority of traditional Afro-Venezuelan rhythms and a cappella
singing, and specifically beatboxing. They combine other elements such as guitar to
complement the vocal ceremony, in an encounter with the intensity of ancestral music.

They were born from the Talleres de Cultura Popular from Fundación Bigott, in Caracas. They
have transformed and risen up into a traditional rhythmic party that exposes the richness of
the Venezuela of African verbal descent, kitted out with drums and a fresh style where
there is plenty of experimentation and vocal play.
Ilyari y Los 4 Suyos – Ecuador
Influenced by her mixed race origins, Ilyari Derks Bustamante, a Peruvian-Dutch artist
based in Ecuador, has created a project after more than 10 years of research and musical
creation. Her style is the result of the crossing between Andean sounds, Afro-Peruvian,
Ecuadorian rhythms, and Western harmonies.

Her story flows through the variety of genres she absorbed since childhood: from the
classical voices of huayno, the fluidity of Peruvian waltz, and the movement of American
jazz, to the active word of Latin American troubadour songs. Performing alongside her band Los 4 Suyos, since 2017, starting in the city of Quito with the purpose of acknowledging their mixed identities, gender equity, and the care of nature.
Copla Alta Dúo – Uruguay
Folklore is what motivates Néstor Moreno and Alejandro Silvera to create. These two
talented musicians from Santa Clara de Olimar, have been crafting "folk music" together
for 17 years. Over time, they have developed an authentic style for interpreting their
country's traditional music, drawing inspiration from the school of popular song duos.

Thus, they have become a part of their nation's most prominent festivals, sharing stories
and fostering a sense of community. Their album "Buenas Nuevas," which celebrates the
milonga, was awarded the Best Folk Album in 2020 at the Graffiti Awards, adding to their
other accolades such as the Charrúa de Oro.
Eva y Nadia – Argentina
A duo of young Argentine female voices, from Salta. Their music revives the sounds and
cultural expressions of anonymous and popular origins music, mainly from NOA
(Northwest Argentina), related to la vidala, chants sung along with caja, and folklore.

They have known each other since they were thirteen years old, and even then, they
delved into singing in harmony. Through word of mouth, musicological collections, what
they heard during their travels in the valleys, mountains and, various carnivals, they have
been building up into a richer repertoire they have sung since 2010.
Mirla Riomar – Brazil
Her music embodies the influence of the community where she grew up, in Salvador de
Bahía, Brazil, marked by African traditions. Throughout her career, she has shared the
stage with some of the most iconic musicians of Afro-Brazilian music, such as Leitieres
Leite and Margareth Menezes, among others.

Her songs tell her story as a black Afro-descendant woman, wrapped in a range of
rhythms that highlight the cultural richness of her land. Using dance as a form of
expression as well, she offers a dynamic show that transports us to the heart of Brazil.
Garupá – Argentina
Garupá is the birthplace of Ramón Gumercindo Cidade – Ramón Ayala – an Argentine
musician, composer, poet, and painter, a living embodiment of Argentine, Paraguayan, and
Brazilian culture, the life of a triple frontier region.
Garupá is also the Guarani word for naming a land of canoes, as well as the name to this musical project of Homero Chiavarino (accordion and vocals), Joel Tortul (piano), and Julián Venegas (vocals and
guitar). Together, they celebrate Ayala's work with versions of his repertoire, including
classic melodies and not-so-well-known ones.
Find out more about the festival here.

Follow Sounds and Colours: Facebook / Twitter / Instagram / Mixcloud / Soundcloud / Bandcamp

Subscribe to the Sounds and Colours Newsletter for regular updates, news and competitions bringing the best of Latin American culture direct to your Inbox.
Share: