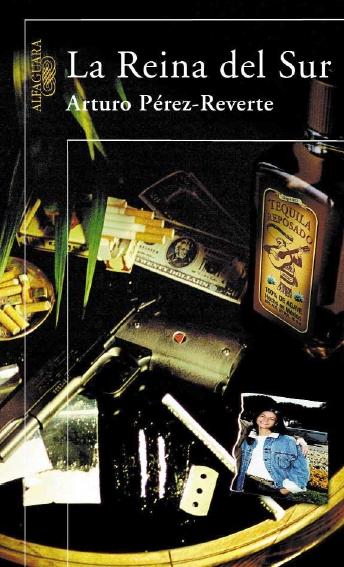 Arturo Pérez Reverte – La Reina del Sur (The Queen of the South)
02 August, 2017
"It is the government's fault, boss. If there was no government, no politicians, no Americans above the River Bravo, Mexico would be a great place to live" (p. 373, my translation).
A woman defies all odds by triumphing in an all-male environment, where stamping over adversaries is the law. She commands an unheard kind of respect amongst her subordinates and rivals. Born poor in Mexico, she becomes CEO of a million-dollar business in southern Spain. The story of feminist empowerment has a slight twist though: the business is drug-dealing and the protagonist becomes a cold-blooded assassin.
La Reina del Sur (published in 2002) is off to a frantic start in medias res: "The phone rang and she knew they would kill her." Teresa Mendoza's boyfriend (el Güero Dávila, a drug-dealing pilot) is murdered and she knows this business well enough to understand she is next in line. This kicks off a breath-taking scene through the streets of Culiacán where she tries to avoid two hitmen. The main drug-lord in town, don Epifanio Vargas, grants her one way out in exchange for valuable information. She is off to the Spanish enclave in Morocco, Melilla, serving drinks in a bar and hoping to create a new life for herself.
But soon enough she falls for yet another drug-dealer, the Galician Santiago Fisterra – notice the name symbolism: both Santiago de Compostela and Finisterre are important cities in Galicia, the province where this character comes from. Things do not go down well for them, but after one fortuitous encounter with a new character (the bisexual rich criminal, Pati O' Farrell) Teresa begins to build the foundations of her drug empire. It is at this point that the quiet girl from Mexico decides to take fate into her own hands and shows the kind of ruthlessness that will allow her to become queen of the south.
Arturo Pérez-Reverte (born 1951) jumped from war correspondent to an editorial success in a prolific literary career. As Michael Dibdin wittily puts it for the New York Times: "(the author) established him(self) as a leading figure in the literary subgenre that might be defined as thrillers for people who don't want to be seen reading thrillers."
Pérez-Reverte also taps into a booming market in Latin America: narco-literature. Having permeated into music, film and TV, narco-related themes have influenced literature as well, becoming one of Latin America's biggest trends in the 21st century: think about Elmer Mendoza (Balas de Plata), Fernando Vallejo (La Virgen de los Sicarios), Laura Restrepo (Delirio) or Juan Gabriel Vásquez (El Ruido de las Cosas al Caer).
The novel intertwines two different narrative voices. First, an external narrator heavily associated with the point of view of Teresa follows her life story. Secondly, a first person narrator – an alter-ego of the author himself – chronicles his own interviews with people who knew Teresa in an attempt to flesh out her life story.
It was this latter narrative frame that I found more enriching. Hearing about Teresa from different characters presented a fragmentary, unreliable and at times contradictory puzzle about the enigmatic nature of the protagonist; while the external narrator dismisses these complexities by having a God-like vantage point over her life.
The novel is clearly born from years of research given the meticulous and detailed account that the author provides of the different drug routes. When you compare it to a TV show like Narcos, where the production-transportation-distribution drug-chain is barely described, this novel paints a highly realistic picture of the narco-world that often remains hidden from us.
The language is simple, accessible and effective, with a clear priority of plot over style. As the author himself declared in an interview for El Cultural: "If there is not a good story, I don't give a shit about language, whatever critics may say."
The main flaw lies in the casting of the supporting actors. As a character, Teresa is not interesting enough to hold the reader's undivided attention for circa 400 pages, yet the supporting cast does not help much either. There are a few promising scenes from the Russian gangster Yasikov and the unpredictable Pati O'Farrell, but the reader will not be mesmerized by these characters. Again, plot triumphs over characterisation.
The verdict: A page-turning thriller that depicts the life of a woman in charge of a drug empire in great detail, yet lacks the kind of memorable characters needed for a novel to transcend its plot.
La Reina del Sur is published by Alfaguara and available (in Spanish) from Amazon UK and Amazon US. The English translation The Queen of the South, published by Picador, is also available from Amazon UK and Amazon US.

Follow Sounds and Colours: Facebook / Twitter / Instagram / Mixcloud / Soundcloud / Bandcamp

Subscribe to the Sounds and Colours Newsletter for regular updates, news and competitions bringing the best of Latin American culture direct to your Inbox.
Share: