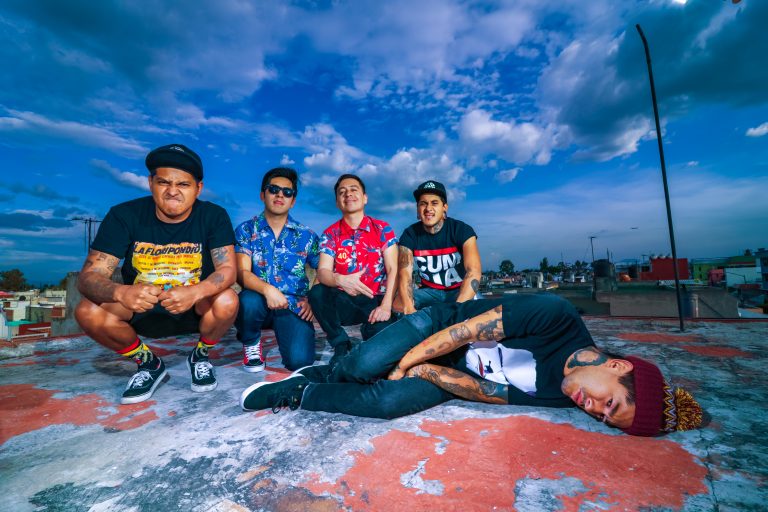 Marco Torres
"Cumbia is the New Punk": Introducing Son Rompe Pera
09 March, 2020
Described as a cumbia, punk, psychedelic and marimba folklore fusion, Son Rompe Pera are a new and unique musical project that has exploded on to the scene with their just-released debut, Batuco. A new name on the scene, Son Rompe Pera are pushing the synthesised sounds of modern cumbia into exciting, new territories.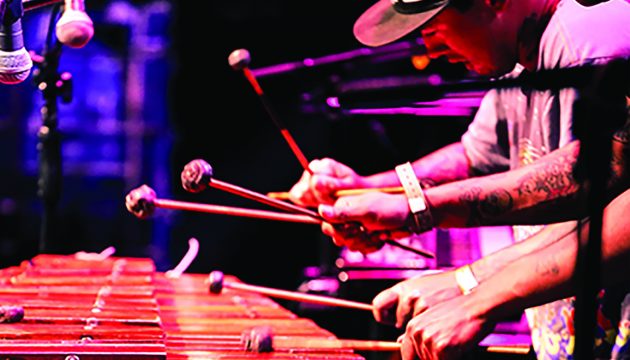 Hailing from Mexico City, Son Rompe Pera are a five piece consisting of percussion, drums, guitar, bass and, interestingly, the marimba. The band was formed by the Gama Brothers, Kacho and Mongo, the group's marimba players, who grew up with a firm musical training accrued from their musician father, Batuco. The brothers were raised on Mexican folklore and traditional music, and accompanied their father in many a musical event, party and family gathering. This influence of traditional Mexican music can be heard within their remarkable merging of varying styles, and one of Son Rompe Pera's missions is to ensure that the Mexican traditional music is not lost on future generations, Kacho saying: "Our father brought us up on traditional songs, historic Mexican folkloric material, and we don't want that to be lost on the newer generations. The other members of the band also come from musical families and we were all brought up to respect the music that came before us, which taught us who we are today."
Their cover of "Los Chucos Suaves", originally by Lalo Guerrero, and an anthem within the genre of pachucho music from Los Angeles, is emblematic of the balance between the old and the new in the band's music. With the fundamental rhythm of cumbia and the addition of the marimba, Son Rompe Pera perfectly combine the traditional and the modern in their take. The inclusion of Chico Trujllo's enigmatic frontman Macha, from Chile, adds to the Pan-Latin mix.
Kacho notes the tension between cherishing the traditional and creatively inventing new musical ideas: "Our music ends up being a sort of battle of generations, a sound-clash of the new and the old, re-inventing some older songs for today's fans. We actually don't really think about it that much. We just play songs we like, no matter who sings them, and we try to put our spin and energy on them, hoping that the crowd likes it and dances." They note the marimba particularly helps make this connection between the old and the new. Commonly, the instrument is associated with folk traditions and has not yet been fully integrated into current popular Latin American music. This is something that Son Rompe Pera are hoping to achieve.
The influence of punk is immediately evident when you look at any photos or videos of the band. Regularly dressed in Misfits and Ramones t-shirts, it's also a major element of their music: "Our influences have a huge range, from folkloric music to punk rock, garage and salsa and rockabilly and everything in between. We've listened the most to the Misfits definitely, closed followed by Hector Lavoe, the Ramones, the Meteors, the Stray Cats, Mi Banda el Mexicano, Sumo, and of course Chico Trujillo and La Floripondio", explains Mongo. "From the first shows that we did, people started saying 'Cumbia is the new punk', and although we didn't invent that phrase, we took it up and would love to carry on those two traditions, plus the marimba, and make our own new sound…," continues Kacho. "There are a lot of bands these days that do psychedelic cumbia, with influences from Peru – we love that. There are a few bands that do a punk-cumbia mix, that's super cool too. And cumbia has always been played on the marimba. But there's nobody who does it like we do it. And that's just who we are. We are punks who love cumbia, and who just happen to play the marimba. Somehow it works!"
Having recently traveled between Chile, Argentina and Colombia, the band are about to embark on a trip to the USA and Europe. Kacho notes: "Three years ago we would have never imagined any of this, we were still playing weddings with our dad and small punk shows with our other groups. And now we are on big stages in Europe. We are extremely excited to showcase our music as well as some classic Mexican and Latin American songs to audiences around the world, as well as teach them about the marimba and its history in the Americas."
With cumbia influences directly from Colombia, indirectly through the presence of Macha and Chilean cohorts in Chico Trujillo, and, of course, Mexican folklore, their debut album perfectly presents the unique merging and formation of a pan-Latin American musical identity.
Batuco is released by AYA Records, and available from Bandcamp, Spotify and other platforms.

Follow Sounds and Colours: Facebook / Twitter / Instagram / Mixcloud / Soundcloud / Bandcamp

Subscribe to the Sounds and Colours Newsletter for regular updates, news and competitions bringing the best of Latin American culture direct to your Inbox.
Share: