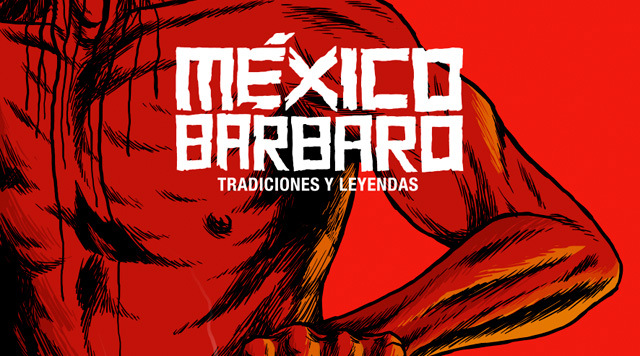 México Bárbaro
07 October, 2015
Mexico is a country of rich and strange folklore packed with terrible legends of the supernatural and the fanciful; syncretic traditions that mix a horror from an older age with the fervour of the present day.
Sounds and Colours was at this UK première of a new compilation film that captures those infamous tales of terror. México Bárbaro (Barbarous Mexico) is an anthology that is set up uniquely: eight separate shorts from eight different directors are patched together by common horror genre threads of fright and fear and more idiosyncratic links from a country of bizarre and terrifying fables.
The first piece, Tzompantli, sets its scene in 2015, as a journalist investigating a case of abductions from a nightclub meets a member of a cartel who coughs up the gory details. This is modern Mexico: where reporters dare to tread; a shadowy rendez-vous in a dusty motel, threats and beatings from gangsters and often an early grave.
But this first of the eight shorts also locates itself in the pre-colonial Mexico, a country of a different sort of bloodbath. Those youngsters kidnapped from the bar are shown kneeling bloodied in the stark headlamps of a Chevrolet surrounded by men with indigenous tattoos, murmuring offerings to Aztec gods. In mixing the present-day violence and that of 500 years ago, this short joins awful indigenous sacrifice and the frightening organised blood crimes of the Mexico of today.
If the name of the first film, along with its plot, marks it as specifically Mexican, the next piece gives us more of the broader horror genre techniques, which are evident throughout this clever compilation. In the second short, Jarral de Berrios, most of the action takes place in a huge ruined hacienda. That establishes the haunted house from where the audience shivers with floating spirits of a dreaded past, gawping paintings that come alive and entrancing whispers down corridors shattered by fleeing flocks of chimney birds.
There are shocking sounds coupled with silent scenes in Drena (Drain), where we flick between the footstep tick-tock of a loud pendulum and a jolting barrage of wind. Sometimes the visual horror can shake the mind, sometimes a blind shriek tingles the skin, and the directors go through the whole range of sonic terror through the eight pieces.
For some, the paraphernalia of children is chilling enough without added bloodshed. So the setting for Muñeca (Doll) on the infamous Island of Dolls in southern Mexico City's Xochimilco canals is more than enough to give you goosebumps. Filmed entirely in greyscale, it is a slightly predictable tale of a literal tourist trap, but again, a story woven into a dreadful legend – this time of drowning in the capital's floating gardens.
Sexual perversion is a common theme across the anthology. There is a demonic blood-letting violation by one sister of another in Drena. Intimations of necro-paedophilia exist in Lo Que Importa Es Lo De Adentro (It's What's Inside That Matters). And in Jarral de Berrios, the protagonist has oral sex with a spirit woman, who bleeds from her head while being pleasured.
Halfway through the film, there was a piece that trod on some of the comic verges of horror. Shying away from an embarrassingly ham-acted, hiding-in-the-hedge pastiche, it was a disturbing short, which challenged the audience to giggle at the ridicule while enduring the cast's distress. La Cosa Más Preciosa (That Precious Thing) is an adaptation of the Mexican tale of impish forest beings.
A young couple intend to have a romantic night in a log cabin away from prying parents but their love-ballad teenage smooching is ruined by an aluxe, a kleptomaniac wood-troll. In nervously comedic scenes that are hard to watch without squirming in your seat, the girl ends up losing her virginity to the goblin, struggling and crying while covered in its custard-like vomit.
We also get metropolitan horror in the vision of an urban bogeyman, who befriends and abducts children in Mexico City. Lo Que Importa Es Lo De Adentro dramatises the terrifying haunt of youngsters' dreams (the bogeyman) and places his bloodthirsty work in a modern block of flats. He is at once a dodgy beggar in the stairwell and a diseased murderer, harvesting the organs of kidnapped children.
In the final picture we are thrown into a pole-dancing club run by a woman who scars and stabs her strippers. Clad in the white-and-black faces of the Lady Death, under the watchful eye of the rainbow-painted, chain-smoking bully madam, the dancers turn on the leering men in the bar who have their eyes pulled out, their skulls spiked and their brains blasted with bullets. It is a shocking slaughter of revenge against machismo in Mexico, played out through the mixed-religious and internationally recognised tradition of Día de los Muertos.
Horror as a genre offers that hideous sense of blood eyes behind you, of carnage and deviancy, a startling noise with a foreboding that tugs from within. Half the fears are part-rooted in a corrupted vision of the world we know; half are the reckless bewilderment of a totally foreign nightmare. México Bárbaro presents a montage of these themes interwoven with the gore and dread from some of the country's most unsettling legends and most notorious history.
More info about México Bárbaro at facebook.com/mexicobarbarofilm

Follow Sounds and Colours: Facebook / Twitter / Instagram / Mixcloud / Soundcloud / Bandcamp

Subscribe to the Sounds and Colours Newsletter for regular updates, news and competitions bringing the best of Latin American culture direct to your Inbox.
Share: