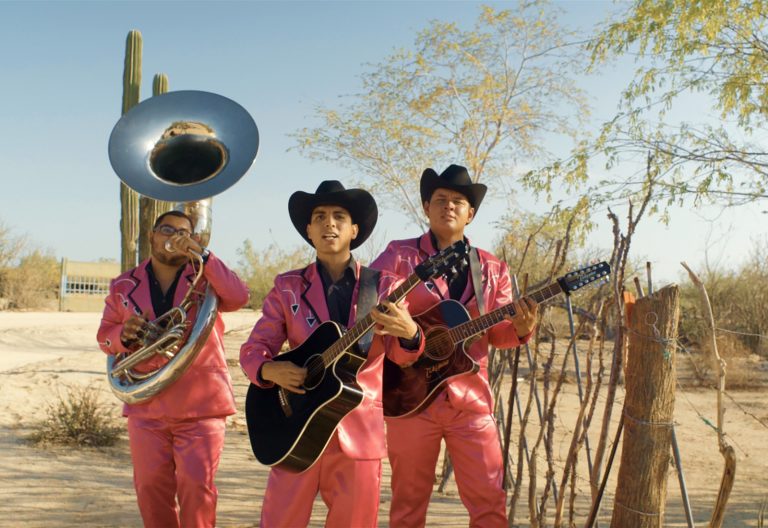 'Off the Road' Draws on Western, Musical and Documentary Styles to Portray Life in Baja California del Sur
30 April, 2020
Long shots of the quiet, endless, stretch of desert peppered with dusty cacti and brave tufts of grass set the scene of José Permar's Western. As the weather changes and the sands shift, Los Inalcanzables De La Baja, a corrido band in shining pink suits narrate, as in a musical, the real lives of local heroes Rigo, Paco and Davis, the stars of the documentary.
Los Inalcanzables De La Baja don't write corrido songs about just anyone. They write songs about extraordinary people with a real story to tell, they write songs about everyday heroes from Baja California del Sur. 
Conquista Agraria is a settlement of 10 households, a café-snack shack and a mechanic store. As there's little phone signal, the local food vendor's sister planted a tree to mark where you can get WhatsApp and Facebook. What more do you need? An older couple admit there are no elementary or secondary schools, but they're still here.
For a few days each year, the Baja 1000 off-road motorsport race, the biggest all-terrain car race of its kind in the world, frenzies this stretch of desert with haphazard bouncing vehicles and a visiting population of 500 or 600 people. But the race brings ambition, business, entertainment and anxiety year-round.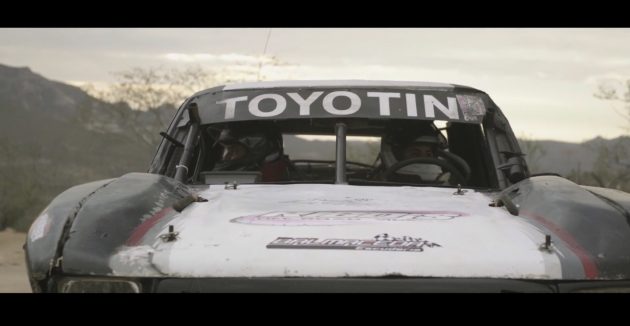 "Every penny that comes in goes towards the Baja 1000", recounts Rigo, who alongside his wife and daughter runs Rigo's mechanic shop and travels the peninsula to film and edit coverage of the race to sell on DVD. Father and daughter race in local competitions in the 'Toyotin 1469', which they salvaged off the race track and have been repairing since, in a dream to one day take part in the Baja 1000 themselves.
Davis, a retired former racer, gathers with friends to reminisce about their days as racers, their childhood memories of the competition, and their racing heroes. They collect trophies, postcards, clippings, parts – memorabilia as dusty as the desert that fills their own personal museum of local pride. He recounts tales of the town's golden years – as a cotton producer with its lively old jaunts – the bar, the cinema, the nightclub, of which only skeletons are left.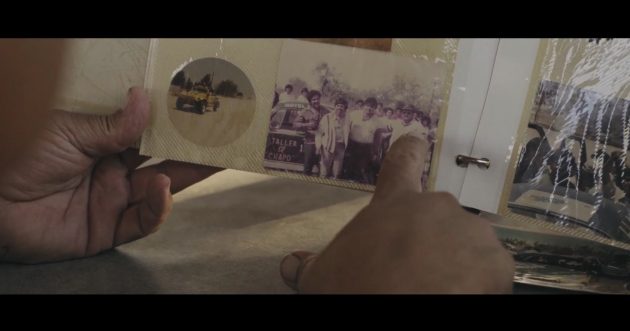 Paco is an earnest young journalist with a baby daughter, who painstakingly prepares for the race each year by generating and circulating critical safety information. Alongside other residents he laments the waste left after the action, remembers his best friend who lost his life during the games and has sleepless nights over the holes dug up on the track sides, made by adrenaline junkies seeking out a gnarly crash.
But Off the Road is not a documentary about an epic sport. It is, from beginning to end, a tale of the local heroes whose lives are unavoidably affected by Baja 1000. Permar's eye is patient and caring. He shows the shells dried by the desert sun with love and familiarity, the purple sunsets between giant cacti with admiration. Born in La Paz, Baja California, he knows these sands and silences well. And this familiarity allows for politics to seep through the landscapes like rays of sun.
Shabby barbed wire fences have withstood years of desert winds. They don't understand borders. 'También de este lado hay sueños' (we have dreams on this side too) reads a mural in the north. You can kill deer, hares, rabbits, snakes and lizards in this desert, young local boys tell the camera, but the littlest one will kill people, he's going to be a hitman. Matriarch of the Toyotin, aptly named Army, doesn't rant her fears but knows if she loses her family to this race, there's nothing left for her.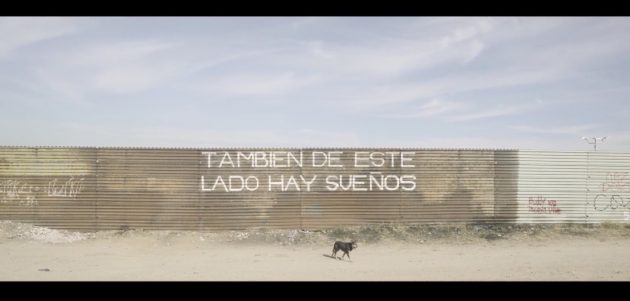 As sung by Los Inalcanzables De La Baja, Off the Road asks "How does it feel to be someone and journey beyond this town?" and answers, "I want to leave a trace that doesn't fade away in the sand."
Off The Road was screened by Visions du Réel Film Festival (2020's Online Edition)
You can watch a Q&A with the director José Permar below:

Follow Sounds and Colours: Facebook / Twitter / Instagram / Mixcloud / Soundcloud / Bandcamp

Subscribe to the Sounds and Colours Newsletter for regular updates, news and competitions bringing the best of Latin American culture direct to your Inbox.
Share: