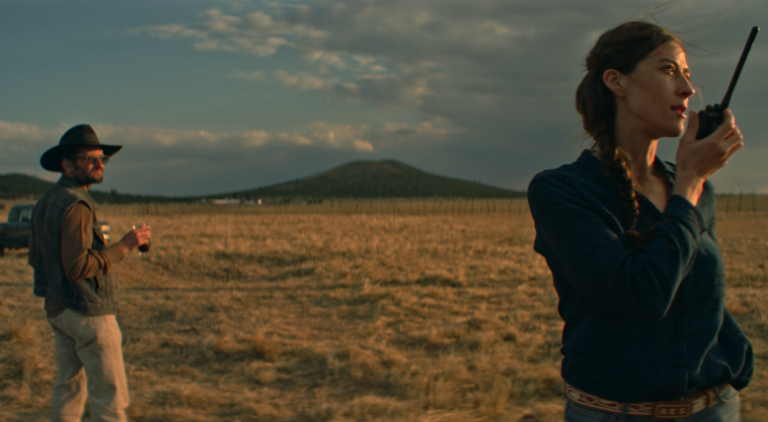 Our Time
08 July, 2019
Renowned Mexican auteur Carlos Reygadas' latest feature Our Time (Nuestro Tiempo) is a 3-hour study of a modern relationship gone awry. The celebrated director has said that Our Time is about marriage and love, "about the contradictions of human beings." In theory, the idea of an enigmatic visionary like Reygadas – who is considered a master in existential and metaphysical themes – exploring the ordinary topic of marital distress suggests a brilliant juxtaposition. However, the end results leave a lot to be desired.
The opening sequence of Our Time brings to mind the first scenes of Reygadas' last effort, Post Tenebras Lux (a film that earned the film-maker the Best Director Award at the 2012 Cannes Film Festival and divided both audiences and critics alike). The camera takes in the stunning natural scenery of Tlaxcala while children innocently play in the muddy waters and their angsty teenager siblings sip beers, smoke joints and make out with one another on the other side of the lake. Then we shift over to the more inhibited adults, focusing on the protagonists, husband and wife Juan and Ester (played by Reygadas and his non-actor wife Natalia Lopez), and we follow them around for the rest of the film.
The couple and their kids live on a beautiful ranch outside Mexico City where acclaimed poet and rancher Juan raises bulls while Ester runs the estate. Right away we find out that Ester is attracted to American horse trainer Phil. Juan is aware and jealous although he tries hard to play it cool since we learn the couple have an open relationship. It's obvious from the beginning that the romance with Phil will end badly for Ester and Juan's relationship but with Reygadas being Reygadas, the viewer expects a thoughtful, nuanced analysis on the matter. Disappointingly, the film doesn't convey much profundity about this particular open marriage or relationships in general. Thankfully, the cinematography delivers, especially when we spend long stretches observing the terrifyingly majestic bulls (which are obviously symbolic) or a panoramic sequence that starts out high in the lush mountains and comes to a conclusion in a Mexico City runway as the plane descends.
The core issue with Our Time is that it's hard to connect with either Ester or Juan. Perhaps because both have insufferable tendencies, it was difficult to root for either of the protagonists or their relationship. Although everyone involved, Juan, Ester and Phil, have plenty of feelings and they get expressed in the form of voiceover, letters and emails, the audience remains emotionally distant – observing an unfolding drama that fails to deliver meaningful or insightful reflections on the ups and downs of marriage.
Many critics interpreted Our Time as a commentary on machismo and toxic masculinity, but Reygadas denied these views. He maintains Our Time is about idealistic notions of love and that the film isn't entirely based on the real-life relationship with his wife. Some criticized casting his wife and children as leads as self-indulgent but he argued it was out of sheer convenience due to a prolonged production schedule.
Yet the main shortcoming of Our Time is that Reygadas struggles to create any true sense of emotional intimacy in a film that explores the disintegration of love in a marriage.
Our Time is at select UK cinemas from 12th July. Screening information can be found at newwavefilms.co.uk

Follow Sounds and Colours: Facebook / Twitter / Instagram / Mixcloud / Soundcloud / Bandcamp

Subscribe to the Sounds and Colours Newsletter for regular updates, news and competitions bringing the best of Latin American culture direct to your Inbox.
Share: