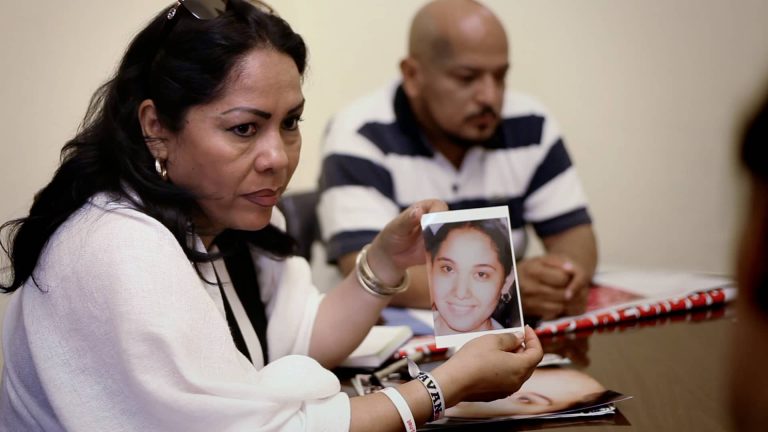 Portraits Of A Search
04 May, 2017
A woman traipses through scrubland, brushing aside dusty bushes with a stick, looking for a piece of clothing, a shoe; anything that may give her a clue as to her son's whereabouts.
Retratos de una Búsqueda (Portraits of a Search) follows three mothers whose children's names have sadly been added to the growing list of 'disappeared' in Mexico. The documentary tells a familiar story from Mexico but tries to do so differently from similar films.
The director, Alicia Calderón, explained at this screening that she wanted to shy away from a simple portrayal of the women as listless and unorganised mothers. Instead, she preferred to focus on their resilience and resolve; the lengths they will go to exhaust every avenue that could aid them in their search.
One of the mothers enlists the help of the FBI in sourcing DNA tests on the alleged body of her daughter. Another cradles a notepad full of names and numbers as she tries yet another call to yet another unhelpful person in the authorities. Towards the end, we see all three women endure a seven-day hunger strike outside the local government offices.
Some of the scenes are heart-breaking. One of the mothers plays hide-and-seek with her grandson, who is happy in his innocence as he runs outside to feed the chickens. His missing parents have "gone to the United States", he tells us, but his grandma worries over how and when to tell him the truth: they have disappeared and are likely dead.
A documentary like this, with the subject matter as it is, will always have parts that are particularly harrowing. One of the women shows remarkable strength to recount the story of extreme violence and depravity that her daughter suffered. Detail by disturbing detail, she documents the violations of her child while she was alive and then the violations of her body after she had been killed. It is uncomfortable to watch and creates a confusing human picture: that this barbarity continues to plague Mexico; how the simple design of family life has been ruptured in so many complex ways.
So what can be done – what policy changes are needed? I wondered if there was any hope for answers from the highest level of government, with a presidential election due next year. Alicia Calderón replied that the "justice system has collapsed" and the only light at the end of the tunnel would come from the pressure groups established by members of the public.
Consecutive presidents have tried differing but unsuccessful methods to combat the kidnappings, extortions and killings. The day before this film was screened, the attorney-general in the state of Guerrero admitted that his office did not have the "capacity to confront organised crime". What Portraits of a Search shows us is that these mothers certainly do have the capacity to confront the disappearance of a loved-one with dignity, determination and a drive for answers.

Follow Sounds and Colours: Facebook / Twitter / Instagram / Mixcloud / Soundcloud / Bandcamp

Subscribe to the Sounds and Colours Newsletter for regular updates, news and competitions bringing the best of Latin American culture direct to your Inbox.
Share: