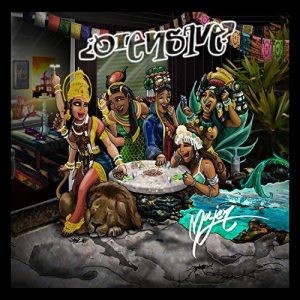 Review
¿Qiensave? – Mujer
¿Qiensave? are a cumbia group from central California, with roots stretching back to Michoacán, Mexico. In an explosion of catchy sound, ¿Qiensave? pepper their signature cumbia urbana with rocking riffs, reggae beats and ska and gypsy energy – the "sounds of the street"- on their debut album Mujer. Although they've been making music since 2009, they've recently picked up steam through touring their irresistibly energetic shows.
The band's name converges those of the power duo: frontman and multi-disciplinary artist Carlos (Quien) Leyva Cortez; and guitarist and vocalist, Alejandro (Save) Gomez. It alludes to the possibilities of bringing together many eclectic sounds and individual artists, and to the exciting prospects of doing so.
The album intro brings you into ¿Qiensave?'s world of traditional cumbia, Mexican slang and modern text tones. A Siri-like automated voice reads out the profanities and gags the friends send each other.
Sam Pura of Panda Studios produced the band's lead single "High Class", a catchy whimsical tune blending pop culture and chicano-spanglish slang. Like many of the songs on "Mujer", it features a nameless female protagonist. She likes the fine things in life – "le gusta puro Armani, puro Gucci y Versace", they sing, and she dances "puro high class".
"Mi Chica Material" is a satisfyingly crisp recording. You can discern the skin-on string twang in each catchy riff; the spontaneous outcries of the band's reactions to each other and their sound; all above slick poppy harmonies. There is a certain lighthearted precision to this song which must be a product of the band's raw energy and the album's talented producers, Latin Grammy Nominee, Eric Canales (Allison), and Platinum Record producer Sam Pura.
Although many of the tracks on Mujer keep the listener tapping, bopping and smiling, there are calmer, more romantic songs on the album. "Verano", for example is a swooning harvest love song that transports you to fields of gold.
"La Fuga" toys with playful lyrics despite bearing a painful core, like a Mexican "Clouds in My Coffee". The track is dedicated to a girl who at first we think has just been spotted dancing at a party. She's escaping the narrator's grasp, so he finds someone else to dance with and vows to have fun. But the song is all about her, of course. "Aquí me dejó", "se fue con otro amor", they whimsically sing… "Y quizás nos veremos luego." The sentiment is so relatable. Despite feeling there is a deeper and heavier story at the heart of the song (which ends in a repetition of the line "la fuga, tus dudas, mi culpa, nunca regresó"); as expressed in the band name, there is a constant acceptance and tolerance of the arbitrary way things are. ¿Quién sabe? Who knows? Let's dance.
There is a friendliness to their music, as they invite you to share this state of mind. Take the text from ¿Qiensave?'s website:
"If you are here it's because you have an interest in our music, one of our musicians, te gusta el desmadre, or you just got lost and ended up here, nonetheless WELCOME! Bienvenidos… There are ways of getting hold of us if you have comments concerns or just need someone to talk to." What a fantastic, accepting attitude to making music!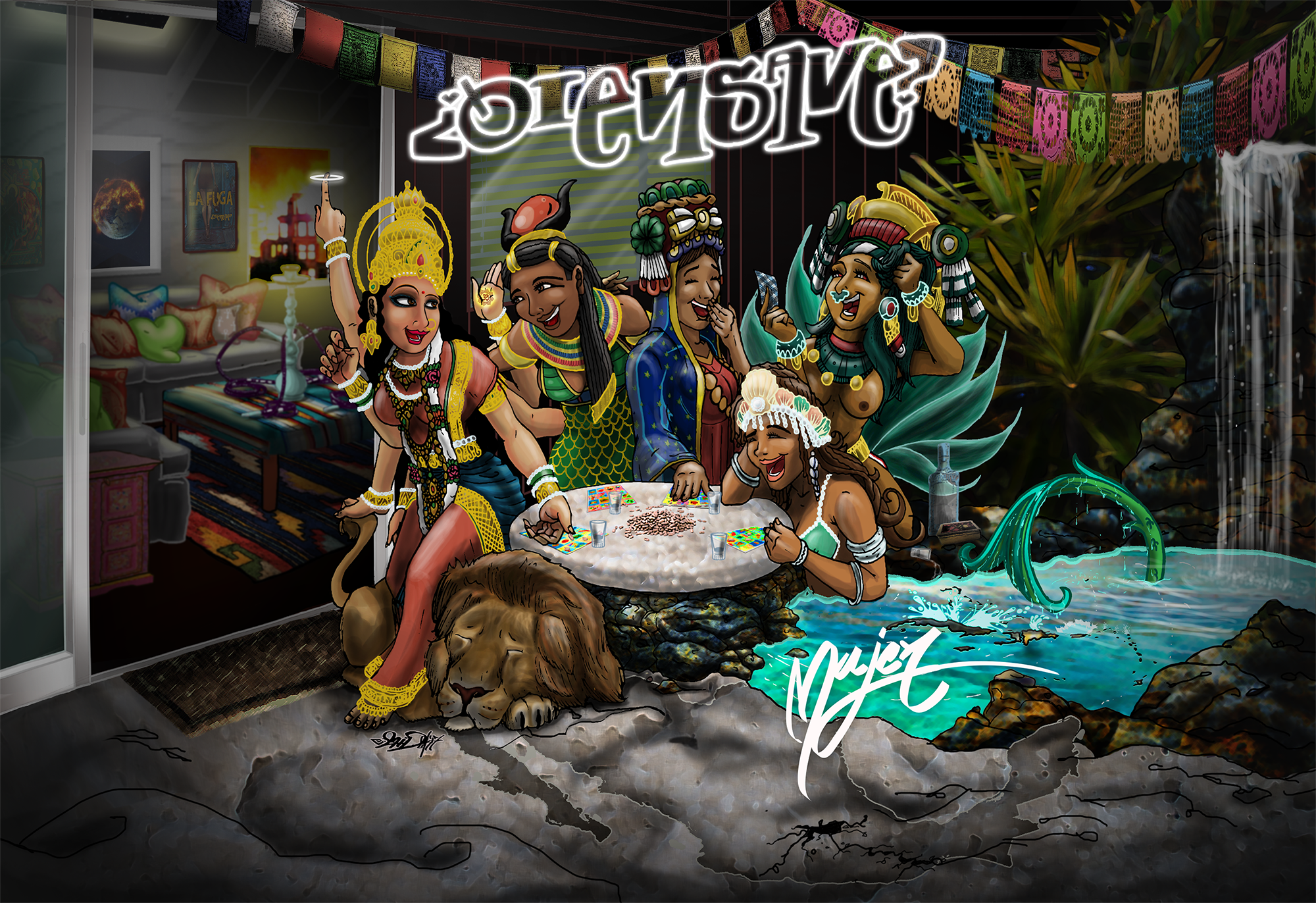 The album artwork is a collaboration between ¿Qiensave?'s ideas and the colours and aesthetic of Salinas, California-based artist Eduardo Esparza. After a blistering machine gun load of ideas, drinks, cigarettes and joints, Jandro and Carlos couldn't help thinking about how both the political and geographical climate is changing around us: from the presidential election to deportations and wars— "the normal stuff", Carlos explains; hurricanes, storms, earthquakes. Their conclusion as to why: "the goddesses must be on vacation!"
The goddesses of different cultures are pictured on the sleeve playing loteria— and "listening to Qiensave's new album", Carlos adds. They are having drinks by a pool relaxing, whilst behind them, seen through the window, the city is burning. Flicking through the album casing, you will find pieces that allude to other global events. Notably the male gods aren't invited to the party. Until you fold the two sleeves together, then they party together "as fire rains down on the world."
¿Qiensave? have a clear character throughout their work. Of fun, of surrendering to the way things are and of dancing through it.
Give Mujer a listen below:

Follow Sounds and Colours: Facebook / Twitter / Instagram / Mixcloud / Soundcloud / Bandcamp

Subscribe to the Sounds and Colours Newsletter for regular updates, news and competitions bringing the best of Latin American culture direct to your Inbox.
Share: