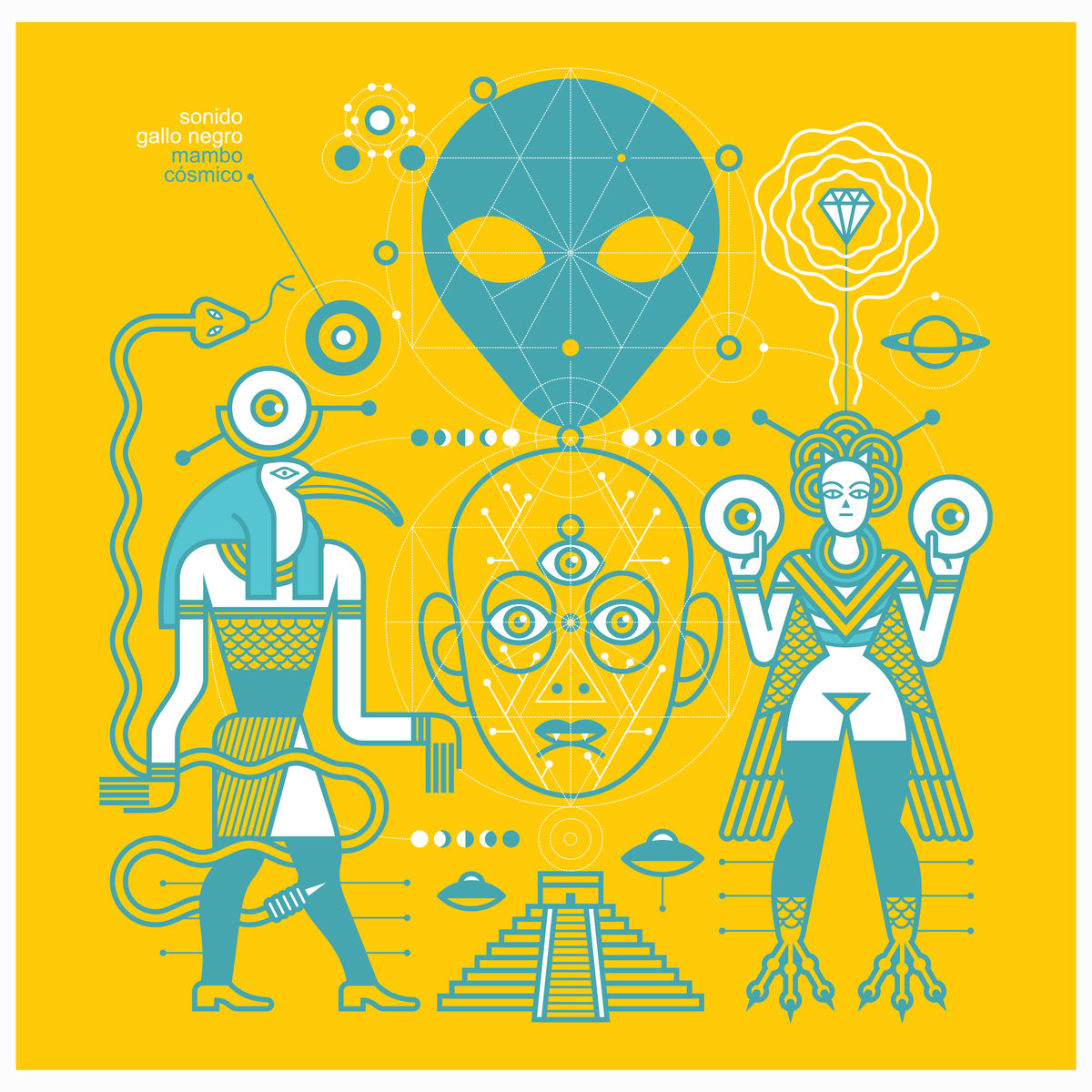 Review
Sonido Gallo Negro – Mambo Cósmico
When the current renaissance in cumbia got rolling in European about 18 years ago it was natural that its Peruvian psychedelic upstart cousin chicha would follow soon after. Labels like the incredible Vampisoul were showcasing Peruvian underground psych bands in 2002, and in 2007 Brooklyn based Barbes Records released The Roots of Chicha. Chicha music emerged in the 60s and 70s with bands emerging from both in and around Lima, where the sound was heavily influenced by Colombian cumbia – though with added psychedelic surf rock guitar and Farfisa organs – and the melodic structures of Andean huayno, as well as the Amazon, where the sound was that touch rawer. Eventually the style would take Peru by storm.
So I don't know why I was surprised at first to find out that Sonido Gallo Negro were from Mexico. Mexico has had a long tradition of taking musical forms like cumbia and turning them into something of their own. In a way other countries appropriating music heavily associated with one country is the greatest act of respect. It's also a recognition of universal appeal. I don't think I properly understood chicha until seeing Peruvian outfit Bareto live last year at Tropical Pressure Festival. Suddenly it made sense. It's essentially rock. Like Santana. Like 70s Latin rock legends like Black Sugar, Sapo or El Chicano. It is sensational live music. It's a shame we so rarely get the chance to hear it live over here in the UK.
This is the third studio album for Sonido Gallo Negro and what they have done is take chicha and ramped up the psych element to the max. Think Frente Cumbiero's detuned organs. Think The Doors travel south and cross the border. There are even elements of Ennio Morricone's spaghetti western soundtracks in here. This LP should have been the soundtrack to Tarantino's Mexican vampire classic From Dusk Till Dawn. Or even one of the Fabulous Furry Freak Brothers' escapades into Central American cults. With cover imagery culled from Egyptian mythology it's not difficult to work out where these guys heads are at. Their second LP title Sendero Mistico translates as Mystic Path. This one is Cosmic Mambo. This is unashamedly and proudly psych!
Highlights are "Cumbia Ishtar" which could easily have been made by the Doors. "Tolú" is a classic Colombian cumbia given the chicha treatment. "Catemaco" is deep hypnotic psychedelia with layers of guitar, organs and chanting. Strangely though the best of the lot is the slowest. "Cumbia de Sanación" is one of the most out there tracks I've heard in a long time. With one foot in the cumbia and the other in Gary Numan's 1970s futurist 70s outfit Tubeway Army it's definitely different. Slow pulsating cumbia beats, stadium huge keyboards, and cultish vocals. All in all, weird and strangely beautiful.
Mambo Cósmico is available from Bandcamp

Follow Sounds and Colours: Facebook / Twitter / Instagram / Mixcloud / Soundcloud / Bandcamp

Subscribe to the Sounds and Colours Newsletter for regular updates, news and competitions bringing the best of Latin American culture direct to your Inbox.
Share: