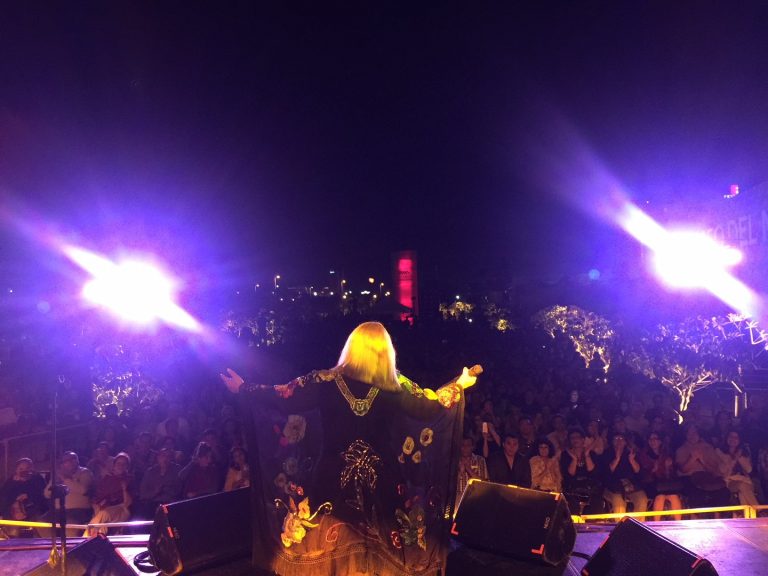 Tania Libertád Electrifies the Land of the Maya
09 November, 2017
Mexico has been a cultural dynamo, welcoming and nurturing artists from the Latin world and beyond, drawn to its ever-expanding and always-experimenting cultural sphere. The names are exhaustive: Gabriel Garcia Marquez, Tina Modotti, Chavela Vargas, Luis Buñuel, Roberto Bolaño, Edward Weston, and many many more.
Tania Libertád, recipient of the Lifetime Achievement Latin Grammy award in 2009, joined those pilgrims 40 years ago after leaving her native Peru as a young, searching vocalist. She'd begun singing Mexican songs by the age of five, and already possessed a repertoire that covered the Latin world, demonstrating particular interest in Afro-Peruvian and Afro-Cuban genres.
She performed last Friday night in Mérida, capital city of the Yucatan, on the expansive plaza that fronts the imposing Museo del Mundo Maya. The show capped off a month's celebration of the riches of Mayan culture, overshadowed for centuries by the legacy of oppressive Spanish colonial rule.
It was a spectacular SRO show, with Doña Libertád (her name befitting the occasion) commanding the stage like a diosa Maya in a magnificent appliquéd black robe, striding or gently swaying on the proscenium lit as if for a concert by Madonna (well, almost), with dancing lights and smokescapes, while drones overhead broadcast the event live nationwide.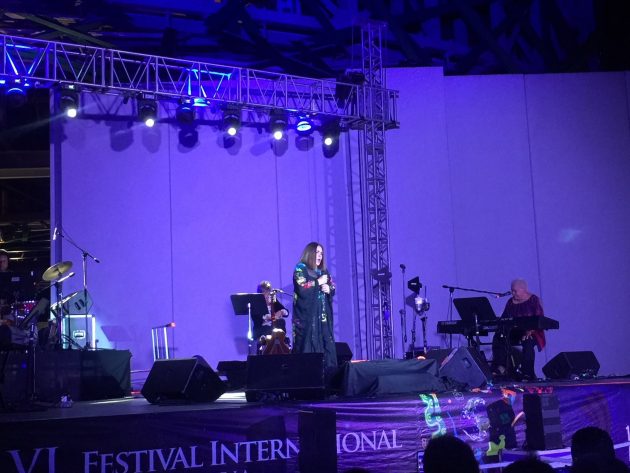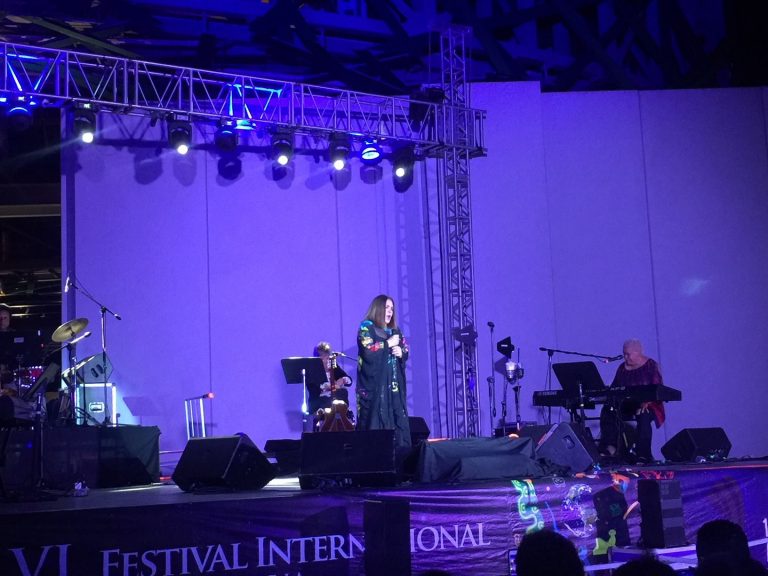 Photo from Facebook
Despite the grandeur, Doña Libertád demonstrated an intimacy with her audience all the while, Mexicans of all ages and social classes. This intimacy was admittedly enhanced by her playlist traversing the Latin world, yet heavy on Mexican favourites. She sampled the chestnuts of ranchera king José Alfredo Jimenez, "El Ultimo Trago" and "Vámonos", as well as fellow ranchera royal, Miguel Aceves Mejia, and the catchy yet lovely huapango from northern Mexico, "Cucurucú Paloma", re-immortalized by Caetano Veloso in Pedro Almodovar's Talk to Her.
Despite an occasional wavering from the belly of the note, her voice is still rich and warming, her range impressively wide. From the very first it's evident that she's had classical training and her version of Franz Schubert's hymn, "Ave Maria", sung in what sounded like a coloratura range, was proof of those rigours.
In homage to the land of her birth, Doña Tania brought back a song of the great Chabuca Granda and transposed two Mexican tunes to the Afro-Peruvian lando rhythms. She introduced most of the songs, expressing lasting pride in her native land and gratitude for the success she's found in her adopted homeland.
Rousing applause and cries of "Otra! Otra!" brought her back to the stage for an encore of three songs; the last tune was one of her most notable covers, the poignant Argentine "Alfonsina y el Mar".
It was a tribute to Tania Libertád as a conscious female musician—her life has been one of activism—to see a predominance of women in her band of four musicians: two keyboards, a guitar and percussion, the one male member was the percussionist. I found only one fault —a mild irritation, actually—in an otherwise superlative set: one of the keyboards (in such a small conjunto, I'm not sure of the need for two) was programmed to sound tinkly and overly electronic for the more acoustically appropriate material and setting.
Though not from the show in Mérida, here is a recent video of Tania Libertad performing "Vámonos" live:
http://www.youtube.com/watch?v=J25EuIUAEF0

Follow Sounds and Colours: Facebook / Twitter / Instagram / Mixcloud / Soundcloud / Bandcamp

Subscribe to the Sounds and Colours Newsletter for regular updates, news and competitions bringing the best of Latin American culture direct to your Inbox.
Share: