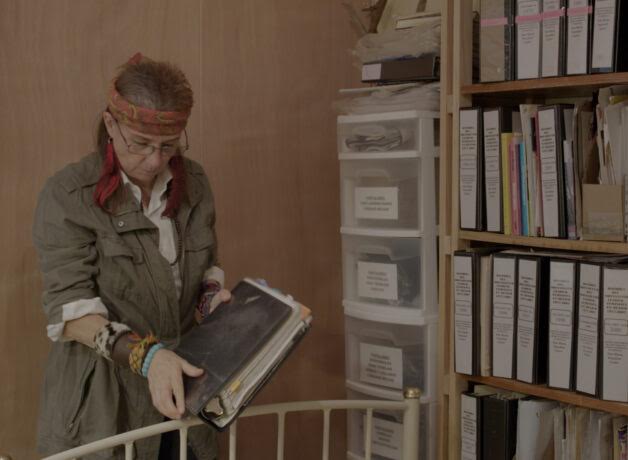 ¡Viva! 28th Spanish and Latin American Festival
'Un Amor En Rebeldía' Looks At One Of The Pioneers of Mexico's Lesbian Movement
21 March, 2022
There is a serious dearth of queer cinema in Mexico, and when it comes to stories about queer women and lesbians, I could count the number of feature-length films on one hand.
While the gap is slowly being filled by talented filmmakers – Ángeles Cruz for example – most of these films are made and set in the last ten years. But where were all the queer women before the millennium? What was the lesbian experience of the 20th century?
Enter Un amor en rebeldía (A Rebellion for Love, Mexico, 2018) a 14-minute documentary short directed by Tania Claudia Castillo. The film tells the story of one of the pioneers of Mexico's lesbian feminist movement, Yan María Castro, cofounder of the groups Lesbos and Oikabeth.
The short makes use of Castro's immense archive of materials relating to her activism since its founding in the 70s, a decade of increased visibility for the LGBTQ+ movement including Mexico's first Pride Parade in 1979. Through a mix of fixed-camera interviews, archival footage, photographs and written materials, we are introduced to the struggles faced by queer women in their decades-long fight against discrimination, repression and violence. Castro, recognisable from her red bandana –evidently a staple since the 70s – is at the centre of it all. She has dedicated her life to la lucha, a point expressed through her protesting but also evidenced by articles, paintings and cartoons attributed to her. And although not totally relatable, she dressed as a Buddhist monk for several years of her childhood, Castro's story has many moments that viewers are likely to respond to. These range from the gay-specific, fixating on a kind teacher and finding her queer family after rejection from her own, to the universal, finding and losing a first love.
Due to its length, the film leaves a lot of questions unanswered and despite the ground it covers, I wanted to know more. More about Castro's art, her community and the movements she participates in. More about the climate of change in the 1970s and the specific political shifts that propelled the movement.
It's clear Castro has a lot of these answers given her extensive personal files. When discussing her atypical upbringing, we see Castro photocopying pages from her self-published archive on the "Historia documental del movimiento lésbico-feminista en México 1977-2007". Each volume is a tome of materials complete with leaflets, articles, news clippings, imagery etc. and seeing as the year 1984 is only volume 7, I'm confident there's a lot we don't get to see.
The same goes for stories beyond that of our protagonist. While Castro is an important figurehead in this movement, queer life is dependent on its community. And though we see Castro interacting with other gay women – in stills, archival footage and B-roll – we never hear from anyone else.
Castillo's film is such an important contribution to the queer canon. It takes us to a time when being lesbian in Mexico meant persecution, self-loathing and rejection. The importance of this film is undeniable, but a quarter of an hour is not enough to unravel and document Castro's journey over forty years, the trials she has faced, and the struggle of a movement that continues to fight for queer women's rights today. The film leaves me asking questions, wanting to know more, and feeling dissatisfied with the lack of documentation and representation of queer women's lives in Mexico.
Un amor en rebeldía will screen on March 21st, 24th and 27th alongside Ángeles Cruz's Nudo mixteco as part of ¡Viva! 28th Spanish and Latin American Festival running 18 March- 7 April at Manchester HOME cinema. Read our review of Nudo mixteco

Follow Sounds and Colours: Facebook / Twitter / Instagram / Mixcloud / Soundcloud / Bandcamp

Subscribe to the Sounds and Colours Newsletter for regular updates, news and competitions bringing the best of Latin American culture direct to your Inbox.
Share: