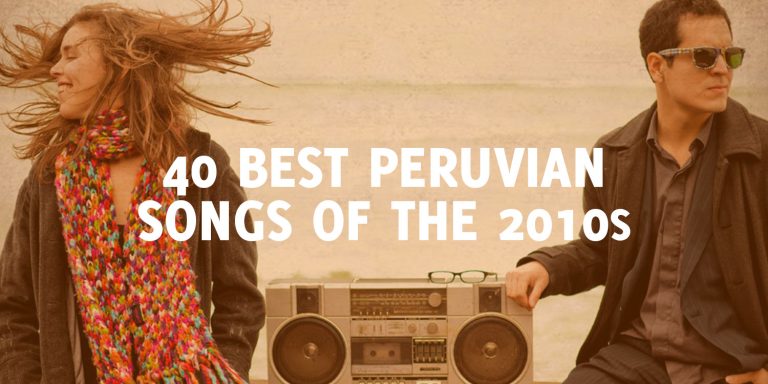 40 Best Peruvian Songs of the 2010s
22 January, 2020
Peruvian music has always been like that stranded cousin. You know it exists but you never really hear about it. Looking back over the history of Latin music we see just a few glimpses of Peru on the timeline – Peruvian singer-songwriter Gianmarco getting nominated for 3 Latin Grammys in the early 00s. Not bad for a country with a non-existent music industry. Yet, we can also say that music from South America – i.e. Latin music that isn't Mexican or Caribbean – has finally started to get some dues over the past 10 years, with acts being booked in festivals like Coachella and Glastonbury, and Peru has been part of that, proving that its music scene has become increasingly diverse over the 2010s.
We can go back to the 80s to see a small underground scene being born in Peru, but apart from a few exceptions who managed to turn making music into a serious business and not just a hobby, we can say that not enough musicians have managed to create a following and build up a career. Music wasn't something to take seriously, and to make a living out of. And we really can't blame them. Until now, if you can't invest in your career and work professionally at the beginning, it's very difficult to expect to have some type of success. From touring to releasing videos, having a successful band is very expensive, even more so in a country where only recently could you apply for government funding, and still expect not to get played on the radio.
And that makes musicians leave the country, or split up their groups. For starters, the media has been focused on Lima, the capital, but the last decade has shown us how blind we were on the matter. A lot of the most interesting music in Peru has come out of cities like Trujillo and Chiclayo (in the north), and Cusco and Arequipa (in the south). We've seen young bands releasing promising debut albums, like Los Luna (Trujillo), only to disappear. Or the many different formations Chintatá (Cusco) have had over the short course of their life. Peruvian music has suffered a lot, from not being considered good enough to represent us (when we've exported our most representative genres like huayno and chicha they've been whitewashed for foreign audiences) to being just plainly overlooked.
More and more we hear about the success that bands like Novalima and Dengue Dengue Dengue have had in the US and Europe, but we also need to analyze why that's the only type of music that represents us now, with the exoticism that is expected from music born in the tropics. The same applies to Los Mirlos, Los Wemblers and Los Destellos with their psychedelic takes on cumbia, but we have other types of cumbia too, coming from all over Peru, such as Corazón Serrano and Agua Marina (Piura), and Sonido 2000 (Tarapoto). The variety in our sounds has no limits. As we see Armonia 10 touring the US and Europe with their cumbia norteña, we've also seen Ale Hop touring Europe playing her experimentation with electronic sounds, and Cholo Visceral playing all over Chile in progressive rock festivals.
Of course, things are getting slowly (very, very slowly) better. As I mentioned before, now you can apply for funds from the government (Estímulos Económicos para la Cultura) to produce albums and tour, but we still don't have a law that protects Peruvian music on the radio, and this is a big issue. We are not talking only about having a percentage of Peruvian music played on the radio, we also need that percentage to represent all the types of music being made in Peru, and not just Peruvian cumbia (as is sometimes the case). The industry is becoming more professional – to be a manager or to have one managing your band is more common, and there are lots of "courses" and "speakers" too on the matter, though it's hard to know if they've led to any successes yet.
The 2010s brought us more instruments, styles and genres, with young musicians willing to risk even more than their predecessors with fresh points of view, and also many more women playing a key role. We've also seen how the old school started shifting to other genres, adopting a more open embrace of new sounds. In the best cases, of course.
We picked these songs thinking about the context they were released in, how they affected the careers of the bands that put them out, and the importance they have in the current state of música peruana. We invite you to listen to them, and to delve further into the bands listed in the playlist, because 40 songs are not nearly enough to get to know such a vast universe, but surely enough to take a look at how Peruvian music has grown to become a diverse scene over the last 10 years.
* Songs chosen by Ana Claudia Bendezú and Valdomiro Valle

Follow Sounds and Colours: Facebook / Twitter / Instagram / Mixcloud / Soundcloud / Bandcamp

Subscribe to the Sounds and Colours Newsletter for regular updates, news and competitions bringing the best of Latin American culture direct to your Inbox.
Share: