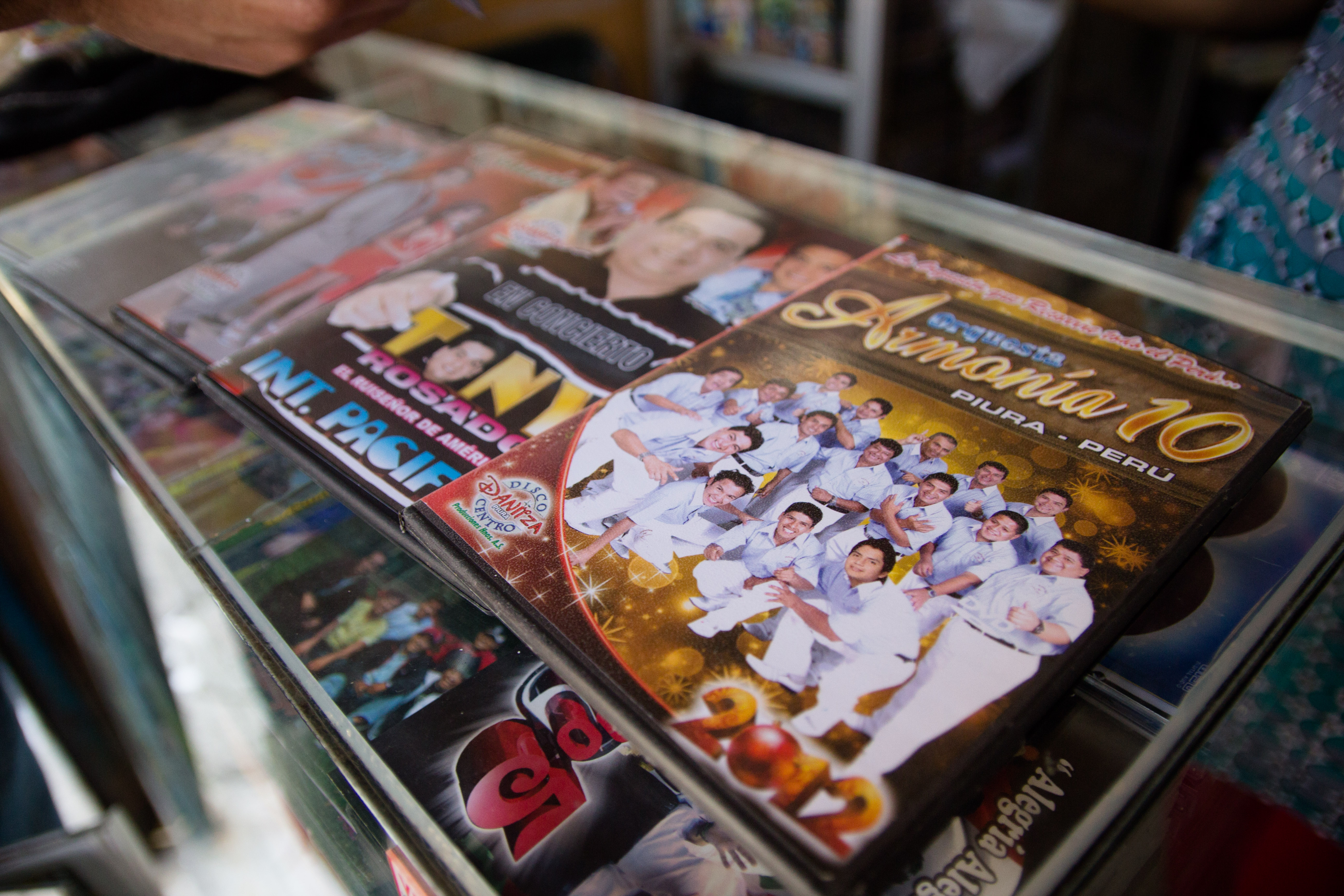 Clandestine Lands: Lima's Music Pirates
18 September, 2015
"Cumbia, rock, salsa," the man calls out in a raspy voice. He repeats the sentence every few seconds, with the same melodic cadence, to no one in particular. He's leaning against a wall, faded red cap on his head. We're outside the entrance to a popular market in downtown Lima, the undulating groove of a 70s cumbia tune blasts out of a beat-up speaker, resting on the floor. "What music are you looking for," he asks.
In front of him a plywood box, propped on a chair, holds several dozen CDs, their multi-coloured spines facing upwards. Scanning through the CDs is a tour through every popular genre from the past 50 years. The Beatles and U2 share space with Peruvian cumbia classics by Los Mirlos, Grupo Naranja and Los Destellos. "Any of them, three soles," he says.
This scene is one that plays out countless times through the day. It is impossible to escape piracy in Lima. Look around the city's bustling streets and you will find someone selling bootleg CDs and pirated movies. The Peruvian capital is truly a place where the formal and informal worlds meet, and are virtually indistinguishable. Perhaps no place better exemplifies this than Polvos Azules, a shopping center often referred to as the city's "official informal market."
Located in downtown Lima, Polvos Azules sees thousands of people walking down its narrow corridors on any given day. They're shopping for knock off clothing, bootleg movies, music and video games, or contraband electronics. Legend has it that Polvos Azules, Spanish for "blue powders," got its name in the 1540s from the material used by leather artisans to dye their skins on a small street behind the Presidential Palace. Five centuries later, the capitalist spirit embodied by those early merchants is alive and well.
City authorities will sporadically raid Polvos Azules, and similar markets, taking hundreds of thousands of bootleg CDs with them. The stalls will go quiet for a day or two, but the impact on the big picture is negligible. Come back a week later and you'll find vendors blasting music again, their CD racks fully re-stocked. Virtually any album you can think of, for $1.
In 2009, the International Intellectual Property Alliance estimated that pirated CDs accounted for 98% of music distributed in Peru. The numbers are enough to make your head spin. Putting aside its economic and legal implications, looking into piracy's cultural impact gives way to a fascinating study of its role in shaping the country's current generation of artists.
Cassette Culture
In the 1980s the country seemed almost isolated from the rest of the world as an internal armed conflict gave way to several terrorist attacks and political instability. During this period, the vast majority of Peruvians found new music through pirated cassettes.
"In the 80s cassettes fulfilled a very important role here," says Luis Alvarado, founder of Buh Records, a local record label that specializes in experimental, psychedelic, industrial and noise records. "There was no capability to sustain large record industries, or other places to find specialized music."
"It was a time where music was not easy to access, albums were expensive, vinyl was not imported, and there wasn't a sustained industry around rock music in Peru. Pirated cassettes were the principle mechanism for spreading alternative music." If you were in search of anything outside the pop singles, piracy was your only option. If you were looking for some rare grooves, your best bet was to befriend a record  shop owner, and hope they would be able to source a copy somehow. It could take weeks.
Alvarado remembers buying pirated cassettes as a child in downtown Lima, skimming through cassettes laid out in neat rows, their covers photocopied on cheap paper in black and white. (Eventually, bootleg cassettes from neighbouring Chile made its way into the country, their coloured covers setting a new benchmark, eventually adapted by Peruvian pirates.)
At the time many alternative and independent artists gained momentum because of their music becoming more widespread through pirated cassettes. In some cases artists gained new fans even before releasing their first official recording, as demos and rehearsal tapes made the rounds through bootleggers' tape decks. Local punk band Narcosis' 1985 cassette demo Primera Dosis is often cited as the most pirated album in Peruvian rock history — although the claim is, of course, impossible to confirm. The self-produced demo saw 200 official copies which rapidly spread into thousands of bootlegged copies across the country.
Decades of consuming music through pirated channels has undoubtedly had a profound influence on the wave of new musicians in the country. Alvarado says the system is so ingrained that some artists are rumoured to leave their albums at places like Galerias Brasil or Mesa Redonda, so they can be pirated. Folklore music is particularly intertwined with bootlegging.
"There is big scale piracy happening [in folk]," he says. "Piracy in rock happens at a much smaller scale, in comparison to a real industry such as folk or cumbia. Piracy in folk helps spread the movement." Folklore musicians, he says, figure they are better off spreading their music in order to bolster attendance at live gigs. "There is a large market that wants to consume these types of music, and piracy forms around these genres"
Growing Up With Piracy
"One album that I fondly remember getting in Galerias Brasil, is Bitches Brew by Miles Davis," says Efraín Rozas, the mastermind behind the Brooklyn-based psychedelic salsa group La Mecánica Popular.
Rozas, who grew up in Peru, says he remembers searching through the stands when he couldn't find an album online. "I'd go there to find something specific. You'd have the prog stands, the metal stands, the punk stands. It was a micro-universe of tribes, of subcultures".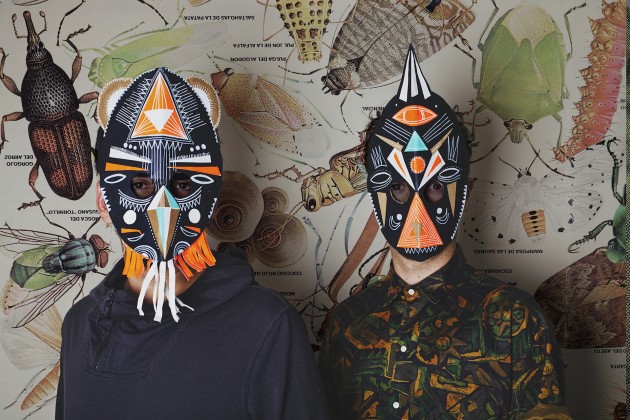 Felipe Salmón, one half of electro-cumbia duo Dengue Dengue Dengue! (pictured above) also grew up on bootlegging songs off the radio, and buying cassettes on Avenida Larco, a highly-transited street bustling with tourists and stores.
"I started playing guitar when I was 12, back then I was just into punk and I wanted to learn everything on my own. I discovered that to do this, I had to listen to the most amount of music, and then I would learn more," Salmón says. "Since I didn't have access to anything, there was no Internet, I had to rely on the cassette stores."
Pirated music came full circle for Salmón when one of Dengue's live sets popped up in Polvos Azules in 2012 as a bootleg CD with original cover art and title: Electrocumbia with Dengue Dengue Dengue "To me it was strange since it was free online," he says with a laugh. "But on the other hand it was an honour to be pirated, I have nothing against piracy because here people don't have access to [official copies], so it is the only way to reach them."
Skip, Skip, Repeat

The ethics of piracy are arguably both simple and complex: Some will view it as clear intellectual property theft, while others will argue piracy is unavoidable in a country with the intricate informal economies that exist in Peru.
"If I had a hit song [that was heavily pirated] and I needed the money, I'd probably be angry," Rozas says.
"The work of a musician — since we are dealing with abstract things, you can't put it up and say 'This is mine' — gets sub-valued," he says. "But we can't deny that social dynamics are changing. The world is like this. Today there are other ways to reach people."
Salmón can also see both sides. "I think it's good that music is distributed though other means," he says. "In some ways it's positive, in others maybe not so much. I have nothing against piracy because here people don't have access to much music, so it is the only way to reach them"
Despite the ubiquity of pirated music online, physical bootleg copies don't appear to be going anywhere fast. Given that only 38.2% of the country's population has Internet access, all signs seem to indicate that illegal physical copies will be around for a while. Even for those who can afford to buy legal copies, a trip to the city's informal market is the default option.
"[Musicians in Peru] have grown up consuming piracy," Alvarado says. "Everything we have consumed has been piracy, but it is pirated out of necessity, not subversion." "Piracy," he says, "is made to work in clandestine lands."
Piracy is so ingrained in Peruvian culture that the narrow corridors of Polvos Azules will, for the foreseeable future, continue to be crowded. Your eager hands will instinctively flip through the racks. Your eyes will search for that elusive album. Amid the market's never-ending noise, your ears will prick up at the sound of that rare groove.
This is an extract from Sounds and Colours Peru, our latest publication dedicated to the music and culture of Peru. Find out more about the publication at soundsandcolours.com/issues/sounds-and-colours-peru.

Follow Sounds and Colours: Facebook / Twitter / Instagram / Mixcloud / Soundcloud / Bandcamp

Subscribe to the Sounds and Colours Newsletter for regular updates, news and competitions bringing the best of Latin American culture direct to your Inbox.
Share: