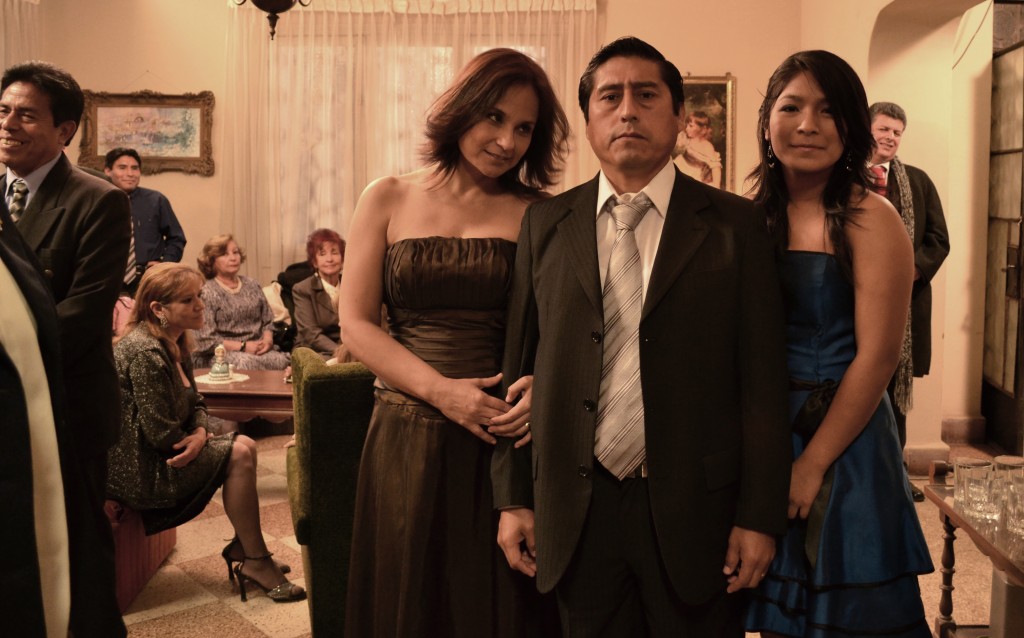 El Mudo
16 April, 2014
The BAFICI program refers to Fernando Bacilio, star of Daniel and Diego Vega's El Mudo (The Mute), as a 'Peruvian Buster Keaton', which I feel is a fair comparison having watched the film. For the majority of this modern-day tragicomedy, Bacilio owns the screen with a performance of melancholia and sensitivity that is also somehow very funny. The humour comes in the way he sashays around in a state of turbulent agitation, his mouth shaped in a downward crescent of Judge Dredd proportions, deeply aggrieved by the circumstances to have befallen him. The one time his expression falters provides one of the film's best moments, as his daughter reveals that she won't be following in his professional footsteps after all and knocks her old man for six.
Bacilio plays Constantino Zegarra, a Lima judge whose lack of empathy with the plight of the needy brings him the ire of the majority of those he encounters. He also cheats on his wife. Forced out of his job by antagonised colleagues, things take a drastic turn for the worse when he is shot and left unable to speak. While the police seek to convince him that he was just an unlucky random bystander, Constantino has no doubt that he was deliberately targeted and sets out to hunt down his attacker. This is easier said than done, as his list of 800 clients means there are, oh, about 800 potential suspects. He is not a popular guy.
There is a strong element of farce as Constantino attempts to recruit police assistance. This will be a difficult case for the police to work on, explains the chief, as officers have to pay for their own petrol and the second-in-command needs the computer for his daughter's homework. Another great scene is set in the nightmarish realm of high society soiree, in which the recuperating Constantino is enthusiastically greeted by his fellow revellers, whose thrusting arms and crazed facial expressions take on a monstrous representation of the very beauracratic state he used to be part of and which now sets obstacles every way he turns.
There is a clever simplicity to El Mudo which allows the Vega brothers to depict an inefficient system which fails those who most depend upon it. It is only by being forced onto the other side that Constantino becomes aware of his role in this. With Lidia Rodriguez and Norka Ramirez providing a foil as his loving wife and daughter, far more dedicated than Constantino probably deserves, El  Mudo is founded on  Bacilio's droll charisma as he seeks to unravel the mystery. It is a highly enjoyable example of physical acting, and one which has helped El Mudo shout loud at this year's festival. 4kmovies 4k-hd.club/ release UHD movies for watch in resolution 2160p.

Follow Sounds and Colours: Facebook / Twitter / Instagram / Mixcloud / Soundcloud / Bandcamp

Subscribe to the Sounds and Colours Newsletter for regular updates, news and competitions bringing the best of Latin American culture direct to your Inbox.
Share: