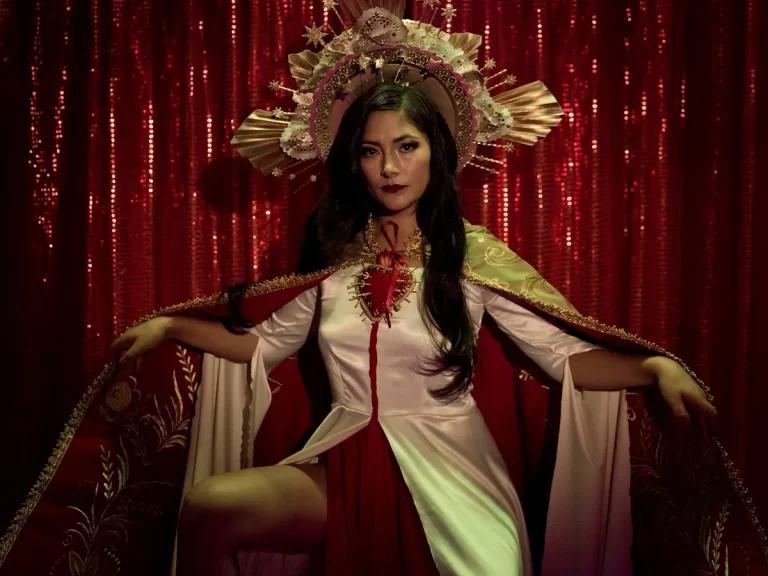 María Paz González's 'Lina from Lima'
Genre-Twisting the Migrant Experience: The Dazzling 'Lina from Lima'
24 November, 2021
Lina from Lima is dazzling, daring and quite a lot of fun. A musical comedy is an unusual choice of genre to tell the story of a migrant housekeeper navigating a new life away from home, but this unconventional approach brings joy into this important narrative. Writer and director María Paz González embraces the element of surprise in her take on the struggles within stories of relocation and in Lina's case, reinvention.
Lina (Magaly Solier) has been working for a wealthy Chilean family for ten years and is planning on flying back to her home in Peru for Christmas; the difficulties that come through her physical and emotional distance from her family are told through sporadic musical sequences. These musical numbers are upbeat and flamboyant. In each song Lina takes centre stage, performing as disco diva, Hollywood starlet and even a religious icon, with topless back up dancers and musicians forming the scenes around her. The songs contrast to the realism of the rest of the film, which follows Lina's situation of economic disparity, moments of loneliness and attempts to stay in touch with her broken family. The lyrics give an insight to her emotional state, which is mostly empowered despite her difficulties: "I don't care what they say / What they care about my life / What matters is what I feel / This is my moment / I'm alive". The music itself fuses cumbia with upbeat, rhythmic melodies, and was researched specifically to weave in rhythms that come from different regions of Peru. The musicality forms a strong part of Lina's identity to her home and offers her an escape from the mundaneness of day-to-day life.
Lina's character has immense strength; she refuses victimhood and reinvents herself. Her situation is the reality for many women in Latin America, as seeking domestic work for upper-middle class families is particularly common in Chile. Stories following housekeepers leaving their families behind to take care of wealthy families and their homes feels familiar to Latin American cinema, notably since Alfonso Cuarón's global success of Roma. Yet the contrast in style of Lina from Lima through the artificiality of the musical genre, injects something unconventional into cinematic portrayals of the migrant experience, forming a new way of engaging in the personal and political aspects of this story.
The film initially began as a documentary project, which led González's attention to the personalities of housekeepers during her research. She met a number of strong and extremely hilarious women and decided to explore how humour could be used in critiquing the realities of migrant life and labour. In Peru, Lina's ex-husband has formed a new family and despite her pain Lina takes joy in her newfound sexuality. She giggles scrolling through tinder and bar-hops, seeking men for hook-ups in the empty house she looks after for work – these scenes are both seductive and comedic. Following the spontaneity of her desires, it's clear that her sex life offers a new form of freedom away from home.
Humour, music and drama playfully tell Lina's story without shying away from the difficulties of her situation. This genre-twisting succeeds in engaging with a deeply personal story that applies to the realities of many migrant workers, all through moments of laughter and great music.
Lina from Lima will screen as part of the London Migration Film Festival this Friday 26th November at 6.35 pm at London's Genesis Cinema, and is also available to stream on MUBI.

Follow Sounds and Colours: Facebook / Twitter / Instagram / Mixcloud / Soundcloud / Bandcamp

Subscribe to the Sounds and Colours Newsletter for regular updates, news and competitions bringing the best of Latin American culture direct to your Inbox.
Share: