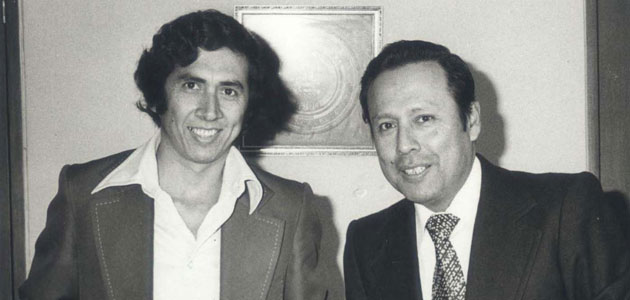 Interview with Los Mirlos' Jorge Rodriguez Granda
27 June, 2013
It's a sunny afternoon, which is rather rare for Lima in the winter, as I arrive at the APDAYC premises to interview Jorge Rodriguez Granda (pictured above (left) with Alberto Maravi (right), Los Mirlos' producer and Infopesa CEO), the musical director and founder of Los Mirlos, an iconic Peruvian cumbia band. Los Mirlos' beginning dates back to the early seventies, when two brothers and their cousin from the jungle town of Moyobamba moved to Lima to start the band and achieve their big break in the capital's tropical music scene. Well, they achieved it. The next couple of years they would grow to become very popular not only in their country but also all over South America, and developed a unique musical style that features cumbia played with psychedelic, surf, tremolo-sounding electric guitars that have influenced many musicians all over the globe. Here's a bit of their story in Mr. Rodriguez's own words.
Camilo Martinez: What's your oldest memory of listening to music, especially to cumbia, as a child?
Jorge Rodríguez Granda: My oldest memory of listening to music is listening to my father playing the accordion. He played from the age of ten and I probably listened to him since I was inside my mother's belly before birth. My dad played different folkloric rhythms from the Amazon region like pandilla and chimayche.
Later as a teenager I recall listening to radio stations from Colombia – which you could tune into from the North Eastern part of Peru – that played traditional cumbia songs like "La Pollera Colora" or "La Danza de la Chiva".
CM: How were your first years as Los Mirlos, when you first moved to Lima and started the band?
JRG: It all started in Moyobamba. We put together a band there called Los Saetas. We even manufactured our own instruments because it was impossible to buy any there! We made our own timbales and tumbas. We once played in the town fiestas and my brother, who was a policeman in Lima, heard us play and encouraged us to move to the capital and pursue a career in music. Once here in Lima we found out there were other bands playing tropical music before us; bands that were already releasing records with the most popular labels so we looked for a way to be different, to stand out. We started to search for a sound that reflected our Amazonian roots. When we first recorded back in '72 or '73 we put out songs referring to Amazonian culture like "El Aguaje" which is a wild plant that grows in swamps and produces a delicious fruit. That was our first single, our first 45rpm. Then came songs like "La Marcha del Pato" and other cumbiones, which are fast cumbias.
CM: How does the electric guitar, so characteristic to the genre, come into Peruvian Cumbia?
JRG: It all goes back to Enrique Delgado, from Los Destellos. He started out playing criollo (traditional music from the Peruvian coast) and rock and then moved into cumbia. He was the fist one to introduce the electric guitar into this music, and then we all wanted to do something similar. He influenced us all. That's how bands like Los Diablos Rojos and Los Ecos came to be. We were all competing in a friendly way. We all used electric guitars but each generated our own particular sound, our own particular way of playing.
CM: So, what happened next?
JRG: Well, Los Mirlos began to be identified by our Amazonian sound, and our songs started to spread all over Lima, all over Peru, and all over South America. We recorded our first LP El Sonido Selvático de los Mirlos introducing our particular guitar sound, mostly instrumental tracks, some with short sung choruses. Then came albums like Los Charapas de Oro, Tirense con la Escoba, El Poder Verde and Tiro al Blanco. Later in the 80s we recorded "Eres Mentirosa" the song composed by Tito Caycho but in our own arrangement, and we started using the synth combined with the guitar to play the melodies.
[soundcloud url="http://api.soundcloud.com/tracks/13173672″ params="" width=" 100%" height="166″ iframe="true" /]
CM: How did you get your characteristic guitar sound?
JRG: We used a spheric pedal between the guitar and the amplifier. All the details will be revealed in a book I'm writing which will be launched at the end of this year and will be titled Semblanzas de Jorge Rodriguez y Los Mirlos del Peru. Sometimes we used wah-wah pedals and Fuzz Tone pedals for the rhythm guitar.
CM: Danny Jhonston is, together with you, one of the original members of the band who is still playing in it right?
JRG: Right. We had two guitarists back then, Gilberto Reategui and Danny Jhonston. I decided which one of them would play lead and which rhythm guitar, live, and in the studio. Gilberto left the band many years ago, and deceased in 2010 in Argentina. Danny has been with us since the beginning. He's a great guy, very responsible and dedicated to the music. As a matter of fact he's from Lima, not from the Amazon, but a bassist friend of us from Moyobamba took him once to a rehearsal and from that day on he never left the band.
CM: What does the future hold for Los Mirlos?
JRG: We have been together for 40 years now, in good times and bad times, and we've always kept going. My two sons are now in the band lineup and our intentions are for Los Mirlos to stay alive for many more decades. Even when I'm gone I would like the band to go on.
CM: Many of your songs have titles that refer to Amazonian culture and wildlife, and you use the word 'verde' (green) in many of them. Is that the intention? To promote the Amazon?

JRG: Promoting Peruvian Amazonian culture has always been one of our interests. "El Milagro Verde" (The Green Miracle) is a very beautiful instrumental track written by my brother Carlos Rodriguez and "El Poder Verde" (The Green Power) was written by myself, as a homage to my homeland, inspired in the power of the Amazon jungle.
[soundcloud url="http://api.soundcloud.com/tracks/16263190″ params="" width=" 100%" height="166″ iframe="true" /]
CM: What do you think of new trends and artists, such as DJs that are mixing cumbia and electronica?
JRG: We recently played in a party hosted by Dengue, Dengue, Dengue and it was great. Lots of youngsters dancing to our music, and this might be happening because young artists are exploring current trends, mixing cumbia and other rhythms. The same thing happened in Buenos Aires. We played at Niceto Club to hundreds of youngsters who were partying to our music. Perhaps this is possible due to this phenomena. I think it's OK, the sonic effects that computers can produce on top of the original songs are interesting; they create psychedelic electronic music.
CM: Well many people think that the original sound of Los Mirlos, the guitar sound especially is very psychedelic, so perhaps psychedelia has always been present in your sound, don't you think so?

JRG: (Laughing) Yes, many people say so, that the guitar sound is very colourful, psychedelic.
CM: Was that your intention?
JRG: No it wasn't. We were just looking for a customized guitar sound, something different and we came up with that. We started using that sound on our first LP El Sonido Selvatico de los Mirlos. We didn't use it in our first 45rpm singles. As I said we were looking for a sound that would identify us, other bands looked for unique sounds too, for example Los Paquines, they used tape delay for echo on their guitars, so we had to come up with something different.
CM: After recording so many albums, playing so many live concerts, touring to many different countries, appearing in a film (back in the 80s Los Mirlos were featured in motion picture Las Vacaciones del Amor alongside Camilo Sesto, Angela Carrasco, Las Trillizas de Oro, Los Pasteles Verdes) what else would you like to do? What are your current projects?
JRG: Right now I'm writing the book I told you about which tells the story of the band. We want to release a new record this year for Mundo Verde label. We have approximately 130 unreleased songs! I am constantly writing songs, and I show them to my children and they give me good feedback. Then my son Coky does the arrangements. I really want to keep on singing about my Amazonian world just like my father. He played his accordion until a month before he died at 92! He always played music despite having other jobs like tailor, tradesman, he worked in agriculture too.
CM: Have you always earned a living as a musician?
JRG: I also worked as a schoolteacher for 21 years. That's what I studied for in Moyobamba. I couldn't retire as one because Los Mirlos absorbed too much time but I have bumped into many of my former students throughout the years. They are very fond of me.
Cumbia Amazónica, a new compilation from Los Mirlos was recently released by Infopesa in Peru. You can read our review of that album here.

Follow Sounds and Colours: Facebook / Twitter / Instagram / Mixcloud / Soundcloud / Bandcamp

Subscribe to the Sounds and Colours Newsletter for regular updates, news and competitions bringing the best of Latin American culture direct to your Inbox.
Share: