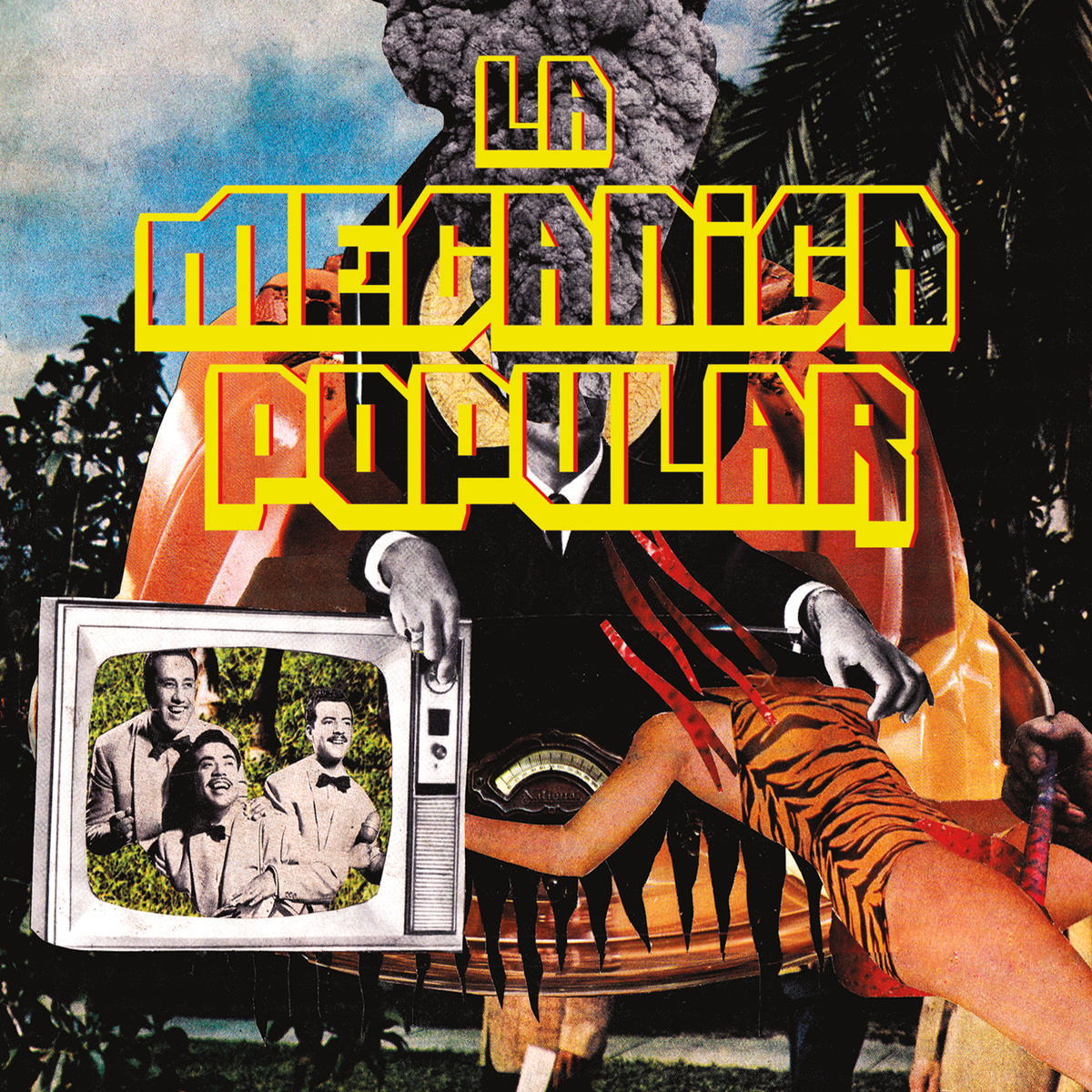 Review
La Mecánica Popular
Old school salsa with a twist? Cuban son with synth knob-twitching backing and feedback? Boleros with white noise ambience and atonal atmosphere? Descargas with Miles Davis' electric-era horns and freaky tremolo guitar playing? All this and more is what La Mecánica Popular's first album is about. It's good, it's different, it's fresh.
Featuring Fania style salsa but using organ synths instead of horns for soloing, opening song "La Paz del Freak" (The Freak's Peace of Mind) is definitely a killer track! With lyrics about living one's life as one wishes ("como le da la gana"), this song already makes the album worth having. "Ella le Decía", a story about a woman abused by her lover, brings similar vibes with tremolo chicha guitar playing that psyches the whole classic sound. "Muy Distinto" and "Milagro" follow similar paths adding to the up-tempo, hard dancing tracks of the album.
An interesting thing to point out is that the electric guitar playing in LMP's Afro-Caribbean sound is totally different to, for instance, Carlos Santana's approach. LMP's guitar sound hails from Peruvian chicha rather than rock, and at times while listening to the album I did have the "salsa-meets-chicha" feeling, which is not that common a feeling at all. These two styles of Latin music come from different geographic and cultural backgrounds and as far as I know have rarely crossed paths before. The fact that LMP is a band made up of Peruvians, Venezuelans, Colombians and New Yorkers explains this.
"Guajiro" is a unique track within the album. One cannot help recalling Miles Davis' Bitches Brew with polytonal bass clarinet and sax playing, but in this case, over a Cuban descarga. This particular ingredient gives it a different atmosphere to the rest of the tracks and it sits in brilliantly.
"Arbol" with synths that create waterfall cascade and wind effects is a mid tempo Cha-Cha that introduces words like "Carrito Sanguchero" (street cart where sandwiches are made and sold) and other typical Peruvian idioms, that again, I have never heard in Salsa music before. Great!
I have to say that the tracks I most enjoyed and listened to on this album are the boleros "Se Que Me Olvidaste" (in it's original and alternate versions) and "Las Tragaespadas". Boleros are old school Latino love songs, always down tempo, always dramatic and very frequently sad. More or less like a Latino slow blues. It's not at all common nowadays for salsa artists to write boleros. It's a genre that's become obsolete, part of the past. The fact that LMP feature these two on this album, composed by Efrain Rozas, is really outstanding and memory rescuing. I loved these two, almost even cried to them. They are very deeply meant and if you have suffered recent heartbreak, keep a tissue at hand.
LMP's self-titled debut album is an alternative, cool, original approach to salsa that brings Fania-era sounds, chicha and experimental electronica together. It's the sound of 21st-century New York Latino life.
La Mecánica Popular is available digitally from iTunes and limited-edition vinyl from NYC Trust

Follow Sounds and Colours: Facebook / Twitter / Instagram / Mixcloud / Soundcloud / Bandcamp

Subscribe to the Sounds and Colours Newsletter for regular updates, news and competitions bringing the best of Latin American culture direct to your Inbox.
Share: