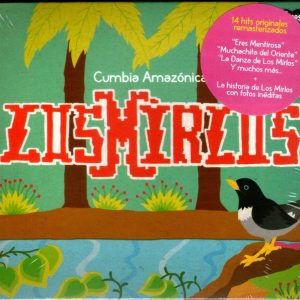 Review
Los Mirlos – Cumbia Amazónica
It's funny how life works. I recently attended a Los Mirlos concert a couple of weeks ago in Lima. At that time I had no idea I would be reviewing the newly launched Cumbia Amazónica album, which compiles fourteen classic tracks by the mythical Peruvian Chicha band.
Jorge Rodriguez Granda and his brothers and cousin, originally from the northeastern jungle town of Moyobamba migrated to Lima back in 1973 where they started the band that was to become one of the cornerstones of Peruvian cumbia (or chicha).
Cumbia Amazónica brings together some of the band's best-known and influential songs featuring all the tropical psychedelia and guitar-driving melodies so characteristic to the genre as in "Sonido Amazonico", an instrumental track that could have easily been part of any 70s cop/private investigator American series (especially on an episode taking place in the tropics). We can say the same about "El Escape" (The Escape), in which we hear the voice of a man shouting "Alto"! (Freeze!) as a command spoken by a cop to a fleeing burglar, and one can vividly imagine the scene, introduced here by the guitar and joined later by the congas and bongos and then the whole band.
"Lamento en la Selva" a slow tempo cumbia with an Andean vibe that makes you think, as on "Don Agucho", that Los Mirlos were definitely influenced by Andean music. This should come as no surprise as Moyobamba is a town located in the low Andes, in one of the places where the vast South American mountain chain crawls down to meet the Amazon jungle, an area that Peruvians call 'Ceja de Selva'.
"La Marcha del Pato", "Muchachita del Oriente" and "El Poder Verde" are all up-tempo cumbias. They are what Los Mirlos themselves call 'Cumbiones' (fast, up-tempo cumbias). The first is a classic, originally recorded as a 45rpm single and introduces a tropical, happy vibe that is probably influenced by music from the nearby Brazilian Amazon, which also seems to be the case in "El Sonido de Los Mirlos", a super uplifting tropical track. The second of these – considered an Amazonian anthem – features surf/psychedelic guitar riffs together with wacky synth melodies and vocals praising the beauty and charm of jungle women. Written by Jorge Rodríguez as a homage to his homeland it ends with a Guajira rhythm. The third one also features vocals in a fast cumbia style, and a piercing rock guitar solo that kicks in when the rhythm section shifts to a kind of Cuban Son beat.
"La Danza del Petrolero" has great guitar riffs and melodies that make you wonder if Marc Ribot listened to Los Mirlos somewhere along the path of his influences. There is a sung chorus that goes "This is the oiler's dance, where black gold emerges"
"Eres Mentirosa" is a super hit single which I recall listening to in my childhood in Colombia, but never before in the Mirlos' version. It was written by Tito Caycho, one of the original founding members of legendary chicha band Los Destellos. This version has a great guitar that sounds like tropical country (as in North American country music) and the formerly mentioned Farfisa synth sound. It dates back to the 80s era of the band.
"La Danza de los Mirlos" is a sensual, down tempo cumbia with outstanding guitar work, but then, who would doubt that coming from Los Mirlos's super guitarist Danny Jhonston Lopez who I'm sure influenced many guitar players not only in South America but maybe even in the rock/jazz scenes of the US and Europe. Can't help wondering what Jimmy Page or Hendrix would have sounded like if they'd heard this track.
"Chinito en Onda" is a mid-tempo cumbia with a Reggae feel, bongo rolls and a Tarantino-soundtrack sounding guitar. It's a wonder that the filmmaker hasn't yet used Los Mirlos in one of his motion pics. This track would no doubt be the perfect choice.
"El Curandero", a happy, lively, major key, Caribbean-sounding track closes the compilation with vocals asking the "Curandero" or Shaman to heal from a heart-breaking lost love.
This compilation is a must for any Cumbia, old school tropical music, guitar riff loving person. It will make you want to dance your feet away, woo your loved one, cherish life; it's full of life and colour!
Cumbia Amazónica has been released by Infopesa in Peru
[soundcloud url="http://api.soundcloud.com/tracks/18830269″ params="" width=" 100%" height="166″ iframe="true" /]

Follow Sounds and Colours: Facebook / Twitter / Instagram / Mixcloud / Soundcloud / Bandcamp

Subscribe to the Sounds and Colours Newsletter for regular updates, news and competitions bringing the best of Latin American culture direct to your Inbox.
Share: