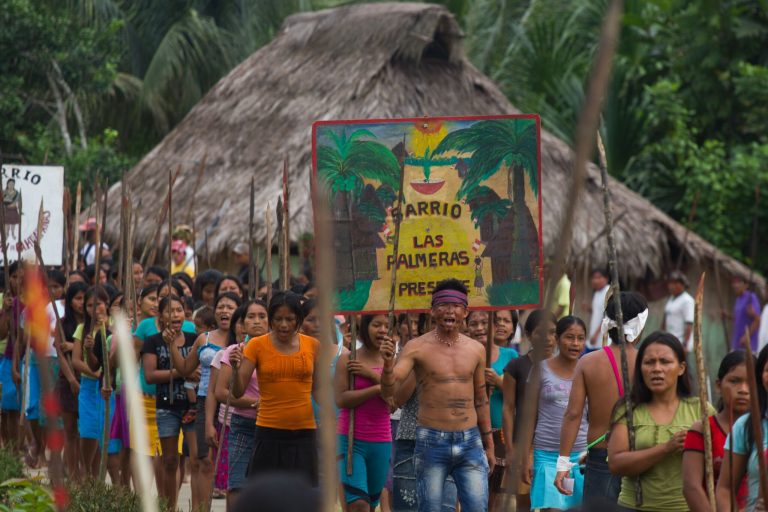 Moving Peru Forward: An Interview with the Film-Makers Behind 'When Two Worlds Collide'
14 September, 2016
This year, Yachaywasi Films takes us right to the heart of one of Peru's most dramatic and controversial conflicts in recent history. When Two Worlds Collide documents the brutal culture clash between President Alan García's government and the indigenous Amazonian community led by activist Alberto Pizango, a conflict where modernity and morality come face-to-face with deadly consequences. This powerful documentary offers an unflinching insight into Peru's political power-play, where both the environment and individual rights are often trumped by commercial interest and greed. Here, we catch up with directors Heidi Brandenburg and Mathew Orzel as well as producer Taira Akbar to talk about the journey behind their fascinating debut feature.
"It had to be Peru," reflects Brandenburg, who was eager to return to her birthplace and childhood home after graduating from the University of Wales along with Orzel in 2007. "Peru is a paradise for film-makers… there's a story waiting around every corner". And it didn't take long for their story to surface in the form of a news article about the recent US-Peru Free Trade Agreement, signed off by then-President García. "There was this map of the Amazon rainforest, showing all the areas where gas and oil concessions would be made. It just looked so wrong, to see the land like that… these plans to cut it up and hand it out like it was a piece of cake". Sure enough, within a year 72% of the Peruvian Amazon was auctioned off to foreign companies with disastrous implications for the environment and indigenous communities alike. With this in mind, the team made it their mission to capture first-hand the plight of the Amazon and it's people. "After all, Yachaywasi is Quechua for 'house of learning'," explains Orzel "and this was the approach we took.. to use documentary as a tool for knowledge building, with the film company becoming that house of learning. In the end, we wanted to teach our audience about a serious environmental threat, with human elements firmly at the centre."
And this human element is largely carried by the passion and charisma of one Alberto Pizango. "He was simply the perfect main character," adds Orzel, "and he was our portal into the wider situation. We were instantly captivated by his honesty, selflessness and relentlessness to continue fighting for the rights of his people and their ancestral lands. We knew we had to capture this man's journey for the world to see". Pizango, the then-President of AIDESEP (Interethnic Association for the Development of the Peruvian Rainforest) was effectively the voice of Peru's indigenous population, working tirelessly to repeal government legislation in Lima and negotiate on his peoples' behalf. Yet it was his planned Bagua protest in 2009 (the largest peaceful indigenous protest in Peruvian history) which would unfold to form the film's central focus, as this monumental push for recognition and rights eventually escalated into a fatal collision which left dozens dead; national police officers and indigenous protesters alike. Pizango, despite being in Lima at the time was made the scapegoat and hunted under charges of sedition, conspiracy and rebellion. "Our main character was suddenly labelled a terrorist, and for events that occurred on the other side of the country… Pizango had become Peru's most wanted!" That said, it's the bilateral nature of this tragedy that really comes to the forefront and ultimately shapes the tone of the film.
"When the conflict happened, the focus shifted," explains Brandenburg. "When we were there, standing at the funeral of Flor Montenegro's husband (a police casualty) watching her raise her rose at his coffin, that was the turning point. It became different. We saw that this film was no longer just about indigenous rights, it was about everybody's rights. We could see how the government was using its people as political pawns by putting them against each other. And everybody was losing. It was just so unfair, and that's what we had to convey. In the end, When Two Worlds Collide is about showing that these sort of issues effect everyone… and realising this, that was our journey. Arriving to the point where we had to show the whole picture. Both sides. The truth".
The journey of the film is very much the journey of the film-makers, something Akbar is keen for audiences to bear in mind. "It's been our lives. From start to finish we were there, living in Peru and totally immersed in the story. This wasn't just something we did for a few months, then went home, then came back again. We were living it, and as the story went along we were right there going along with it… finding things out literally as they happened". The result? A documentary which boasts a remarkably raw and authentic feel, bringing us alarmingly close to the situation at hand.
But such infiltration is not without its risks. As Orzel recalls, "we were filming protestors at an oil station shut-down and suddenly we're surrounded by heavily armed officials who confiscated our passports and threatened to charge us with aiding terrorists. There were also tense moments when we didn't know if our movements were being monitored. And then there was Pizango, where we filmed his escape from his office window and in a snap decision followed him into asylum in Nicaragua. Whilst shooting, we also faced excruciating heat, rainstorms, areas with malaria and tropical disease as well as all the recurring dangers of the rainforest. From getting stuck overnight in rivers on a 'peke peke', to near crashes in single-prop planes (on more than one occasion!), it's certainly been a challenge. Heidi even hiked for days through the jungle while 7-months pregnant! In the end, the film-maker instincts just kick in and you're suddenly in the zone with nothing holding you back."
And now, after nine years of total dedication, the team are determined to make the feature last. "Having witnessed so much of our story first-hand, it has become so important to us that we open this dialogue not only in Peru but on an international level. But the problem is that these things happen and then people forget. Suddenly, the country moves on and it's back to development and people need jobs. That's why we're going to work hard not only to open this discussion, but to keep the conversation going. At the moment, we're looking to align the film with NGOs working on the ground and we're also working with an impact producer to come up with strategies to take the film forwards. Let's not forget that Alberto [Pizango]'s trial continues and if anything happens, we need to be ready to act and support him. With documentary, it's all about that next step and we hope that we can start a dialogue to move Peru forwards, and more importantly to prevent something like this from ever happening again".
You can read our full review of When Two Worlds Collide HERE.
When Two Worlds Collide is currently in UK cinemas. More information can be found at facebook.com/whentwoworldscollide

Follow Sounds and Colours: Facebook / Twitter / Instagram / Mixcloud / Soundcloud / Bandcamp

Subscribe to the Sounds and Colours Newsletter for regular updates, news and competitions bringing the best of Latin American culture direct to your Inbox.
Share: