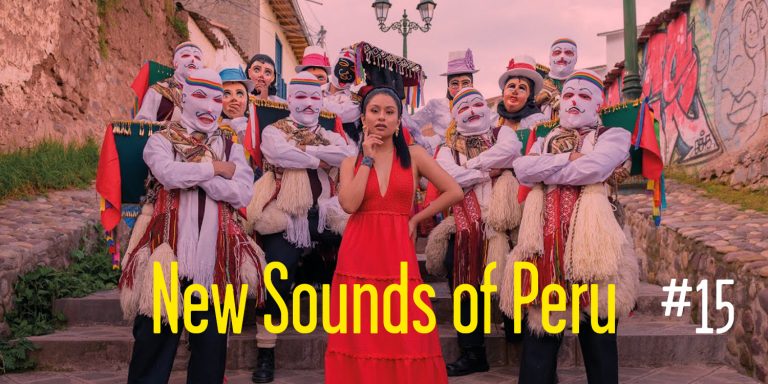 New Sounds Of Peru #15
09 April, 2021
We've lost so many friends that we longer want to keep count. A whole year later and we are exactly where we were when all this madness started. Except now, we have to mourn those we've lost as well; and it seems like it will never end. The pandemic has shown us how our government works: precariously. There's no oxygen available for poor people, especially as each tank can cost as much as £900. An ICU bed in a private hospital costs even more, £90,000, and you need to pay that upfront in some cases. And why do we have to go to private healthcare? Because public healthcare collapsed a long time ago. We need a change and we have only one option to achieve that now. This Sunday we have elections in Peru and there's only one party offering to put the citizens first: Juntos Por El Perú, with Verónika Mendoza as the leader. From Cusco, Mendoza is an anthropologist and ex-congresswoman on the left; she is intelligent, prepared and young. For universal healthcare, dignity and sovereignty, I vote for Vero. Yo Voy Con Vero.
Here you have some releases from March, including some that were released as campaign songs, like "Nuestra Lucha es Fiesta" by Gahela Cari, a candidate for congress. Also "Mi Reclamo" by Wendy Sulca & Olaya Sound System and Lobo Gris's "Como Tu Sangre". They make clear that Peruvian musicians are actively participating in the outcome of the elections. We'll open with Alejandro y Maria Laura's "Algo Tiene Que Estar Mal" on YouTube since it hasn't been released anywhere else (and hence not on our Spotify playlist). See our picks below from many of the newest projects coming out of the country.
Alejandro y Maria Laura's – Algo Tiene Que Estar Mal
Gahela – Nuestra Lucha es Fiesta
Lobo Gris – Como tu Sangre
Camille Jackson – La Espera
Santa Madero – Segunda Cita
Negra Valencia ft. Santiago Barriga – El Refugio
Darling – Bipolaridad
LA MUDA – Parálicyst
Papá Indio – La Nueva Tempestad
Vali Cáceres ft. Niños Sin Smartphones – Pajarillo
Muhtron – Millenial Delirium
Pigmentos Que Vuelan – El Pacto
E.G.O. – Un Instante Más
Radical Chichos – Encierro
Los Erizos – Otra Dimensión
Fertakiri – Guerra Viral
Cuidado con el Sapo Oceánico – Vuelve a Casa
José Coronado – Bus
Sebastián Gereda ft. Yago – ESPEJOS
Animals Only – Un Poco Más
Garzomorphosis – Centinela de Memoria
The Amixers – Femme Fatale
CSZ – I Feel You
Dani Zilbert – Like a Ghost
QOQEQA – QOQEQA

Follow Sounds and Colours: Facebook / Twitter / Instagram / Mixcloud / Soundcloud / Bandcamp

Subscribe to the Sounds and Colours Newsletter for regular updates, news and competitions bringing the best of Latin American culture direct to your Inbox.
Share: