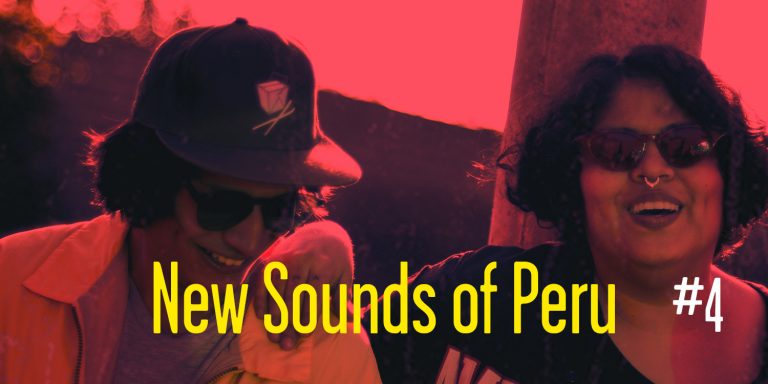 New Sounds of Peru #4
20 December, 2019
To finish off the year we have a new update from Ana Claudia Bendezu, as always bringing you the New Sounds of Peru, a Spotify playlist featuring the best new music from Peru. Listen to the latest playlist below and find out about the newest additions further down:
This year has been rich in music on the Peruvian circuit. There's still a lot of albums we were expecting, but are yet to arrive (Santa Madero's debut, the new La Mente, the unexpected comeback of Cocaina, and La Lá's third delivery, entre otros), but we are closing a decade that has seen música peruana flourish, and we can't do anything but love that fact.
Mi Puga Mi Pishgo – Bagre de Aguas Turbias
Valeria Valencia's voice opens the song with a classical "repeat each verse twice" style that belongs to huayno, a style that repeats throughout the song and that fits perfectly with what this band showcases: experimentation, playfulness and a love for what we sound like as a culture. A psychedelic cumbia guitar just adds to the personality of the song, full of elements that constitute what new music in Perú sounds like today, an exciting new outlook that involves mixing genres that are the roots of our sound with fresh ideas. "Bagre de Aguas Turbias" opens Kloaka, their very first studio album. An album that should be in every 2019's list for the best of Latino music. And any list that doesn't mention it is just incomplete.
Genre: Electro reggaeton
City: Lima
La Mente – Falta La Mitad
La Mente have been working on new music for some time now, and that's what we can hear on their new single "Falta La Mitad". They've been going through what every band goes through at some point, making songs and then stopping in the middle with no idea how to continue. "Falta La Mitad" is peak La Mente, playful in lyrics and rich in sounds. Produced by seasoned producer Manuel Garrido Lecca, or "Niño Manuel" as he is renamed in the song.
Genre: Electro fusion
City: Lima
Micaela Salaverry – El Río
Micaela Salaverry finally put out a song that had been waiting a long time for a proper release. With a base of electrocumbia, "El Río" closes an excellent year for the trujillana singer.
Genre: Electrocumbia, Pop
City: Trujillo
Gala Brië – Cuando Regrese el Miedo
Heartbreak will always be a source for lyrics, and the way Gala Brië sings this song shows us how it can also be what drives nuances in her voice. A new anthem for letting go of what doesn't let you grow. 
Genre: Rock, Synth Pop
City: Lima
Nina Bosa – All That Goes Away
The first single since last year's Liberation shows a new direction genre-wise for the singer. "All That Goes Away" is a fresh R&B song, a genre that's becoming more common in Peruvian music.
Genre: R&B, Neo Soul
City: Lima
Raised by Zebras – Máquina de Dinero
We are tired of living in a world where we have to make money constantly, and Garzo (Metamorphosis, Plug Plug) and Mark's (Asmereir) project Raised by Zebras knows how to deliver powerfully this sentiment on "Máquina de Dinero". The song is featured on recent album Disparticipation, released by the Peruvian band from their base in San Francisco (US).
Genre: Punk rock
City: San Francisco / Lima
Wiracocha – Guapea
With the lines "A ver tú, el pendejito, el bacán. A ver, ¿qué sabes hacer?" from the classic Peruvian classic movie Juliana, Wiracocha's first single starts, giving you a glance of what they represent. The mix of metal and Afro-Peruvian music will never get old. Wiracocha, a brand new group, are following the steps of older bands like La Sarita, with their first single "Guapea". The videoclip was filmed in El Carmen, Chincha, where the roots of Afro-Peruvian music can be found.
Genre: Thrash Metal, Afro-Peruvian
City: Lima

Follow Sounds and Colours: Facebook / Twitter / Instagram / Mixcloud / Soundcloud / Bandcamp

Subscribe to the Sounds and Colours Newsletter for regular updates, news and competitions bringing the best of Latin American culture direct to your Inbox.
Share: