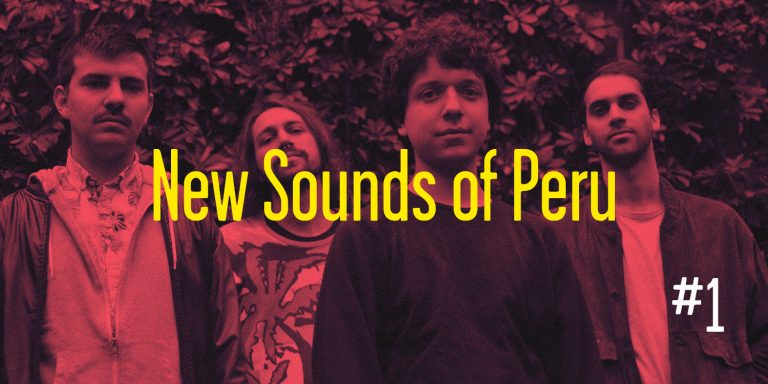 New Sounds of Peru #1
16 September, 2019
In a new regular feature on Sounds and Colours here is Ana Claudia Bendezu and her selection of some of the best new music from Peru. Ranging from indie rock and shoegaze to electronic, Latin pop and folk music, this is a real taste of what's happening in Peruvian music right now.
Ana Claudia is from Trujillo in the north of Peru, and has worked as a manager for the likes of Alejandro y Maria Laura and Catervas, created playlists for KEXP's "El Sonido" radio show and currently works with her own artist's agency, Rombos Music, and as a co-ordinator for Ombligo Encuentro, a music industry conference, where she set up Vitrina Showcase for highlighting the work of emerging Peruvian artists.
Here are Ana Claudia's New Sounds of Peru (see below the playlist for further information on the tracks):
Moldes – Regalo
Led by Katia De la Cruz, Moldes has released some of the most interesting songs in the past decade in Peruvian music. "Regalo", is their most recent advance from their next album.
Genre: Pop / noise
City: Lima
Nicolás Duarte – Trenes
Finding time where there isn't any, Nicolás Duarte has put out a song full of the attitude and rawness that characterizes him. He'll be releasing new music soon with his bands La Mente and Cuchillazo too.
Genre: Alternative rock
City: Lima
Baby Steps – Play
With what I will call a 'dangerous softness', the new material from Baby Steps keeps sounding more and more interesting to follow up.
Genre: Post punk / new wave
City: Lima
Trazar Diamantes – Espacio | Tiempo (Nada Nos Sorprende)
A brand new band that was born after another broke up, with their first single, that has an unequivocally shoegaze, alternative rock feel to it.
Genre: Alternative rock / shoegaze
City: Lima
Tourista – Casual
Indie rockers that have been playing with urban sounds finally show their trap song "Casual", not an actual single, part from their recently released album "Fantasmas". It doesn't lose their synth-y indie sound, but the flow here is real.
Genre: Indie / trap
City: Lima
Mundaka – El Paso
Genre: Surf rock
City: Lima
Los Lagartos – Mosquitos
Genre: Indie rock
City: Lima
Santa Madero – Linda Hamilton
Genre: Ballad / jazz
City: Lima
Chintatá ft. Verónica Ccompi – Cuerpo Soltero
Genre: Huayno
City: Cusco
Suerte Campeón – Si No Puedo Manejar Mi Vida, Menos Un Auto
Genre: Indie rock
City: Lima
Crik Faluzi – Bom Dia (Versión en español)
Genre: Pop / funk
City: Lima
Wendy Sulca – Chao, Chao, Chao
Genre: Latin pop
City: Lima
Pipi of Monky – Cialu
Genre: Indie pop
City: Lima
Aeropod – Obsequio
Genre: Indie pop
City: Lima
Andrea Martínez – Puedo Morir en Cualquier Parte
Genre: Pop / alternative
City: Lima
Los Estroboscópicos – Tokio
Genre: Lo fi/ dream pop
City: Chiclayo
Dengue Dengue Dengue ft. Sara Van and Mikongo – El Cavilante
Genre: Electronic / tondero
City: Lima

Follow Sounds and Colours: Facebook / Twitter / Instagram / Mixcloud / Soundcloud / Bandcamp

Subscribe to the Sounds and Colours Newsletter for regular updates, news and competitions bringing the best of Latin American culture direct to your Inbox.
Share: