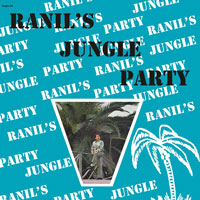 Review
Ranil y su Conjunto – Ranil's Jungle Party
The first task with reviewing this album is resolving the problem of what to call it. The standard definition would be Peruvian cumbia or Amazonian cumbia, though this music is often now known by the moniker of 'chicha,' a name which attached itself to the music in the 80s but that has not been used vociferously due to cultural connotations which aligned it with terrorism in Peru. Since a compilation full of the music entitled The Roots of Chicha was released in 1997 'chicha' has been used more and more, at least by the international press, as well as that album's sub-heading of Psychedelic Cumbia from Peru. This is the only description which doesn't fit, or at least doesn't fit for Ranil's Jungle Party.
Psychedelic music implies music that has either been made with the use of hallucinogens or to be listened to while under the influence. Musically it implies the use of foreign sounds such as the Indian sitar and tablas that were originally used by bands in San Francisco when the term was first used, as well as far-out song structures and chord sequences. Then there are the lyrics which can often be abstract, whimsical or esoteric. None of these characteristics apply to this album.
Ranil's Jungle Party, being re-released on vinyl after only ever being released initially around a small area of Peru, is most definitely a cumbia record, but rather than edging towards psychedelia it simply edges closer to rock 'n' roll. The attitude and drive are pure 50s rock 'n' roll and the guitar echoes legends such as Link Wray, The Ventures or Duane Eddy. I'm sure if Quentin Tarantino had been acquainted with Peruvian cumbia in the 90s Ranil y su Conjunto would have made appearances on From Dusk Til Dawn, Pulp Fiction or Reservoir Dogs.
The mixture of rock 'n' roll/surf guitar with heavy Latin percussion and the rhythm of the Pacific, cumbia, is certainly an infectious one, and it's the guitar that is king here. There is something both languid and precise about opening track "Andalucia" as Raul Llerena, band leader and guitarist in Ranil y su Conjunto, teases out a delightfully judged guitar line that manages to take a few unexpected turns during the songs 2:48 length. The volume know is turned up a notch on the next track, "Marlenita," undoubtedly one of the album's highlights. It's a melodic tour de force with a sprinkling of Carlos Santana's Latin fusion. It's strange some of the influences that seem to creep into the music; "Lamento en la Amazonía" has a smooth Caribbean, almost reggae feel, the Eastern influence in "Chinito Rule" or "Tus Cabellos," which has a huge guitar sound due to its use of a 12-string.
This is an album mainly of instrumentals except for "Denuncia a tu Patron" and the last three tracks, which all feature the vocals of Llerena. He has a strong, smooth delivery and often finds interesting melodies to complement the music, as on "El Rondador," the last track on the album. It's a song, which as with the rest of the album, shares a feel with the highlife music of Nigeria and Ghana, no doubt due to the fact that it marks a point where indigenous styles meet the possibilities of amplified equipment and electric guitars. An enduring aspect of the music of Ranil y su Conjunto as that this was music made simply for the people around Iquitos in Peru, where the band lived, and therefore never had to please a mass market.
What anchors all of these songs is Llerena's guile on guitar. This is also one of the reason I despise the term 'psychedelic' as it often refers to music that has been made thanks to the use of drugs rather than due to the ability of the musicians. At times Llerena is close to jazz with his measured and clinical yet always incisive guitar-work. This album is a real treasure, and its success, will hopefully mean reissues of plenty more from Ranil y su Conjunto. Considering these records will only have ever been heard by a lucky few people in Peru this will be well-received to say the least.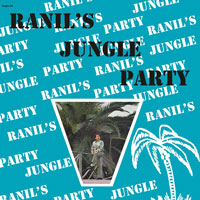 Release date: September 14th 2010
Record label: Mastropicas / Light in the Attic
Buy Ranil's Jungle Part at Amazon HERE.

Follow Sounds and Colours: Facebook / Twitter / Instagram / Mixcloud / Soundcloud / Bandcamp

Subscribe to the Sounds and Colours Newsletter for regular updates, news and competitions bringing the best of Latin American culture direct to your Inbox.
Share: