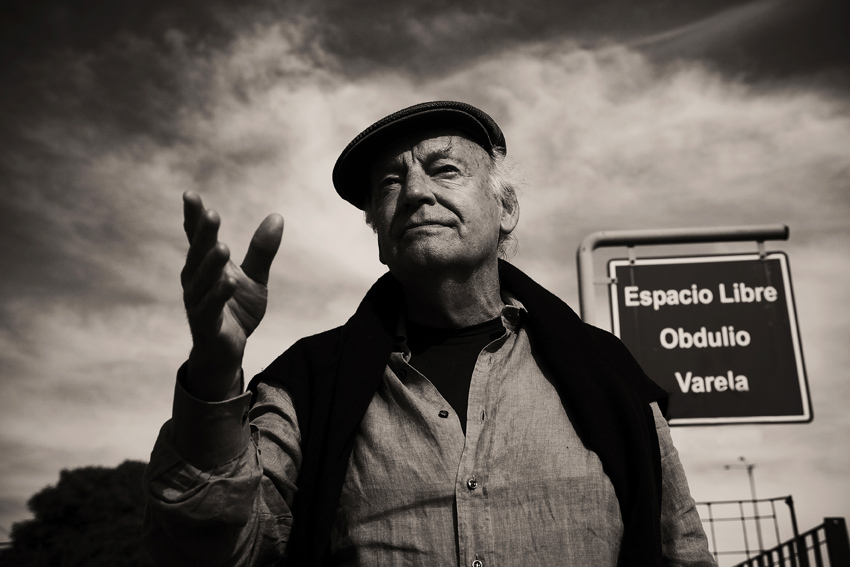 El Gol de Galeano
21 April, 2015
Like the most of us, Eduardo Galeano had never been a footballer. Well, of course he played fútbol, but he never played it in a professional way. Even if, like every Uruguayan children, he "always wanted to be football player", in the end, like every South American writer, he just "became a frustrated" one. As he once affirmed: "I became the best of the best, the number one, better than Maradona, better than Pele, and even better than Messi, but only at night, during my dreams. When I woke up, I realized that I have wooden legs and that I'm doomed to be a writer". Which was also one of the best things that could have happened to his career, readers and arguably his football team too.
Because Galeano was able to transpose that frustration into poetry: the more he understood he wasn't born to play on a football pitch, the more his pen sharpened and his creativity enriched. He painted the world of fútbol like few other writers (incidentally, another one was rooted in the La Plata region too: Osvaldo Soriano) and he was unmistakably in love with the game, even if his relation with football has always been one of love and hate.
If on one hand fútbol bewitched him, deeply inspiring his writing talent, on the other he couldn't stand the commercial drift and the profit mindset which have enslaved the football world and transformed the game into a "sad voyage from beauty to duty". Galeano was arguably the first writer who did justice to football literature. Before his (and Soriano's) advent, football was indeed considered a minor subject in the literary panorama.
El Fútbol a Sol y Sombra (Soccer in Sun and Shadow), published in 1995, was the first work about the "beautiful game" to be published and praised all over the world, and changed the way football was regarded. Since that moment, even a patched and seasoned football rolling around a pitch could deserve a poem, and even a dusty field, full of holes, could stage a drama worthy of a Greek tragedy.
Even if Galeano was better known for his more politically-engaged works, like Las Venas Abiertas de América Latina (Open Veins of Latin America), which also forced him into exile, his football-oriented narrations were masterpieces, which are today mentioned as canonical of the genre. When writing about football, Galeano used his romantic flair: he wrote about myths, about legends but, intriguingly, his characters were normally always losers, who could redeem their life thanks to the support of fútbol.
He always felt in love with those unwilling heroes: those players like his beloved Lionel Messi, who were born scrawny and always looked frail, or those "insolents rascals", perennially unfit and born to be wild, like another of Galeano's favourites, Maradona. Using his words, he was fond of those footballers able to defeat their physical or character weaknesses, and once on the pitch could "set aside the script and commit the blunder of dribbling past the entire opposing side, the referee and the crowd in the stands, all for the carnal delight of embracing the forbidden adventure of freedom".
Galeano loved them in no uncertain terms, because through their unpredictable talent he could nourish with new lifeblood his idealization of fútbol and keep it away from vices and sins. He never liked physical nor muscular power; as he always affirmed "good soccer players need not to be titans sculpted by Michelangelo. In soccer, ability is much more important than shape, and in many cases skill is the art of turning limitations into virtues".
Through his everyday fútbol heroes, he always fought the gods of football, the "money and technocrats", who were (and still are) trying to trap and cage the joy of going after and playing with a ball. He condemned that game which was already becoming the slave of profit. Galeano thought that fútbol was happiness, that it was all about "that crazy feeling that for a moment turns a man into a child playing with a balloon, […] playing without even knowing he's playing, with no purpose or clock or referee".
Galeano, like every other South American writer who wrote about fútbol, wasn't simply talking about a sport. He was also describing and narrating the social and political situation of Uruguay, Argentina, Chile, South America and the world at large. The games were allegories, the players and coaches were personifications, the clubs were emblems, and the stadiums and fields were images mirroring something bigger and more material called life.
In effect, as he affirmed, "few things happen in Latin America that do not have some direct or indirect relation with soccer […] football counts in Latin America, sometimes more than anything else, even if the ideologues who love humanity but can't stand people don't realize it".
Fútbol was, for Galeano, a loudspeaker through which he could spread universal messages and do battle. Fútbol was about politics or even more: it was about society, social commitment and integration. Through fútbol he fiercely took the offensive against racism, pointing at a new direction concerning national identity that could involve in its discourse misfits and outcasts. In Galeano's words, fútbol suddenly became an all-inclusive language, which challenged and defied every established rule and code and gave voice to his most passionate expressions.
It was indeed at the hand of fútbol that he could free his inner self and, as he "confessed" at the beginning of El Fútbol a Sol y Sombra, "I've finally learned to accept myself for who I am: a beggar for good soccer. […] And when good football happens, I give thanks for the miracle and I don't give a damn which team or country performs it".
Eduardo Galeano passed away in his Montevideo home on Monday 13th April. Soccer in Sun and Shadow (available from Amazon UK and Amazon US) remains a seminal book about football, regularly featuring in lists of the best sports books of all-time.
You can find out more about Galeano and his work in our special Eduardo Galeano focus.

Follow Sounds and Colours: Facebook / Twitter / Instagram / Mixcloud / Soundcloud / Bandcamp

Subscribe to the Sounds and Colours Newsletter for regular updates, news and competitions bringing the best of Latin American culture direct to your Inbox.
Share: