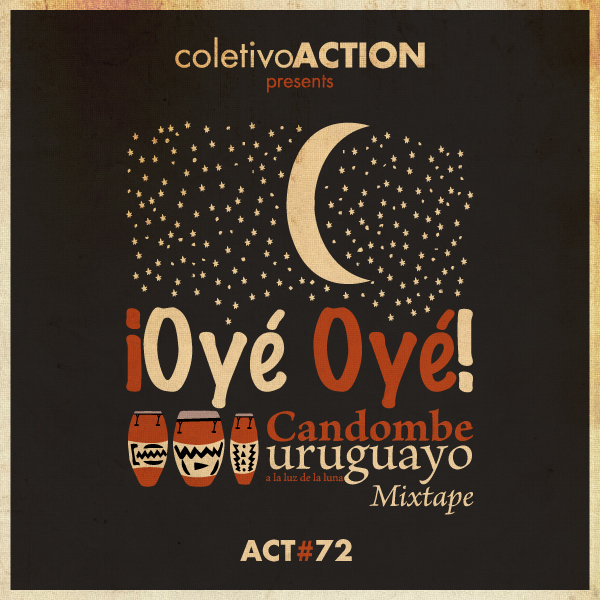 ¡Oyé, Oyé! Candombe Uruguayo Mixtape
24 January, 2014
Last month we got an email from the Brazilian music/graphic design collective coletivoACTION telling us about a mixtape of Uruguayan candombe-influenced music they'd put together. Well, it's been a busy month and so we only just got round to listening to it, but the good news is, it's absolutely amazing.
First things first, make sure you check the spelling of that rhythm, it's candombe (not candomblé), which is a Uruguayan rhythm with its roots dating back to the African slaves who lived in Montevideo in the early-mid 19th century. What's peculiar about candombe is that the rhythm was adopted by the white males of Montevideo, who are still the main performers of the rhythm, which can be seen in its original music and dance street party manifestation regularly on the streets of Montevideo (candombe is rarely practised in other cities in Uruguay).
coletivoACTION's rather amazing mixtape, which has the full title of ¡Oyé, Oyé! Candombe Uruguayo A La Luz De La Luna Mixtape, shows how candombe has been adopted by Uruguayan pop, jazz and folk musicians to create new hybrids of the rhythm. The mix is split into three sections, the first focusing on the pioneers of using candombe in pop music, before moving onto the artists of the 70s (including our personal hero Eduardo Mateo) who helped make "candombe beat" a recognised genre and then finishing off with a third section that showcases the latest artists using the candombe rhythm within their music. For an idea of what candombe sounds like in its usual comparsa street party form there are also street recordings dotted throughout the mixtape.
Find out more about the mix at coletivoACTION or listen below:
Tracklisting
Parte 1 (Los Pioneros)
1) Rodolfo Morandi – Candombe Roto
2) Pedrito Ferreira – Biricumyamba
3) Daniel Lencina – Triste
4) Manolo Guardia – Negro en sol menor
5) Lágrima Rios – Borocoto chas chas
6) Tanganika – La Tambora
7) Orquesta Romeo Gavioli – Tinta Negra
8) Conjunto Negrocan – Zambulite
9) Quinteto Vocal Brindis de Sala – Tingo-Tingo
Interval: Marabunta Desfilando
Parte 2 (El Candombe Beat)
1) Eduardo Mateo – La Mama Vieja
2) Los Shakers – Candombe
3) El Kinto – Suena blanca espuma
4) Ruben Rada – Las Manzanas
5) Mike Dogliotti – Camaleón
6) El Syndikato – Africa
7) Mateo y Trasante – Amigo lindo del alma
8) Totem – Descarga
9) Yábor – De vuelta por el barrio
Interval: Baraunda Desfilando
Parte 3 (Candombes-milongas, Fusiones y La Actualidad)
1) Opa – Montevideo
2) Sonido Cotopaxi – Baile de los morenos
3) Conjunto 03 – No quiero irme
4) Alfredo Zitarrosa – Carnaval
5) Los Zucará y Lucio Muniz – Cuareim Sur
6) Rumbo – Zumbae
7) Jaime Roos – Tal vez Cheché
8) La Calenda Beat – Consejo de Eros
9) Contra las Cuerdas – Lejos de acá
10) Martin Buscaglia – Candombe de la Parra
Bonus Track: Rosa Luna y su Tribu – Cartas Perfumadas
Final Track: Eduardo Galeano – Los Negros

Follow Sounds and Colours: Facebook / Twitter / Instagram / Mixcloud / Soundcloud / Bandcamp

Subscribe to the Sounds and Colours Newsletter for regular updates, news and competitions bringing the best of Latin American culture direct to your Inbox.
Share: