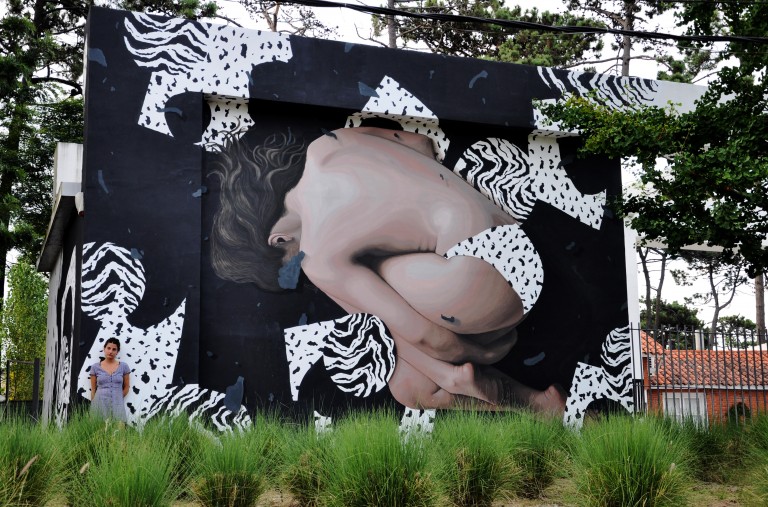 Colectivo Licuado
Street Art in Uruguay: Interview with Colectivo Licuado
13 June, 2016
You'd be hard pushed to find someone in Montevideo who hasn't seen Colectivo Licuado's work. They might not have known who was behind it, but they will have definitely been sat on the bus, bleary eyed on their morning commute and passed a vibrant delicately-observed wall of colour that interrupted the boredom and (occasionally overwhelming) grey of the city. Go a little further into the cultural fabric of the city and it's virtually impossible; their stunning work at the Borde – Street Art Exhibition in the Centro Cultural España stole the show with its playful interactivity and frank honesty.
The duo, formed five years ago by Uruguayan artists Camilo Núñez and Florencia Durán have firmly established themselves as pioneers in the fledgling, rapidly-growing street art scene with a series of collaborative murals that encompass the cultural and natural context of the neighbourhood they are in. Successful artists in their own right, Camilo painting as THEIC, and Florencia as Fitz, they decided that channelling the history of large-scale, public murals in Latin America was a job better done as a pair (pictured below).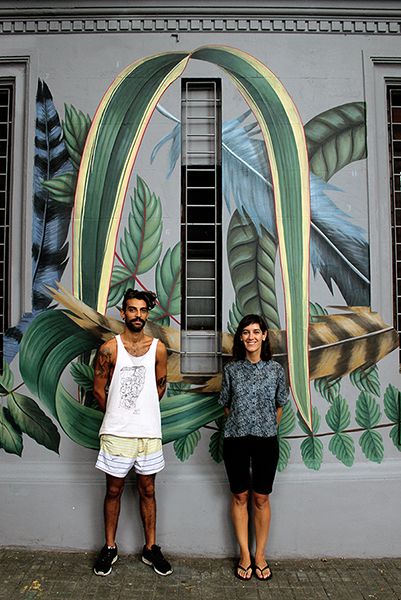 It's an approach that has engendered continued local, regional, and more recently, international praise and admiration, with requests for murals coming as far afield as Buenos Aires, Barcelona, Poland and India. With a busy few months of international work behind them, I caught up with them and asked them about their past, present and future plans.
How did the Colectivo come about? Was there a moment you thought 'this has to happen?'
We studied Industrial Design together at university and just started to do different things together with a bigger group of other students: take photos, stop motion videos, drawing, small scale productions. We moved on to experimenting with painting, stickers, small interventions in the streets. That led us to our first (really amateur!) mural, and we loved it, painting in public, the way the work reaches other people and becomes shared and exposed to lots of different groups. It wasn't like we decided to specifically become muralists, just that it was the route we took that we liked the most.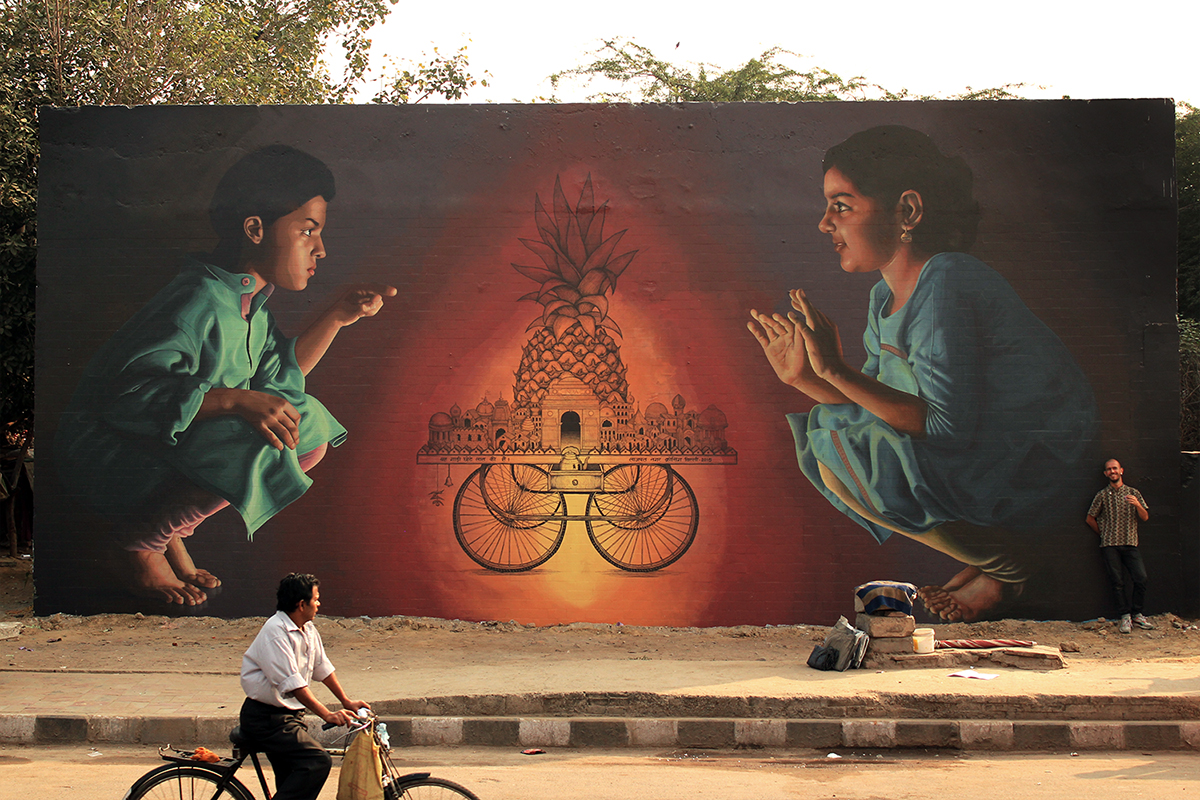 How would you describe your style?
I think we're still creating a style, we're still in that searching phase, even though there are still a couple of elements and feelings that we always transmit. We're interested in portraits, different ethnic groups, traditions, vegetation and how we combine those into the composition of a piece.
How do you fit into the art scene in Uruguay? Do you think of yourselves as pioneers?
Street art is still young in Uruguay. We know everyone that started and we were there amongst them in the first few years. We weren't the first, but we've definitely been around since those beginnings! That means we've kept ourselves on the margins, and we've not had any help from the government up until now.
Who are you influenced by?
There's a lot of good people around, from both past and present, whose work we reference. We really admire Klimt, Mucha, Magritte, the pre-raphaelites, Boticelli. Of those working at the minute in the street art world, there's Aryz, Etam Crew, Interesni, Kaski, Saner, Jaz, Ever, Bosoletti, all guys doing great stuff around us. They are all people we get really inspired by.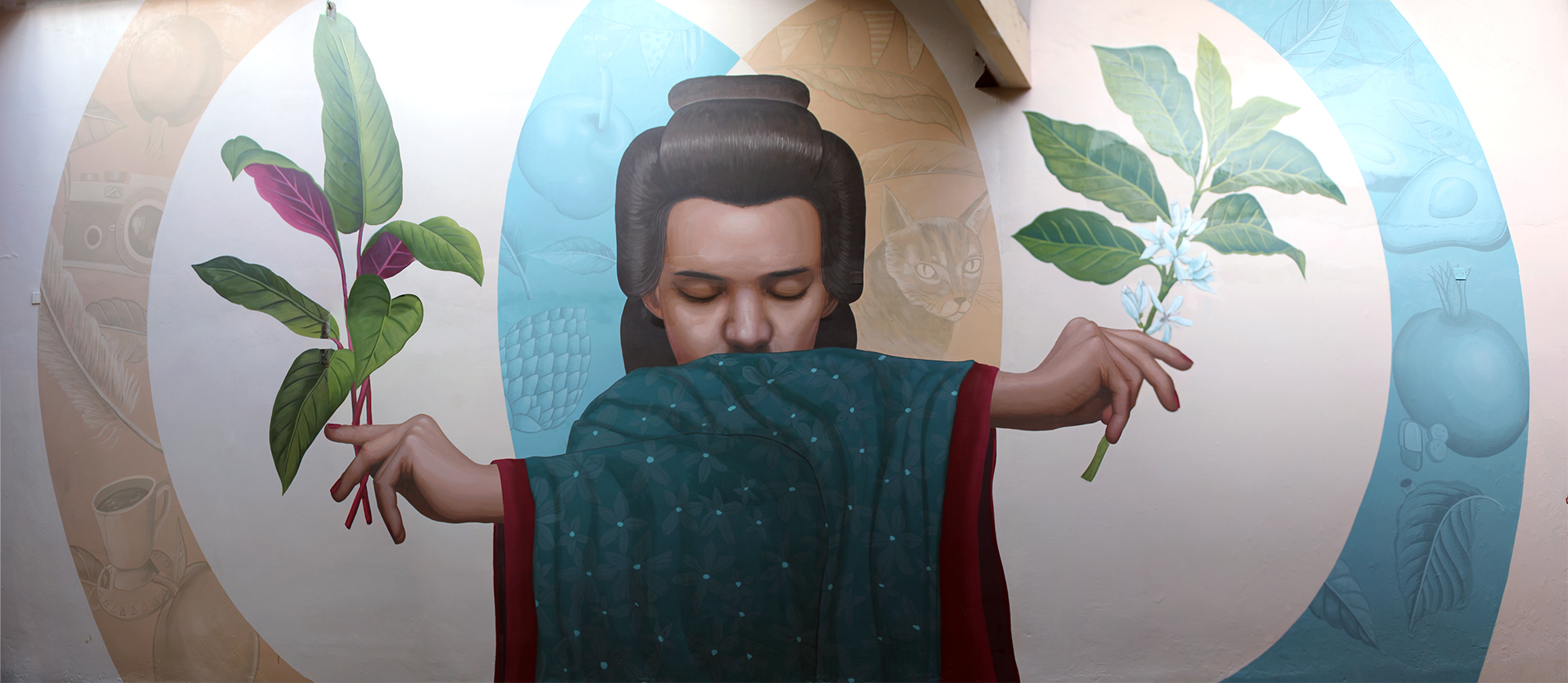 What's the next step?
We haven't got anything concrete planned, but there's plenty brewing! We've just come back from a big trip, so at the minute we're working away quietly. We'd love to paint something really big in Montevideo, and do a big show, but at the minute we're taking it one day at a time.
Is there anything particularly 'Uruguayan' about your work, or is it influenced more by international references?
It's a real mix. We love to investigate place and people, and see where we go from there. We've done a lot of stuff in Uruguay, some really inspired by the county, others not. Each place, each experience and person we meet becomes a certain form of inspiration.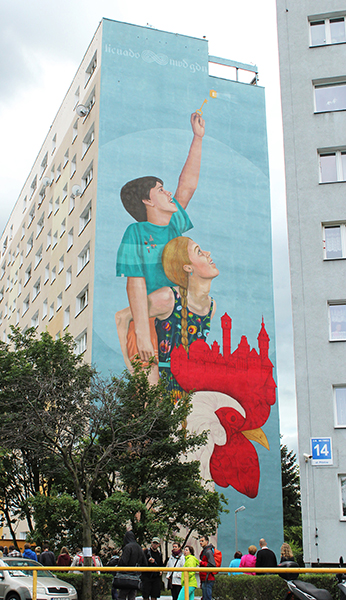 What are you drinking whilst you paint? Coffee, tea or yerba mate?
Coffee!
What do you think of Montevideo as a 'canvas' for your work?
Incredible, there are so many murals still to be painted. When people like it, when it becomes part of the fabric of the neighbourhood, that's perfect. Let's hope for more murals all over the city!
Find out more about Colectivo Licuado at colectivolicuado.com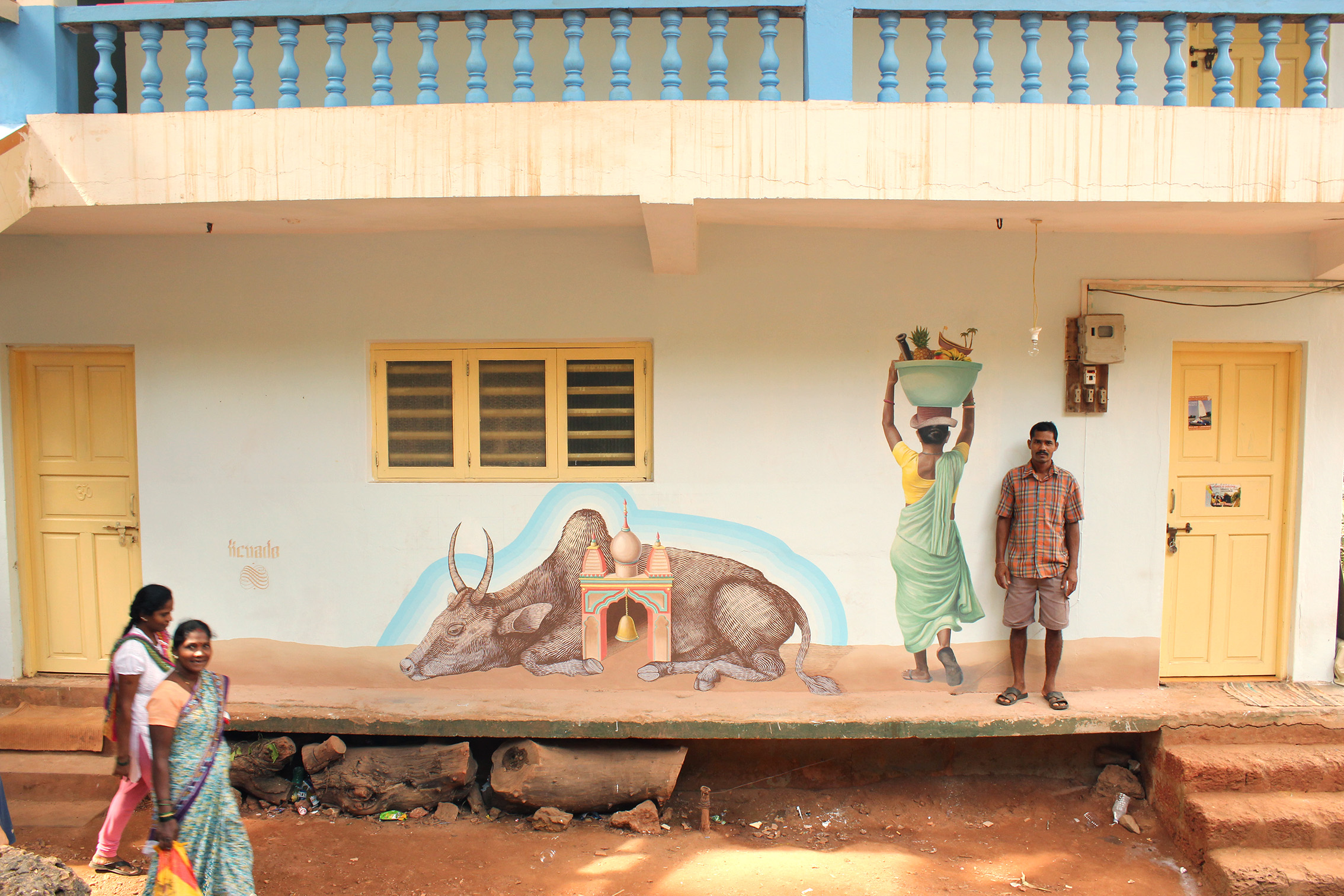 All images courtesy of Colectivo Licuado

Follow Sounds and Colours: Facebook / Twitter / Instagram / Mixcloud / Soundcloud / Bandcamp

Subscribe to the Sounds and Colours Newsletter for regular updates, news and competitions bringing the best of Latin American culture direct to your Inbox.
Share: