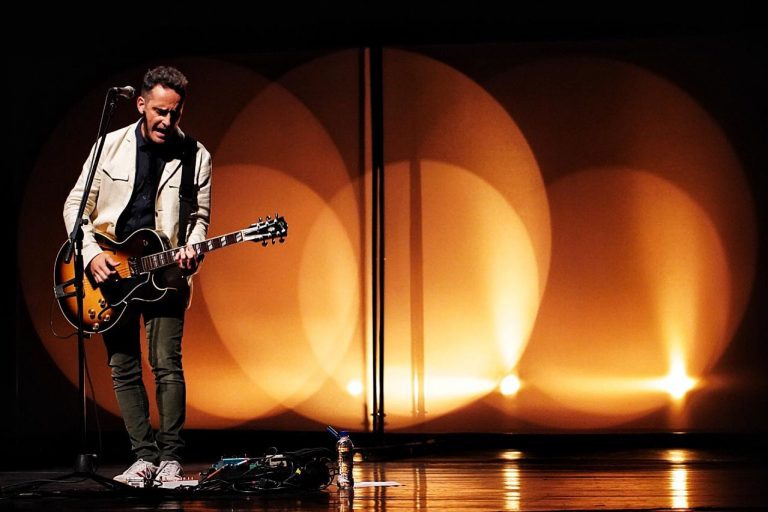 We're Going Through a Period with No Subtleties: An Interview with Jorge Drexler
20 January, 2020
The last time I spoke to Jorge Drexler it was following the release of Bailar En La Cueva (2014), an album recorded in Colombia and which utilised Colombian rhythms and instrumentation to create some of the most danceable music Drexler had ever made. Following that he took a sharp turn, creating Salvavidas de Hielo (2017), a record that saw him shift back to an acoustic sound. Yet it was also full of invention and contained some of the finest songs Drexler had ever put to tape.
It seems almost certain that many of the songs from Salvavidas will be performed as Drexler continues a world tour of his latest show, Silente, which just features him and his guitar, and will be coming to London's Roundhouse on Friday 24th January.
At the end of last year I was given 20 minutes to chat with Jorge about the upcoming tour, but I also wanted to ask him about the making of Salvavidas and his enlightening TED talk, with current political unrest in South America perhaps not surprisingly also figuring in our conversation.
When we last spoke, we talked a lot about Bailar En La Cueva and how that album was a reflection of a broader Latin American part of your identity, an identity that is perhaps not normally associated with Uruguay. Was Salvadidas de Hielo, which was obviously recorded in Mexico, a continuation of that Latin American element of your identity?
I have this feeling that there's going to be a Latin American trilogy. The first one recorded in Colombia, the second one recorded in Mexico, and I don't know exactly where this third record is going to go but I still have things to look for in South America. The biggest thing my music career gave me was South America. I got to discover through my songs a whole continent, more than a continent, because I prefer to talk about Iberoamerica rather than Latin America, as that includes Spain and Portugal where I sincerely feel very much at home.
So the second record of that trilogy of records to be made in South America, Salvavidas de Hielo, it was a very similar geographical concept to choose one country and go there and interact with the local musicians and local sounds but it was a completely opposite aesthetic concept. Whereas on Bailar en la Cueva I opened up the door for many different instruments I hadn't used before: all the spectrum of the Colombian percussion, which is a big spectrum, and the spectrum of Colombian rhythms and interactions and musicians. We had timbales, congas, tambor alegre, we had many, many things we hadn't used before, especially in the areas of percussion. And lots of brass and keyboards and electronics. On Salvavidas de Hielo I went in the opposite direction. We only used guitars, everything you hear on the record, every percussion is played on the guitar. It's either the voice or the guitar. I wanted to experiment with the two basic instruments of the singer/songwriter, the trovador, which are his guitar and his voice, and focus on that.
Did that then have an effect on the lyrics or the content of the songs?
No, it didn't change that. Because that was another difference with Bailar En La Cueva. Bailar En La Cueva was a rhythm-centred record. That means I wrote the songs already with a rhythmic base, I wanted to write following the body, and the rhythmic pulse. I wanted to write for the rhythm and for the body, for the movement, for the bailar part of the record, for dancing. I didn't spend a lot of time writing on Bailar En La Cueva. I think the songwriting on Salvavidas de Hielo it took me three times more than Bailar En La Cueva. I spent a whole year writing, and I think the writing is better. Which doesn't mean that the record is better because I can't judge the whole result of the record but I did feel one thing for example. After 100 shows of Salvavidas de Hielo we still kept playing the 12 songs of the record live which is something that has only happened to me with another record called Eco. I think investing a whole year in the writing actually came good, because I didn't want to go inside the studio without all the songs. All the songs were written on a sofa with a guitar, a word processor or a piece of paper, and a little recorder that I had. I wanted the songs to be autonomous, to be able to be played only with guitar and voice because I didn't know at the beginning that I was going to use the guitar for percussion. I thought it was just going to be guitar and vocal, which it actually ended up being but in a twisted way, because we brought five percussionists to play on guitar.
It's interesting that you talk about that process of writing the songs taking a lot longer. I recently watched your TED Talk and was struck by how you describe the complexity of identity. Did spending that extra time allow you to define the identity of each song better?
You never get that, you never get the identity of a song the way you want. And that's part of it. The closer you get to the thing, the more details you have. You very quickly disregard complete veracity of perfection. You go for the imperfect, just like living beings.
The TED talk was made in the middle of the process of writing the record so I got this feeling that it was the 13th song on the record. I was inside the dynamics of writing and I continued with the TED talk, and there's a song that's a spin-off, that's the song "Movimiento". The last words that I say on the TED talk are announced on that song: "De ningún lado del todo / De todos lados un poco". "We're not completely from one place, we're a little bit from every place", something more or less like that. It was an inside joke but I was announcing the song "Movimiento" which was being written at the same time as writing the TED talk. It came out of this concept and also from this book by Yuval Harari, which is a very known book called Sapiens: A Brief History of Humankind.
I'm quite lost right now. I need to write a new record and I don't know where to start, which is a good sign [laughs].
You haven't chosen a country for your new album yet?
No, I don't know. I know I want to go there [to record], I want to go to Brazil maybe, I travelled since the last time we spoke, to every South American country, except from Honduras. Many of them like Mexico, Argentina, Chile and Brazil every year, sometimes 10 or 11 cities, so I have a very strong connection to Iberoamerica. There's a very exciting movement in Ecuador which is very surprising. Have you head about Nicola Cruz? Mateo Kingman? People that come from the Amazonian forest to play. He was raised in the Amazon, it's really exciting.
Ecuador could be interesting. There's so many countries to choose from in South America!
When I mean I don't know where to go I'm meaning more in terms of the writing part of the process. It's such a complex moment right now in South America, everything seems to be moving, everything seems to get polarised, everything seems to get extreme as well, it's really hard for me to talk about it. I hate simplification, I think we're going through a period with no subtleties in South America. It's whether you're A or B. I hate those situations where you have opposite positions that exclude each other. 
It's frustrating, but again it's like you said in your TED Talk. Life is complicated, yet we are told that the solution to immigration is to build a wall, to use an American example, but it's so much more complex than that.
You just said something that I hadn't realised really. I have the same relationship with a country as I have with a person. The closer you get to Bolivia the more complex it seems, it's like getting to know someone. I refuse to simplify the concept and to take sides for my political vision of the world, which I have, but I refuse to say I will apply this view to Venezuela and to Bolivia and to Chile so that I can get to a conclusion very easily. It's not easy. Every country's really different and really complicated and often opposite things are moving in the same direction, so you have to read a lot, and inform yourself, and talk a lot. And I have this luck that I can call on the phone everyone from all of those countries and hear their version in first person and so get a deeper connection. At this time we should aim to get to know a lot about a little number of things, and not a little about a lot of things.
This Silente tour that you will be bringing to London has already begun?
We have actually been to Argentina, Chile, Brazil and Uruguay. We first went to those countries, and many others, and did 100 shows and then we went on tour again to many of those places: Argentina, Uruguay, Chile, Portugal, Spain, Mexico and we're going to London next. This is with Silente. It's also a move to the opposite side of the orchestration. We had a big show with a big band and now this is a very small show with only one person on stage, which is me. We use silence as a prima materia and paradoxically to make silence evident is through sounds, generating a sound and stopping it. It's a very subtle show, very minimal with only white lights that work through transparencies, old, conventional lights, no moving programmed lights. All the lights are very theatrical, very fixed. The sound design is very sophisticated, we use microphones that only work from distance, so you don't have this pressure of sound. I don't know how it's going to work in the Roundhouse actually. I'm very curious about that, because I love the venue but it's a very open and wide stage, so we will have to design something. I've been there before to the Roundhouse and I really loved it.
For the first time in my life my son, who lives in London, is going to open the show. He's a very interesting composer actually, he knows much more about music than I did. He's called Pablo Drexler and you can find him under, he doesn't use his name, he's called dryriverbed. You can find him on Soundcloud. I'm his father, I can't judge him but I think he's amazing [laughs].
I would like to say one more thing about the show. Silente is an exercise of lack of information. At this moment we are under this omnipresent invasion of information that we're exposed to: visual information, sound information, emotional information, we're receiving stimulus all the time, we've got used to this multi-information bombing that we get. So Silente requires from the audience a very-focused attention on one thing. We wanted to work with perception, to make the people focus on one specific detail, with the minimum amount of information you have to deliver to get the audience's attention. It was really difficult to get to that point but I'm really happy with it.
Sounds good. And you'll be playing songs from across your career?
It's from the first song I wrote to the last one I wrote. I'm really happy with the show. I think I have to go.
Jorge Drexler will be performing at London's Roundhouse on Friday 24th January. His Silente tour will then go to Spain before heading to South America and North America for further shows.

Follow Sounds and Colours: Facebook / Twitter / Instagram / Mixcloud / Soundcloud / Bandcamp

Subscribe to the Sounds and Colours Newsletter for regular updates, news and competitions bringing the best of Latin American culture direct to your Inbox.
Share: