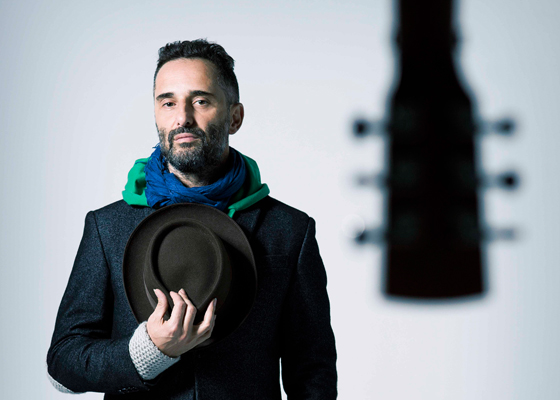 I Wanted This Record To Be Physical: An Interview with Jorge Drexler
15 April, 2015
For his last album, Bailar en la Cueva, the Uruguayan singer/songwriter Jorge Drexler took the bold step of relocating to Bogotá and working with Mario Galeano, the mastermind behind Ondatrópica and Frente Cumbiero, and a new group of musicians from Colombia, that included members of Bomba Estéreo, Meridian Brothers and Romperayo. The result was undoubtedly the most danceable album of Drexler's career, as well as one of his most experimental. It also received much love from the music industry, with the track "Universos Paralelos", a collaboration with Ana Tijoux, winning Record Of The Year at the Latin Grammys, and the album itself being a runner-up in the Album Of The Year category.
I spoke to Drexler about this latest direction in his career, about why he chose Colombia as the setting for his new album and how he came to work with Caetano Veloso and Calle 13, alongside the Colombian contingent. As a study in understanding what it means to be Latin American I couldn't have spoken to a more fascinating person.
Why did you decide to make this album in Bogotá?
This album is an attempt to regain two kinds of territory. The first territory I wanted to expand, it was ontological, it was about you, I wanted to expand my own personal territory. Usually I work from my ideas and my feelings and I was willing to introduce another component, the body, movement. I wanted this record to be physical, I wanted it to produce movement. I'm usually comfortable with the mind and heart situation. I can manage that, and I wanted to move that from your head and you chest to your feet. Why can't I make music that comes from your feet, that comes from a groove? What kind of songs, what kinds of lyrics, what kinds of melodies would I use if I started a song with a rhythmic, with a telekinetic connection, trying to move bodies?
That was one of the territories I wanted to expand, and the other was a geographic territory. I am from Uruguay, the smallest country in South America, inserted between the two biggest countries in South America, and I started on my early records making a big effort to sound Uruguayan, to sound local. Then, very gradually I moved to sounding regional. I assumed I could play samba with 's' from Brazil and zamba with 'z' from Argentina and those were also natural territories for me because I grew up listening to Brazilian and Argentinian music. I moved from local to regional. And on this record, for the first time, I moved from regional to continental. I assumed that I am South American, Latin American. Maybe it's hard to perceive from far away but I come from Rio de la Plata, Montevideo, across from Buenos Aires. We have a very distinct identity: melancholic, passionate, but we don't dance… we used to, 70 years ago, tango, big movements, but we turned to an intellectual and an emotional society that thinks about its feelings a lot, that talks a lot but doesn't express them physically, and when we go to Bogotá or Costa Rica or Puerto Rico or to Cuba we feel as far away from that as some Europeans do. We feel it's something that we might admire but that doesn't really belong to us. But then after living in Spain for almost the last 20 years I learned gradually to pay attention more to the things we have in common with Peru and Ecuador and Chile and Colombia and Venezuela. I became more aware of the things we have in common and of the differences I used to perceive before.
In the last four years I have been travelling through Latin America many times. Since Amar La Trama, my last record, my project grew very intensely in the Spanish-speaking world and I got to feel comfortable and have an audience and feel at home in Guayaquil or Bogotá or Caracas or San Juan de Puerto Rico or Guadalajara in Mexico. Once you feel at home you open yourself and I opened myself to those realities, those sounds, we would go dancing to vallenato in Medellín or cumbia in Bogotá or cuera in the southern part of Chile, in Temucu, or Santiago and we would go dancing and playing after the shows. We were a very curious group of people, me and my musicians, so we would slowly get in touch with rhythms, musicians, realities and when we started making this new record I said "if I want to expand my rhythmic territory, why don't we just pick up the phone and call some of these people we met along the road?" We had a lot of people we admired in Colombia, in Bogotá. We called them and we said we would like to do a different kind of record, we would like to record, to expand our continental territory and we can do it there, and we went to Bogotá.
I've spent a lot of time recently in Colombia, and especially in Bogotá, to find out more about the new music being made there. For me, the place has a very special energy…
There were two other things that were important to me about choosing Bogotá. The first one was I've had this feeling [when I've been] that Colombia is coming from 50 years of tragedy. Medellín was the most dangerous city in the world for many years, until seven years ago. And now you go to Medellín and the way the city has changed. The Colombians are not completely aware of the relief that you sense in the air in Colombia, a kind of joy or openness that comes from having been closed to foreigners for a long time. I have this friend in Medellín that told me "I grew up and until I was 25 years old I had never seen a foreigner in my city. People from outside just didn't come to Medellín." So they are very curious, very open, they have this newborn feeling the Colombian musicians with an openness and a complete lack of envy, of distrust.
The other thing that's important to me in Colombia is that my grandfather from my mother's side died in Colombia. He lived his last 30 years in Colombia. After my grandmother died he married a Colombian woman and so I have Colombian family, and he would always come in the 80s to Montevideo and bring – he loved Colombia with all of his heart – and he would bring vallenatos by Alejandro Duran in the 80s to Montevideo. I'm sure I was the only person who had those kinds of records in Montevideo in the 80s. I was fascinated by vallenato, completely fascinated.
Did you think about featuring a vallenato on the album?
When I say that I love a music genre, like vallenato or flamenco, for example, it might even work in the other direction, that I have so much respect for it that I don't incorporate it into what I do, I just enjoy it, but I feel it comes from a different place from where I am. There is a vallenato accordion but it's played by an English man [laughs]… it's played by Will, by Quantic. We have an English vallenato accordionist on the record! [Laughs] I really admire his work and it was such an honour to have him on the record.
Was there a particular reason you chose Mario Galeano [Frente Cumbiero, Ondatropica, Los Piranas] as your producer in Bogotá?
The particular reason is that we love what he does, we feel very connected with the approach he has with music. We met him on one of our trips to Colombia and we loved the entourage in Colombia, the ambience there. There's a very important thing we saw in Mario and in Colombian music today. They have a very healthy relationship with their roots, which involves also having a very good relationship with a time. Mario is a great example of that. He can play guacharaca and all kinds of local percussion very beautifully, and he has a huge collection of old vinyl of Colombian music of the 40s and 50s. He's really an expert in that. And at the same time as that he's very well situated in the present moment of music in the world. He's a master of sampling and he's also a virtuoso of the Moog bass and new kinds of processing of sound. He has an approach that looks a lot like the one that we have. You don't consider tradition as a museum subject, like a solid state. I consider tradition a liquid process. So he knows a lot about that but he's also… he understands that it's a dynamic process tradition and he's very deep and very open at the same time and we love that. The same happens with all the people we invited to work on the record. The same happened with Caetano Veloso. It happened with Calle 13, they are very open and rooted at the same time. It happened with Bomba Estéreo, and it happened the same with Ana Tijoux. This was the criteria in this record for inviting people.
It didn't happen in a planned way. The only person we picked up the phone and called was Mario and meeting him also had a lot to do with chance. The other people that were invited to the record were just from being there and being aware and being open. We were in Bogotá and Caetano was playing and I knew him from other shows that I had been to, from a record that I was invited to. When he became 70 they made a record with his songs and I was invited together with Devandra Banhart and Beck to sing, to make versions of his songs and he invited us to his show and then a dinner, and in that dinner somebody – a stranger who I will always thank although I don't know him – asked the two of us "when are the two of you going to make a collaboration?" and Caetano said "I'd love to" and I said "okay, so you're on because I have this song I'd love to send you called 'Bolivia'", so it was really spontaneous. And the same happened with Li Saumet from Bomba Estéreo. We were having dinner at her house and we ended up recording in one of her computers with a mic attached to a stick – you can see the photo in Twitter – and the same happened with Calle 13. We were in San Juan de Puerto Rico and Cabra invited me and Campi [Carles Campi Campón], he invited us to his house and we ended up playing songs from the new record to him and he talked so beautifully about one of them, "Todo Cae", that we told him "why don't you produce it?", so it was really going to this record with an open mind, the same way I go on stage.
I wanted to talk a little about Eduardo Mateo's [a Uruguay musician who enjoyed some brief popularity in the 70s]. I'm a huge fan of his and see a parallel between his work and yours, in the way that he mixed candombe with bossa nova and a love for The Beatles. Was he a big influence for you?
You hit a very important stop in my musical information. Eduardo Mateo is my main influence. He really blew my mind, especially Mateo Solo Bien Se Lame, I played that record millions of times and I learnt to play every single song on that record. I played them live for a long time, I still do sometimes. He built a bridge that we all used later and that bridge was between what he heard in his neighbourhood, he used to live in Barrio Sur and Palermo and he heard the [candombe] drums coming down the street and he would put that inside his music, and at the same time he was open to his moment. he perfectly understood what was going on with the open tunings of the 70s North American folk and The Beatles, and at the same time he was one of the best bossa nova guitar players. He assimilated completely João Gilberto in the 60s and he made the same parallel progress that Caetano made for example, incorporating João Gilberto's economic pancada (right-hand), incorporating the harmonic world of the open string tunings of The Beatles and Joni Mitchell and Crosby Stills and Nash, and putting all that together with what he heard around his house, his neighbourhood. He made exactly the connection between local, regional and world music that I was talking about, he was a master of that. This together with his crazy, unique, poetic world. He was a huge influence.
Jorge Drexler is performing in London as part of La Linea 15 on Tuesday 21st April. More details of the show at: comono.co.uk/live/jorge-drexler

Follow Sounds and Colours: Facebook / Twitter / Instagram / Mixcloud / Soundcloud / Bandcamp

Subscribe to the Sounds and Colours Newsletter for regular updates, news and competitions bringing the best of Latin American culture direct to your Inbox.
Share: