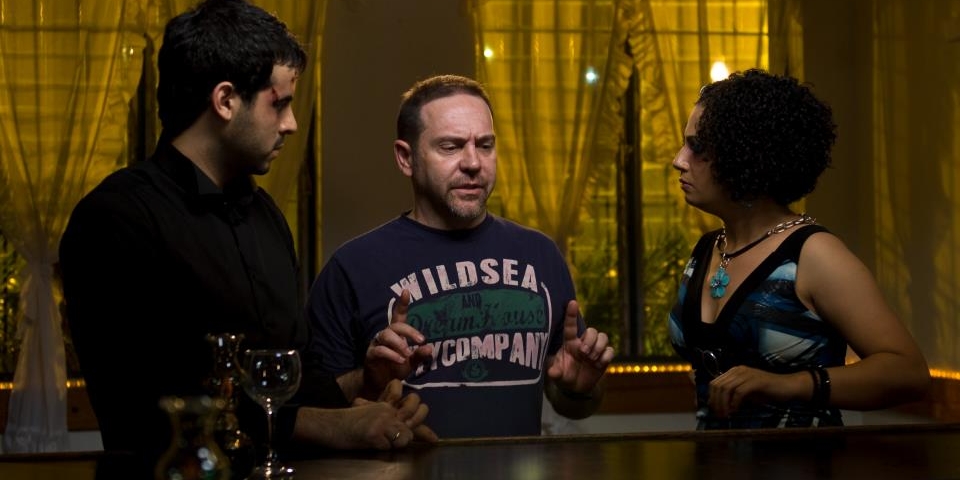 An Interview With Miguel Ferrari, Director of Venezuela's LGBT-themed Blue and Not So Pink
12 March, 2015
A group of middle-aged bolivarianas are cackling away behind me. Along with the capital's Venezuelan community, I've come to London's Bolívar Hall to see the smash film Blue and Not So Pink (Azul y No Tan Rosa), which is screening in the UK for the first time. In attendance is director Miguel Ferrari, the proud recipient of the 2014 Goya Award for Best Foreign Film in the Spanish Language. The film has stoked debate in Venezuela for its subject matter of homosexuality, family and intolerance, themes that have previously received little coverage in the mainstream media.
Blue and Not So Pink is bringing the house down. The story centres on Diego and his teenage son Armando, who are reunited after several years apart. Their sudden proximity forces both to reconsider their values and responsibilities in a number of ways. All around me, people laugh, cry, and holler throughout. As a piece of cinema, it uses humour to drag its audience in, before shifting onto a far more serious axis that pierces the deep-rooted intolerance which persists in modern society.
The film is decent enough, although it doesn't exactly bowl me over, but judging by the reaction when Ferrari takes to the stage for a post-screening Q&A, what really matters is its message. Blue and Not So Pink is the first time that two men have kissed onscreen in a Venezuelan film, which alone makes it an important piece of event cinema. My fellow filmgoers are all clearly in agreement that this is a landmark in national filmmaking. Ferrari is given a standing ovation.
Before the screening, I spoke to him about the film and the ongoing struggle for equality in Venezuela and beyond.
Is it your first time in London?
It's my second time in London. I live in Madrid so it's easy to come over and there's a lot to do. I came for a weekend a couple of years ago and I loved it. I moved to Madrid sixteen years ago to study film direction. It's a very magnetic city, the scene there really appealed to me.
Can you tell us about your career?
This is my first film as a director. I was an actor previously and working in theatre and television. In 1998 I decided to do my own projects, to tell stories. So I went to Madrid to study film.
Did you write the script as well?
I wrote the script and I'm the producer.
So it's a real labour of love?
I think that for any director to choose a story becomes a personal journey because it's months of work. You have to invest so much time in the project. I started to write Blue and Not So Pink at the end of 2008 and the film came out at the end of 2012. Four years seems like a long time, but many filmmakers invest even more than that in achieving their project. I was able to complete everything in four years, so I had luck.
What was the greatest challenge in making the film?
In my country, this film is somewhat complicated because there was a lot of controversy. There is still a lot of prejudice regarding homosexuality, not only in Venezuela, but in Latin America and all over. I was concerned that Venezuelan cinema never touched the subject. There had never been a homosexual protagonist in the history of Venezuelan film. This is practically the first film to centre on homosexuality.
Looking for sponsors for the film was hard. They told us directly that they didn't want their brands associated with themes of homosexuality. That's just an example of the difficulties and the obstacles we had to face. I think legalisation and education have to advance. In Venezuela, there are people who still think homosexuality is an illness.
So I wrote a story about a father and son who reconnect in spite of their differences. The father, who is homosexual, has been separated from his adolescent son for several years. It interested me to discuss homosexual paternity, and I wanted people to see that this guy was a human being like anyone else. The film talks about homophobia, the need to respect other people's choices, and diversity. To respect difference and to ensure nobody faces discrimination.
Do you think the subject of homosexuality is becoming more prominent in Latin American filmmaking?
In Venezuela, there are now various films. The same year the Venezuelan Film Institute approved my film, they also approved Mariana Rondón's Pelo Malo (Bad Hair), which addresses similar themes. Other filmmakers were experiencing the same concerns I was. For example, Fina Torres – a well-known Venezuelan director who won the Camera d'Or at Cannes (for Oriana in 1985) – has just made a film about a relationship between two women, Liz en Septiembre, which came out in 2014. It's like with everything: when the wall of contention starts to break, there's a deluge.
Why is that?
There is a necessity to express oneself that censorship denies. For example, when the Franco dictatorship in Spain ended, after such a long time, there was an explosion of creativity. In Madrid everything at a cultural or artistic level flourished.
But other countries, which you expect to be progressive, also have problems. France legalised same-sex marriage (in 2013) and the violent demonstrations which took place among conservative society make you ask yourself: if this can happen in a country like France, imagine the reaction in countries with a macho culture like Latin America.
Was the reaction in Venezuela as you expected?
It was extraordinary. More than 600,000 people (in Venezuela) went to see the film, ten times more than I'd been told to expect. This was a big surprise to the distributors, but I was always confident that people would connect with it. They identified with the characters and empathised with their situation. Being homosexual is not a defect, it's just something about a person, like being left-handed, or having blue or green eyes.
Before, to even mention the word 'homosexual' could generate prejudice. People didn't even dare say the word. This film has helped open a dialogue and discuss these topics more naturally. There is a large responsibility on the popular media – newspapers, television, radio – to inform and educate, in addition to entertain, the public. I believe the media has developed a distorted image of homosexuality through presenting gay people as stereotypes, or as a cliché, in a humiliating way. I wanted to criticise this in the film.
So has the film's success opened more doors for you?
Yes, of course. I've won a Goya, which gives you a level of credibility that helps with financing and getting new projects started. I've just finished writing the script for my new film, which is about family and the human essence. Universal themes, I'd call them.

Follow Sounds and Colours: Facebook / Twitter / Instagram / Mixcloud / Soundcloud / Bandcamp

Subscribe to the Sounds and Colours Newsletter for regular updates, news and competitions bringing the best of Latin American culture direct to your Inbox.
Share: