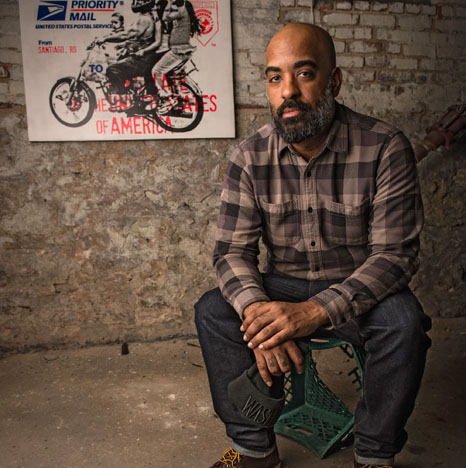 Courtesy of Peralta
Art exhibit: 'Reconnected' by M. Tony Peralta
10 December, 2013
New York City area readers of Sounds and Colours have an opportunity to learn about the Dominican Republic through the eyes of one of its lost sons.
"Reconnected" is a solo exhibition by Dominican-American artist, M.Tony Peralta, and it opens on Thursday, Dec. 12, from 7 – 9 p.m., at the Renaissance Fine Art Gallery in Harlem.
I refer to the uptown Manhattan-based artist as "lost," because as he explains in his artist's statement for the show, he had intentionally avoided visiting his parents' home country for five years because he didn't enjoy his visits.
"There was a certain level of disappointment and isolation I felt on my visits [to the Dominican Republic] and that discomfort made not want to go for a while," says Peralta, who three years ago embarked on a mission to get reacquainted with the country some call Quisqueya. He admits the judgement he held during his hiatus from visiting the Dominican Republic is something many Dominican New Yorkers can relate to. He says it's common for young Dominican-Americans to judge the country based on "short term visits" and assumptions that every Dominican is like those in their family or the folks from the campo (rural town in the countryside) their ancestors hail from.
When he returned in 2011, he learned his assumptions were wrong and began snapping a series of photographs that he would add to over the next few years on frequent visits.
Peralta is no stranger to brutal honesty when it comes to his work. In 2011, his show "Complejo" tackled an uncomfortable topic familiar to most Latinos – good hair vs. bad hair, and the color of one's skin.
As he told our friends at Remezcla: "I grew up with low self esteem as a kid … Not being seen as the good-looking one from my family just because I'm dark skinned. … Dominicans will people will call people with dark skin – jokingly – "mono (monkey)." I just wanted to tackle this elephant in the room, this thing with race."
"Reconnected" is a departure from Peralta's past work as its main subjects are people as opposed to the iconography of Latino/Dominican culture, such as his well-known Café Bustelo and Goya Beans prints, or the "Pelo Malo (Bad Hair)" print from his "Complejo" series.
The prints in the new show are based on photographs he took while on visits to the Dominican Republic. He experiments with bright primary colors and new techniques to achieve a textured background. Using stencils, he isolated portions of the images as a way to draw attention to them while hand brushing colors for detail. To give prints an organic and rustic feeling, he printed primarily on wood panels save for two pieces on canvas featuring family members.
"Reconnected" will be up through late January. Watch a visual statement below and keep tabs on Peralta's work via his blog.


Follow Sounds and Colours: Facebook / Twitter / Instagram / Mixcloud / Soundcloud / Bandcamp

Subscribe to the Sounds and Colours Newsletter for regular updates, news and competitions bringing the best of Latin American culture direct to your Inbox.
Share: