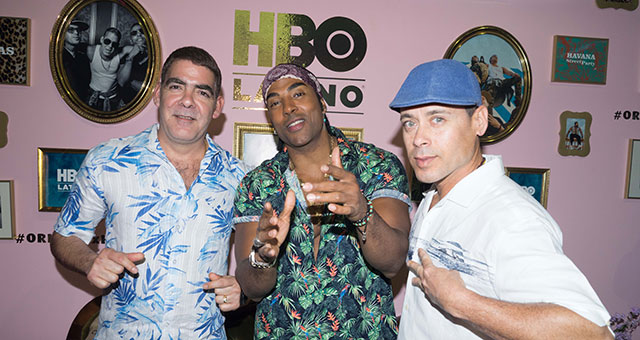 Cuban hip-hop icons Orishas star in new HBO documentary, 'Havana Street Party'
21 March, 2019
There is a reverence in the room whenever veteran or "old school" American rappers are around. It is a deep respect for pioneers of a style of music that wasn't necessarily welcome, yet is the number one genre in many parts of the world today.
For the iconic Cuban rap group, Orishas, it was no different at a recent event put on by HBO Latino in Brooklyn to celebrate the premiere of a documentary about the trio's historic return to their beloved Havana.
"A Lo Cubanx," which was hosted by Remezcla at their Brooklyn headquarters on the 13th of March, included an intimate performance by Orishas, a hip hop group formed in 1999 who are undoubtedly the most successful rappers to come from the island. The new documentary, "Havana Street Party Presents: Orishas,"  now streaming on all HBO platforms, captures their 2018 return to Havana concert after nearly a decade-long hiatus from performing on their island.
The evening was emceed by Tony Award-winning playwright Lemon Andersen, "A Lo Cubanx "showcased a powerhouse of Cuban and Afro-diasporic artists including Puerto Rican-Panamanian DJ and producer, DJ Bembona; Cuban producer, Edgaro Gonzalez aka Productor n Jefe, and Cuban musical dynasty heirs Axel and Xiomara Laugart.
Grounded in their origins in Cuba's underground hip hop culture, Orishas burst onto the world stage with their 2000 musical debut A Lo Cubano, a fusion of Latin rhythms and melodies with hip-hop that garnered international acclaim. Through the years, the group honed their unique sounds, delivering potent messages around a wide range of issues including immigration, identity, racism, and Afro-Cuban religions. Though the Orishas disbanded in 2009, they came back together to record in Cuba for the first time in 2017. The result was their 2019 Grammy-nominated® album, Gourmet, which featured an extensive, cross-generational cast of music artists.
In the HBO documentary, Havana Street Party Presents Orishas, viewers get to experience new Orishas' songs from the 'Gourmet' album and also get to relive hits from early on in their career. The trio performs at the city's riverside amphitheater in Parque Metropolitano Almendares.
We got to speak to two of the group's members, Roldán González and Ruzzo Medina, before their performance at the "A Lo Cubanx" party.
Sounds and Colours: For those who have never visited Cuba, can you explain what makes Cuba special?
Ruzzo Medina: Cuba is the face of the coin that is unknown. It's not just tobacco and rum. It's the necessity to do all that is possible in order to live. And in order to know it, one should go. Like the old man said, In order to know it, you've got to live it to see it. Times change, you'll see.
Roldán González: The only way to experience Cuba is to go, just like any other place in the world. For example, lots of Cubans born in the United States form opinions repeating what they've been told since they were kids. They don't know the quality, the heart, or the bravery of the Cuban, and the humility, as well. It's a marvelous country.
Now, if we unite the system of life with the politics of the country it's another thing. The politics is one thing, and the quality of Cuban character/people is another. Whatever happens, whoever the president is, the results is the the Cuban is an exemplary person who knows how to treat people and make them feel welcome.
S&C: How did you get into music, and why hip hop?
RG: My dad sang, and I loved watching him. I'd stay up till 2 a.m. watching him sing sometimes. 
RM: We came into this starting in 1994 experiencing the struggle that was making Cuban rap. Then, it was referred to as "music of the enemy." Some would ask, "Where do they want to go with this?" And what we wanted was to establish a genre that blended hip-hop with Cuban son, salsa, etc. And 10-20 years later, the naysayers realized it was a positive thing. It was correct.
The challenge was how to get it out into the world. Little by little, we did that, we got it out to the people. And, later, the island took notice and said, 'Why not?' And look where we are now. It's hard to believe. At an event with a huge media outlet like HBO, to be a Latino citizen of the world of Cuban descent, and a Grammy nominee. I would've never dreamed this, back in 1999. We convinced the world. As they say in el barrio, "Con corazón, bomba." (The heart beats)
S&C: Who would you collaborate with if you could. From the United States or elsewhere?
RM: Absolutely with two who aren't here anymore: Tupac and Notorious. But also other veteran artists, such as Snoop Dogg, Dr Dre, Common, Nas, the Roots. We've had such good fortunes to share the stage with so many great rappers from around the world. And even artists in other genres, such as Colombia's Sylvestre Dangond.
S&C: What will people see in this documentary?
RM: It had been 18 years that we hadn't played in Cuba. So, they'll see one of the most emotional concerts I've ever played. I can recall my legs shaking that day. That's real and that's what they'll see in the documentary.

Follow Sounds and Colours: Facebook / Twitter / Instagram / Mixcloud / Soundcloud / Bandcamp

Subscribe to the Sounds and Colours Newsletter for regular updates, news and competitions bringing the best of Latin American culture direct to your Inbox.
Share: