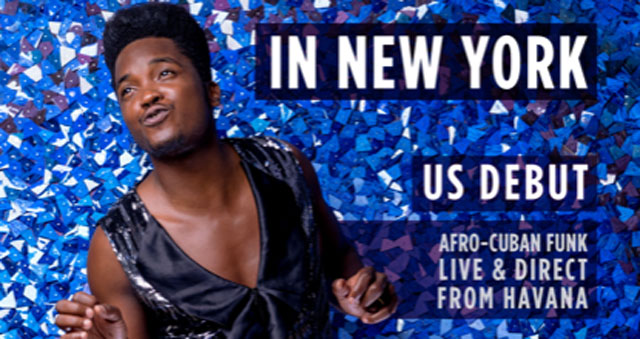 On the Fast Track to Stardom: Cuba's Cimafunk
16 April, 2019
The buzz around Cuba's Cimafunk began earlier this year for us. We kept hearing there was this Cuban funk band we just had to see.
Cue to the SXSW festival in Austin, Texas, in March, and the texts from publicists and other music industry insiders were nonstop.
Finally, the stars have aligned for us as Cimafunk has hit New York. Even The New Yorker is excited. And so are we.
Led by vocalist and composer Erick Iglesias Rodríguez, the band will play National Sawdust in Brooklyn on the 17th of April, and Drom in Manhattan on the 23rd.
We attended a talk with the singer at the Americas Society/Council of the Americas in Manhattan on the 15th of April, where we also enjoyed a stripped down performance.
Born in Pinar del Río, Rodríguez (whom we'll refer to as Cimafunk) grew up singing in the era of his city's trova movment. In 2010, he moved to Havana and connected with artists such as nueva trova movement singer Silvio Rodríguez, and alternative Cuban music singers such as Raúl Paz, David Torrens, and Liuba María Hevia, among others.
Cimafunk was asked if it was a struggle to become a working artist in Cuba.
"We've got the best music education and you can receive support, so I would say it's not that hard," he said. "I worked super calmly working on our album and I think it shows."
His style fuses funk music with Afrocuban sounds. As for lyrics, Cimafunk said he's into positive messaging.
"I write about food, sex, and having a good relationship with the environment," he said.
The band's United States tour is being managed by Collin Laverty, president of Cuba Education Travel, an organization that connects Americans and Cubans through travel. The company does more than just arrange private, academic or private trips, though. Laverty played a big role in making the historic Diplo / Major Lazer concert in Havana possible.
Asked how President Donald Trump's reversal of the restored diplomatic ties between the two countries have affected his work, Laverty said things were difficult.
"We're in a tough moment to have Visas approved," he said, referring to Diplo's concert, where a crowd of 450,000 watched the superstar DJ and producer perform in front of the then-newly established United States Embassy.
"It felt like a moment where there was going to be no turning back. But, as we see, it's not that situation today," he said. "We're very fortunate to have Cimafunk here."
As an example of the hurdles cultural organizations and concert organizers have to face under the changes by the Trump administration, Laverty pointed to the the Kennedy Center's unprecedented 2018 music festival. Due to a skeletal staff at the U.S. Embassy in Havana that resulted in a slow-moving visa approval process, more than 300 artists had to be flown to Mexico to complete their visa process completed at the U.S. Embassy there.
"It's a real challenge and rumor has it that Trump is going to make things worse. It's a tough moment and I will say that's why programs like this are important," Laverty said.
Also important in the development of Cuban music stars? The internet, which only got rolled out via public wifi spots in 2017 and to mobile phone users in 2018.
Having their music online got Cimafunk more listeners around the world, but the most special, the artist said, was when the band gained more exposure in his own country.
"The only way to get people in Cuba to listen to your music is through the television. So every time we post a video of the band performing, the most viewers are always from Cuba," he said. "It's exciting, but it's also new. When we first got here to the United States, to have people wanting to take pictures of us. It was something else."
And that's just another sign that music in Cuba doesn't just mean the supremely popular "Chan Chan" heard throughout most of the island's tourism hotspots.
And the same goes for the fans who have thus far showed up to Cimafunk's shows in the United States.
"It's amazing," he explained, referring again to the early part of performing in sold-out venues in Miami, Florida, Austin, Texas, and New Orleans, Louisiana.
"People asked me 'Why didn't I hear this Cuban music when I was there?' So it's been real cute to talk about our style of music," Cimafunk said.
"He's incredibly modest," Laverty said. "Cimafunk is on a fast-track to stardom. In fact, we came to the States a week early to make a stop in Miami because there is a list of artist who are currently sitting at the top of the Latin charts who are eager to collaborate with him.
"And then, when we played shows in New Orleans, we met fans who drove there from Austin and Miami because they couldn't get into those sold-out shows. That's the nice thing–Cubans are everywhere and they show up."
Cimafunk plays New York on the 17th and 23rd of April (tickets). He plays the Grammy Museum in Los Angeles on the 30th of April, and Complex in Oakland, California, on the 2nd of May, before heading back to Miami for another show. (Details.)

Follow Sounds and Colours: Facebook / Twitter / Instagram / Mixcloud / Soundcloud / Bandcamp

Subscribe to the Sounds and Colours Newsletter for regular updates, news and competitions bringing the best of Latin American culture direct to your Inbox.
Share: