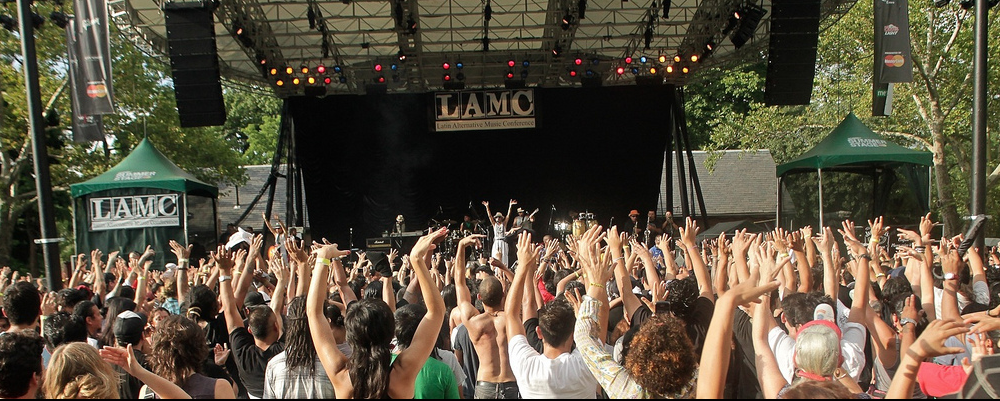 Karlo Ramos (2010)
Ladies' choice: Latin Alternative Music Conference in NYC
09 July, 2013
It's that time of the year again in New York, where fans of the very fluid Alt Latin music scene can find a show just about every night in the Big Apple thanks to the Latin Alternative Music Conference (LAMC).
Now in its 14th year, the conference runs from July 9 through the 13th, and continues to expand its efforts to reach a larger audience, including events in two boroughs beyond Manhattan this time around. Performances by a variety of artists and DJs, from Chile's indie pop rockers, Astro, to Venezuela's "criollo" hip-hop group, Cuarto Poder, can be found in Brooklyn and the Bronx.
As I peruse the schedule, however, I can't help but feel a tinge of anxiety: how is everyone (namely: me) going to see this all? Especially since this year's conference includes a spoken word event, a live art show, a documentary screening, panel discussions (on topics such as "DIY 2.0" and "Digital Dinero: Streaming and Social Media"), and showcases, of course.
Of course, I can't forget all the "unofficial" shows and parties scheduled for LAMC week, since it's a surefire way to discover new artists. And did I mention a feature Q&A with the legendary Ruben Blades? Where to begin?
For guidance, I went to the authorities on multitasking – women – for help planning my itinerary:
We begin with DJ Ushka, who says she's looking forward to seeing her fellow Dutty Artz crew DJing at different unofficial events all week. (ed. note: If you fancy dancing, these parties are not to be missed.)
"In terms of performances, there are so many great ones! I always love seeing Los Rakas perform (they'll be at Central Park's Summerstage), and I'm definitely looking forward to [Grammy winner] Lila Downs' performance, also at Summerstage," she says. "On Friday, I'm looking forward to the Nortec Collective from Tijuana, Mexican Institute of Sound, and Mariachi Flor de Toloache, at Celebrate Brooklyn: Prospect Park." (ed. Me too!)
"I'm always happy to see fierce women doing their thing at LAMC, including my homegirls from Washington, D.C, Maracuyeah (DJs Rat and Mafe), who are DJing on Wednesday at Public Assembly, and Lido Pimienta who is at the Hueso Records and PopGun showcase on Thursday," she adds.
Ushka actually helped to "open" LAMC week as she played at iBomba's unofficial warm-up party Monday night at Williamsburg hotspot Bembe. Look for her at SOBs on Wednesday as she and iBomba partner DJ Beto open for a new cumbia band out of Puerto Rico called Los Chinchillos Del Caribe. The iBomba crew will also provide butt-shaking music at the LAMC after-party on Thursday, also at Bembe.
Ushka recommends that everyone close out LAMC by heading to Que Bajo for the "LAMC: All Stars Edition" (too many great DJs to name) on Saturday at (le) poisson rouge. (ed. Advice: Get there EARLY.)
I mentioned cumbia from Puerto Rico above and, naturally, I had to check in with the woman who is bringing them to New York City – Nati Linares, aka, conrazon.
Linares, who developed the Futureroots series (celebrating new world world music) and also works in programming at Central Park's Summerstage, says she's excited to see Puerto Rican vocalist Mima at Joe's Pub. "It's a great venue for her and her music," she says. (ed. I agree. That venue was BUILT for global sounds.)
Linares' Futureroots series will bring Colombian gothic cumbia punk rockers, La Minitk del Miedo, to Brooklyn with support from Sacramento's World Hood (with Mandeep Sethi) and DC's Maracuyeah.
"Los Chinchillos del Caribe (at SOBs on Wednesday) I love because they are doing something they are not supposed to be doing – cumbia from Puerto Rico…what? Love that exchange there. Also Fat Joe and Los Rakas at SummerStage wlll be amazing. Astro with Helado Negro at SOBs is a great line-up, too," Linares says.
(ed. Check out Linares in front of the camera as she covered Azucar! A monthly queer Latin dance party that takes place in Brooklyn.)
A "conference music picks" story wouldn't be complete without the input of Catalina Maria Johnson, the Chicago-based music journalist and radio host/producer of Beat Latino. Since she writes as professionally the way she broadcasts on the radio, I'll leave her email intact:
"I'm always excited to see the wide range of artists at the LAMC! This year in particular, however, I will certainly be checking several clusters of artists. One the one hand, the LAMC chicas rule! From veteranas such as the incredibly versatile Lila Downs to artists reaching out on their own such as Argentine Natalia Clavier (Thievery Corp's vocalist), this will be a great year experience extraordinary women on the LAMC stages. The Mexican electronica realm is extra fun this year, with classics such as Mexican Institute of Sound as well as Tijuana's Bostich and Fussible from the Nortec Collective showcasing in addition to the Mexico City's Distrito Federal's Dapuntobeat. Finally the Venezuelan contingent is superb, including from punk rockers La Vida Boheme to singer/songwriter Ulises Hadjis to hip hop quartet Cuarto Poder to alt rockers Viniloversus. But the LAMC is not just about the showcases—I am very, very much looking forward to the panel with maestro Ruben Blades, what a treat to get insights into his thoughts and creative process!"
Independent journalist and my Colombian compatriota Monika Fabian shared her plans, as well.
"I am looking forward to the Ruben Blades's interview, Saturday at Summerstage—Julieta  Venegas , Alex Anwandter, and Carla Morrison; Lido Pimienta, et al, at the Glasslands Gallery in Brooklyn; [Newyorican hip-hop greats] the Ghetto Brothers at Crotona Park in the Bronx on Saturday; Que Bajo?!: LAMC All-Stars party, [Cuban, Puerto Rican, and American vocalist] Xenia Rubinos and Helado Negro at Mercury Lounge, Rico Suave's POP party ft. Alex Anwandter, and many more. I'm also just looking forward to being blown away and surprised and find tons of new favorite acts."
I also decided to bug Nuria Net, the always-busy managing editor at Fusion, Univision's new and exciting venture, for her picks.
"I'm looking forward to seeing Astro, as I've never seen them live, and my [Puerto Rican] compatriotas Fofe y Los Fetiches and Mima," Net says.
(ed. Check out Net's master's thesis on "Global Bass DJs," featuring many of Sounds and Colours favorites. It's a great read.)
Independent music journalist, Isabela Raygoza, shared her must-sees with me.
"I'm definitely hyped about Nortec Collective Presents: Bostich + Fussible coming back to New York. I hear they're about to launch a new party debuting soon with this dance group so I'm kind of eager to see how that's going to be," she says. "The Celebrate Brooklyn show with Mexican Institute of Sound is going to be sick. I can say no less about the The Gramercy showcase with Astro, La Vida Bohème, Bareto, etc. I also can't wait to see and hang with fellow journalists, industry and artists friends."
(ed. For the story behind LAMC, read Raygoza's recent piece in Austin Vida.)
Last, but certainly not least, are picks by Remezcla's City Editor, Andrea Gompf:
"There are so many! Some I'm looking forward to seeing are Alex Anwandter, Mexican Institute of Sound, Los Rakas, Los Master Plus, Julieta Venegas, RVSB, & Cholita Sound," Gompf says.
As for me, I plan on not sleeping  catching all or most of the above suggestions. I'll add that I'm excited to catch Afro-Colombian party starters M.A.K.U. Soundsystem and Mecánica Popular, at the Bowery Electric on Saturday. They always put on a good show.
However you plan on catching the official and unofficial action at LAMC, I recommend comfortable shoes and getting to venues early. And water! Drink lots of water in between each "not water" drink.
Finally, please, do say hello if you see me around. I'll be the one looking a bit tired and humming this tune by Los Rakas and Major Lazer as an energizer.
http://www.youtube.com/watch?v=r1mJnMpFs9k

Follow Sounds and Colours: Facebook / Twitter / Instagram / Mixcloud / Soundcloud / Bandcamp

Subscribe to the Sounds and Colours Newsletter for regular updates, news and competitions bringing the best of Latin American culture direct to your Inbox.
Share: