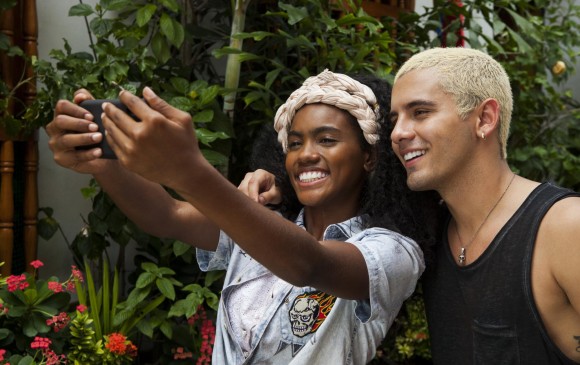 Netflix's 'Siempre Bruja' knocks it out of the park on soundtrack
19 February, 2019
Siempre Bruja (Always a Witch), Netflix's much anticipated original series based in Cartagena, Colombia, premiered earlier this month. It tells the story of Carmen, a 19-year-old slave and witch, who is in a forbidden relationship with the white son of her owner, thus she is sentenced to be burned at the stake. Somehow, she's saved while on the stake, and time travels to modern-day Colombia. There, she starts a new life, meets new friends and even goes to college. But Carmen, "always a witch," desires to return to her love.
As she is transported to modern-day Colombia, we see Carmen coming up on Cartagena's shore, and Barranquilla's Systema Solar's "Yo Voy Ganao" begins to play…
Not without its criticisms on storyline
If you conduct Google search for news on the series in Spanish, most of the news headlines are pretty neutral, some celebratory because it is Netflix's second original series based in Colombia (the first, Wild District, premiered in 2018):
La magia de Siempre Bruja llegó a Netflix (The magic of Siempre Bruja arrives on Netflix)
Una bruja y dos enamorados, con 400 años de diferencia (A witch and two lovers, with 400 years of difference)
'Siempre bruja', la segunda serie colombiana de Netflix, se ama o se odia ('Siempre bruja', the second Colombian Netflix series, is loved or hated)
There were a few that panned the storyline of the past, or the lack of consistent Colombian accent:
SIEMPRE BRUJA FAIL Serie Netflix Reseña Y Que pensé de la serie Colombiana
SIEMPRE BRUJA | #NETFLIX | Opinión/Reseña
In English, however, the tone is different:
Netflix's 'Siempre Bruja' Is a Tone Deaf Erasure of Slavery's Trauma
Netflix's Siempre Bruja conjures up racist tropes it's not equipped to address
Netflix's 'Siempre Bruja' is problematic but that could have been avoided
We watched it, of course! And, while we loved seeing an AfroColombiana as the lead character, the premise of a protagonist wanting to return to slavery over love was a bit of a head-scratcher. It somewhat reminded us of the young adult hit Twilight, also had a storyline that some feminists critiqued.
Without giving any spoilers, some of what is questionable in Always a Witch is addressed if you stick with the series. We recommend it as a way to support lead actress Angely Gaviria, the beautiful scenery of Cartagena, and, most of all, for the fantastic soundtrack. They knocked it out of the park with the music on the series, most of which are by AfroColombian bands/artists from the coastal regions, such as Tribu Baharú, Systema Solar, Pernett, Profetas, Zalama Crew, Papá Kumbé & Miranda, and Sángo Groove.
Oddly enough, the series opening song is the only track not by a Colombian artist. It's called "Puedes Ver Pero No Tocar," and it's by a songwriter named Shari Short, who is a former Miss Idaho. (It stumped us, but it seems she's written songs used in a lot of television shows and movies.)
Discos Fiera's Pablo Gallego on the soundtrack, which we gave an A+
We spoke with Argentine Pablo Gallego of the music label/licensing outfit Discos Fiera, who worked on much of the licensing of the music for the show.
Sounds and Colours: Hey Pablo! Did you work on the music for the entire series?
Pablo Gallego: Yes, I worked on the series. I proposed about 10 artists, of which six who are on the Discos Fieras roster, such as Pernett, Systema Solar, Sángo Groove, Zalama Crew, Tribu Baharú and Mareh. Last year, I created Discos Fiera with my partner (Juan Por Dios) and from there we began to offer a pool of services to our clients. This is how Caracol got in touch with us, inviting us to propose music for the series. We did an analysis based on the theme of the series, we proposed 10 artists (25 tracks), and ended up licensing 12 songs. Our work was to curate the music and facilitate the management of documentation and music synchronization licenses between the artisans and the client.
S&C: Are you based in Colombia? How did you get into the music business?
PG: I came to live in Cali nine years ago. I worked as a photographer for editorials, magazines, newspapers and artists between 2010 and 2015. In 2011, I started working at Delirio Hecho En Cali as director of the audiovisual and mapping department. I then got to manage Herencia de Timbiquí from 2012 to 2016.
In 2018, I came to live in Bogotá to manage Acido Pantera. I met several colleagues and artists who required my services, I began to look for a wau to accommodate certain independent artists for whom I have great admiration and affinity, with the idea of ​​offering label and agency services, and so it was that months later we created Discos Fiera.
S&C: Always a Witch got a lot of buzz here in the United States because they cast a black lead actress. But, the storyline of the series has been criticized. The positive thing we think everyone will agree on is the music. It's nice to see Afrocolombian fronted bands such as Tribu Baharú, System Solar, Las Poetas, and more, on the series.
PG: Music is our universal language! Clearly it is a fictional story. We are talking about the wishes of a character whose mentality is that of a witch of 1600 … in love!
S&C: The music isn't only Colombian, but most are bands fronted by AfroColombians. Did you have that in mind when choosing the music?
PG: The music we considered was simply of artisas that we admired, some of them Afro-Colombians, but not all. And that's was given that way because we were looking for synchronizable music that fit the story of the series: young, in Cartagena, a love story, fresh, beach and rumba … music with flavor, and the flavor is there: in the rhythms that they came to us from the African continent, either by the Antilles or by the Colombian Pacific.

Follow Sounds and Colours: Facebook / Twitter / Instagram / Mixcloud / Soundcloud / Bandcamp

Subscribe to the Sounds and Colours Newsletter for regular updates, news and competitions bringing the best of Latin American culture direct to your Inbox.
Share: