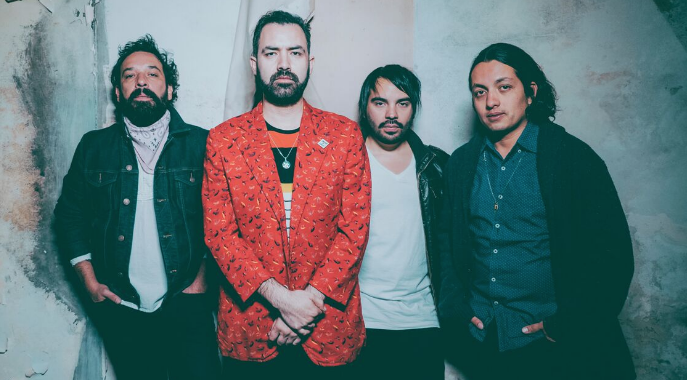 New Music: 'Debilidad' by Mexico's Centavrvs
13 April, 2018
Centavrvs is a musical project born in Mexico's capital that mixes regional music with electronic beats.
Latin Grammy nominees in 2015 for best alternative music album, the quartet were founded in 2011 "as a tribute to Pancho Villa and the Mexican Revolution." (Pancho Villa's nickname was 'El Centauro del Norte.')
We had a chat with the band about their home country, their influences and new album, Somos Uno, which was produced by Argentine musician Tweety Gonzalez, of the legendary Soda Stereo, that band's late frontman Gustavo Cerati and Fito Páez.
Sounds and Colours: Congrats on the new album and music video. With everything going on in the news between President Trump and Mexico, do you find the founding of your band as tribute to Pancho Villa to be more important?
Centavrvs: We think it is relevant to pay tribute to what Mexican Revolution symbolizes as a whole… it was the moment in Mexican history in which we realized the richness of our country and the demands of the unspoken ones, the moment south and north put aside their differences and join a common cause. Besides the names of our elementary school heroes, it is a moment for the human race to realize an offense to any country is an offense to all of us. We have to stop thinking "poor Mexicans," lets think "poor humanity, what are we doing to stop this?"
S&C: Who are your musical influences, either from Mexico and elsewhere?
Centavrvs: There's not a specific "who," we tend to consider ourselves as researchers of music, so we usually take a genre and dive in. Genres such as afrobeat, salsa, cumbia, chicha peruana, Mexican folk, of course; electronic music, dancehall, Brazilian music, like baile funk or tecnobrega; dub, broken beat, contemporary music, canciónes latinoamericana and many more!
S&C: I hear so many influences in your music. Obviously salsa in "El Punto Final" and cumbia in "La Valentina." Tell us more about what we can expect in your new record.
Centavrvs: We tried to make our own fusion based on what we like from all over the world, we realized in Somos Uno we wanted to give a homage to the music which comes as a result of blend of different cultures, just as it happened with salsa in New York or Chicano culture all over the United States. We all are immigrants, we all are mestizos, there's no such thing as a pure culture or a pure race so we just tried to make it more in your face, like a cultural statement of what's happening in the world. We need to remind we are all one and it is through our shared experiences as human beings that we can all grow together and learn from each others. We have a long way ahead, let's not forget we are all in this together.
S&C: One of your band member once told the New York Times, "Our music is the result of a 'new' Mexico completely inspired in the old one." Who are you excited about musically that came after you from Mexico?
Centavrvs: We'd like to mention two Mexican artist from Xalapa, Veracruz: the first one is Pehuenche (Rafael Meza). He is doing something really interesting mixing Mexican baladas from the 60's and 70's but also taking his jarocho roots into his music. The second one is Silvana Estrada, she's a really young girl, daughter of two outstanding luthiers (someone who builds or repairs string instruments generally consisting of a neck and a sound box). Her unique voice and songwriting skills won Charlie Hunter's ears so he and his sound engineer ended up recording her first album which has just been released last year. She is also joining Charlie Hunter's band for some shows.
Watch the video for the fourth single off Centavrvs' new album, "Debilidad," below:

Follow Sounds and Colours: Facebook / Twitter / Instagram / Mixcloud / Soundcloud / Bandcamp

Subscribe to the Sounds and Colours Newsletter for regular updates, news and competitions bringing the best of Latin American culture direct to your Inbox.
Share: