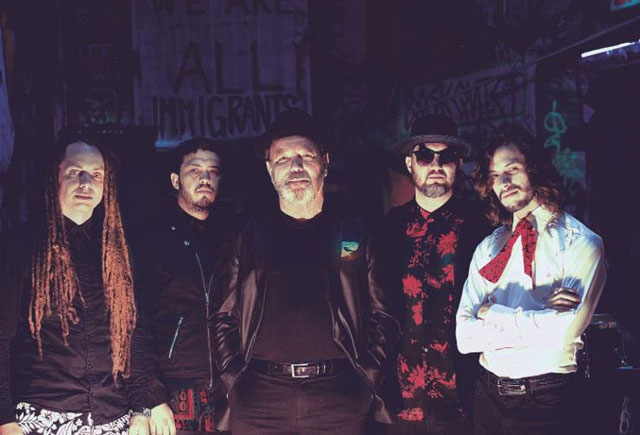 New Music: Making Movies feat Rubén Blades: 'No Te Calles'
18 January, 2019
There's something about listening to Rubén Blades passionately belt out the first lyric in a new collaboration with Kansas City's Making Movies. Here's a Latin music legend who wrote for the likes of Hector Lavoe, urging listeners to do something about issues that matter to them in 2019, and record their voices for inclusion in a final version of the song. What a time to be alive.
"No Te Calles," which premiered via NPR's Latino USA, and the video with OneRPM, is a new take of the band's English-language song, "Spinning Out." The lyrics of this Spanish language version were penned by Blades and produced by Steve Berlin of Los Lobos.
"Rubén wrote a new song that summarized the essence of our band," said Enrique Chi, singer and guitarist of Making Movies, who first met Blades when he shouted them out on the carpet of the Latin GRAMMYs in 2017.
"He asked for the lyrics (of our album I Am Another You)," Chi said. "We had made a record about the interconnectivity of the human race through the lens of our cousins' experiences. I sent him these ideas and he came back with 'No Te Calles.'
The chorus of "No Te Calles"  call for those listening to 'Sal a la calle / Y no te calles,' which translates to 'Go out on the street and don't be silenced.' Fans are asked to visit NoTeCalles.World, a web portal they can record their voices onto a chorus that will be added to the song. All the contributions will be stitched together in a musical and technological experiment called 'Making Movies and Rubén Blades ft. The World,' quite possibly the largest and most extensive musical collaboration in history.
"Popular music must become a part of the urban network to inform people objectively, educating people worldwide on the need to participate in a civic way to rescue democracy, defeat corruption and create a better and fairer society," Blades said in a statement. "We are asking them to become active, to inform themselves on issues, not to be silent, not to accept the present state of political corruption, mediocrity and indifference to truth as something inevitable. It can be changed, if you participate."
The song's lyrics are a powerful call against corruption:
¡Ay, no te calles! (Don't be silent)
¡Sal a la calle y no te calles! (Go out on the street, do not be silenced)
Pregúntate por qué (Ask yourself why)
perdiste toda fé, (You lost all faith)
¿Tu amor a donde fue? (Where did your love go?)
Te canceló el carnet (It cancelled your I.D. card)
¡Sal a la calle y no te calles! (Go out on the street, do not be silenced)
La corrupción ataca, ahoga con su trampa (Corruption attacks, chokes with its trap)
el político ladrón que destruye a la nación (political thieves destroys the nation)
This collaboration is the first in a global movement, according to the band, who have announced forthcoming works with Los Angeles' Los Lobos, New York City's Mariachi Flor de Toloache, and East LA's Las Cafeteras.
Watch the video above and record your part at NoTeCalles.World
And watch the band perform the original song, "Spinning Out," recorded at the offices of NPR's Latino USA, below.


Follow Sounds and Colours: Facebook / Twitter / Instagram / Mixcloud / Soundcloud / Bandcamp

Subscribe to the Sounds and Colours Newsletter for regular updates, news and competitions bringing the best of Latin American culture direct to your Inbox.
Share: