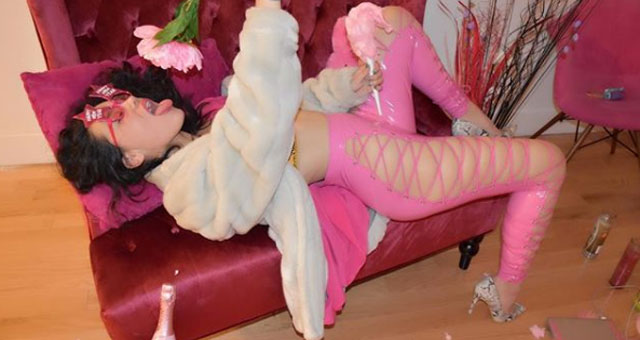 Nani Castle/Instagram
On Our Radar: Nani Castle, Dilemastronauta y La Tripulación Cósmica, Prince of Queens, J Hacha De Zola & a Bonus Mix by modrums
05 February, 2019
New year, new music, and the three on our radar this time around all hail from the New York City area.
STATEN ISLAND, N.Y.: Nani Castle, 'Nu Year'
The Bronx-born, Staten Island-raised rapper, dancer & vocalist Nani Castle (real name: Emiliana Castillo) hit the scene in 2015 with her mixtape Amethyst Tape. Early last year, The Chilean-American appeared on the late great Magin Diaz' album, on the track "Mujeres Mala," which also featured Bomba Estereo's Li Saumet, La Yegros, Kombilesa, La Bermúdez, and Monica Carrilo. Castle was the only one to spit in English.
Her debut album Sin York is set to drop on the 21st of February (with a party at Brooklyn's Baby's All Right on the 22nd!). Produced by her longtime musical partner Udachi, we can expect introspective and experiential lyrics about surviving in New York City as young teacher and artist, she said. This new track, which will appear on that album, was written at a difficult time, the rapper told us.
"I was in an abusive relationship that was difficult to leave. I felt very trapped, I often thought about what it would feel like to leave and what that would sound like," she said. "I'm letting this person know that's it's their funeral and they are dead to me essentially." We're sure he has heard it by now. Now it's your turn. Watch the video for "NU YEAR" below.
NYC/Colombia: Dilemastronauta y La Tripulación Cósmica, 'El Abuelo y La Pantera'
One of the many wonderful things to stem from the M.A.K.U. Soundsystem collective (who play on the 21st of February at SOBs in NYC) is the various members, current and former, who have formed side projects. Dilemastronauta y La Tripulación Cósmica, who specialize in tropical futurist vibes anchored by Afro-Colombian traditions, funk, blues, Afrobeat, dub and electronica, is one of those bands.
Dilemastronauta tells us that 'El Abuelo y La Pantera' tells the story of his grandfather—a mountain man who moved to the Colombian jungle and knew nothing about surviving in such a wild environment.
"The song talks about him meeting an indigenous person who taught him how to fish and grow food. Later on, he encounters a panther who reveals him the secret of life," he said. Watch the video of the band performing below.
NYC/Colombia: Prince of Queens (feat. Hellotones & Sonidero Blues): Cumbia por Las Sombras
Another product of M.A.K.U. Soundsystem, and also ANTI- Records' Combo Chimbita, Prince of Queens has been releasing some innovative tunes on vinyl (thankfully, digital, too!) via Names You Can Trust for a while now. His latest 12-inch EP, Merecutek, is a good one. A review in Resident Advisor says the record, recorded onto an eight-channel tape machine, sans computers or DAWs, with sequencers, drum machines and modular synthesizers, "reimagines house and techno through a 'tropical futurist' lens."
We like "Cumbia por Las Sombras," featuring his friends, cousins Hellotones and Sonidera Blues. Hellotones wrote the lyrics, while Prince of Queens took on the chorus. You'll have trouble standing still for this one. As part of the hook says, "No la aguantas."
Jersey City, N.J.: J Hacha de Zola, 'Syn Illusión'
J Hacha De Zola is an independent artist who caught our ear a while back. His Facebook page describes his music as: Urban Junkyard, Baroque Pop, Avant-indie, Downtown goth, Booze-gaze, Anti-folk. He lives in Jersey City, a city that realtors like to refer to as the "Sixth Borough" as housing prices in New York City continue to rise.
De Zola is prolific, just days ago releasing a horn-heavy new single, "Anarchy," from his forthcoming John Agnello (Sonic Youth, Dinosaur Jr.) -produced album Icaro Nouveau, expected in March. Luckily for us, his all Spanish-language EP, Syn Illusión (No Illusion), dropped in November.  Stream the dreamy, yet somewhat dark, title track below.
BONUS: NYC's MoDrums 'Roots of Soukous' mix
Just as we were about to wrap up this post, we noticed NYC's modrums (real name; Morgan Greenstreet) share a link to this recent mix he made for Red Bull Music Academy on Twitter.
The mix is described as a "non-chronological exploration of the roots and branches of Congolese rumba, cavacha, soukous and beyond. A journalist and a DJ, modrums recorded it for redbullradio.com in conjunction with a mini-history of soukous, which you can read here.
And with Barranquilla, Colombia's Carnavales right around the corner, why not share a mix of soukous, as the genre is where Colombia's popular champeta finds its roots.

Follow Sounds and Colours: Facebook / Twitter / Instagram / Mixcloud / Soundcloud / Bandcamp

Subscribe to the Sounds and Colours Newsletter for regular updates, news and competitions bringing the best of Latin American culture direct to your Inbox.
Share: