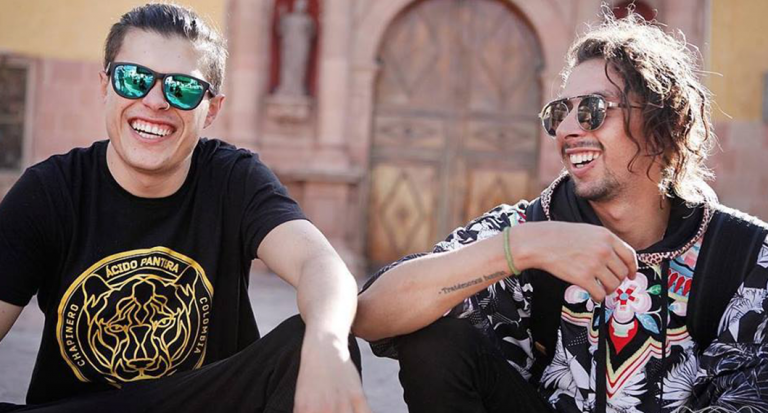 On Our Radar: Plu Con Pla, Acido Pantera feat Tribu Baharu, Novalima, Superfonicos & Strings N Skins
27 August, 2018
The business of alerting you to music we're really digging continues:
COLOMBIA: Plu Con Pla 'No Más Velorio'
Tumaco, Colombia's Plu Con Pla fuses traditional rhythms from the Pacific coast of Colombia such as Currulao and Bunde, with reggae, hip-hop, and subtle electronic beats. The 11-piece band take its name from a traditional dish popular in their port city: "Plu" stands for Plumuda, a local fish, and "Pla" is short for "Platano," the plantain you'll have on your plate nearly every time you eat lunch in Colombia.
Seeing them live must be magnificent: The set-up includes a complete Currulao section sets the vibe with a powerful vocal combo, traditional instruments from the pacific coast of Colombia (bombo, cununo, marimba), along with elements of West African origins (Ngoni, Djembe). They are joined by the force of a full reggae ensemble of drums, guitar, bass and keyboards.
The title of their first EP, "No Más Velorio " translates to "No More Funerals," which is the message the band wants to send "about how the region (in the southwestern part of the country that borders Ecuador) suffered from the civil war." The area is home to many AfroColombians and indigenous peoples.
"We ask forgiveness for whatever it is we've done, and we'll live in the clouds, that way we won't hurt anyone. We worked this soil, it was our land, but we'll leave it to you, because we don't want any more funerals," the song says. Listen below.
COLOMBIA: Acido Pantera feat. Tribu Baharu, "Gozza"
Tribu Baharu's brand of champeta is so lively thanks, in large part, to their energetic emcee, Shaka, real name Josue Moreno. Colombian DJs and producers, Acido Pantera, seized on Shaka's lively stage presence and remixed some of it into a banger, "Gozza."
"The idea of ​​the song is simple, it is the invitation for people to enjoy and share this combination with all the energy of the Tribu Baharu with our sound, creating electronic music from Latin America. 'Gozza' is the result of a permanent experiment that we call 'raíz digital (digital roots),'" says Juan Correal, one half of the duo, who just came off touring Europe.
PERU: Novalima 'El Regalo'
Novalima's newest record, Ch'usay, will be released on the 14th of September via Nickodemus' Wonderwheel Recordings. The album's name (internal voyage in Quechua, the language of the Incas) signals the AfroPeruvian band's latest musical exploration, ancient sounds and instruments from the Andes and the Amazons. This time around, Novalima goes one step further to enrich their sound by collaborating with new generations of local artists from the Peruvian music scene. The album also has offerings from global artists such as Esteban Copete (Colombian Marimba master) and Kumar (Cuban rapper based in Barcelona).
"El Regalo" sees the group reaching both into history and toward the future of Afro-Peruvian music. Pan flutes from a distant Andean past mix with fully contemporary sounds, of which up-and-coming psychedelic cumbia artist Paucar serves as a particularly meaningful symbol.
(Also read our piece on what we see as their five best songs of all time.)
COLOMBIA/TEXAS: Superfónicos 'Mercumbe'
Austin, Texas, based band Superfónicos is the musical meeting point between Colombia, Africa and the United States. Their debut EP, "Suelta, which is set for release on the 5th of October, pays homage to all three locales with a foundation in cumbia, sprinkled with healthy doses of Afrobeat and marinated in the school of funk. Superfónicos is Colombian Funk. Better yet, it is Caríbe Soul…fed by the Indigenous and African roots of the band's Colombian heritage. Check out their recent performance of "Merecumbe" for BalconyTV below.
NYC: Strings n Skins 'Cumbia del Olvido'
Founded in Brooklyn  in 2015 by vocalist and percussionist Okai and Latin Grammy award winner violinist Luisa Bastidas, Strings N Skins describe themselves as "Colombia meets Haiti in Brooklyn." The band have a new cumbia song about a woman who has her mind set on moving on. Filmed in NYC, it features some cumbia dancing and fierce determination to forget that ex she met in Bushwick.
Okai's rap lyrics are the perfect compliment to a song about forgetting.
"I told you all my secrets and you Wikileaked it. You almost took my vulnerability for weakness."

Follow Sounds and Colours: Facebook / Twitter / Instagram / Mixcloud / Soundcloud / Bandcamp

Subscribe to the Sounds and Colours Newsletter for regular updates, news and competitions bringing the best of Latin American culture direct to your Inbox.
Share: