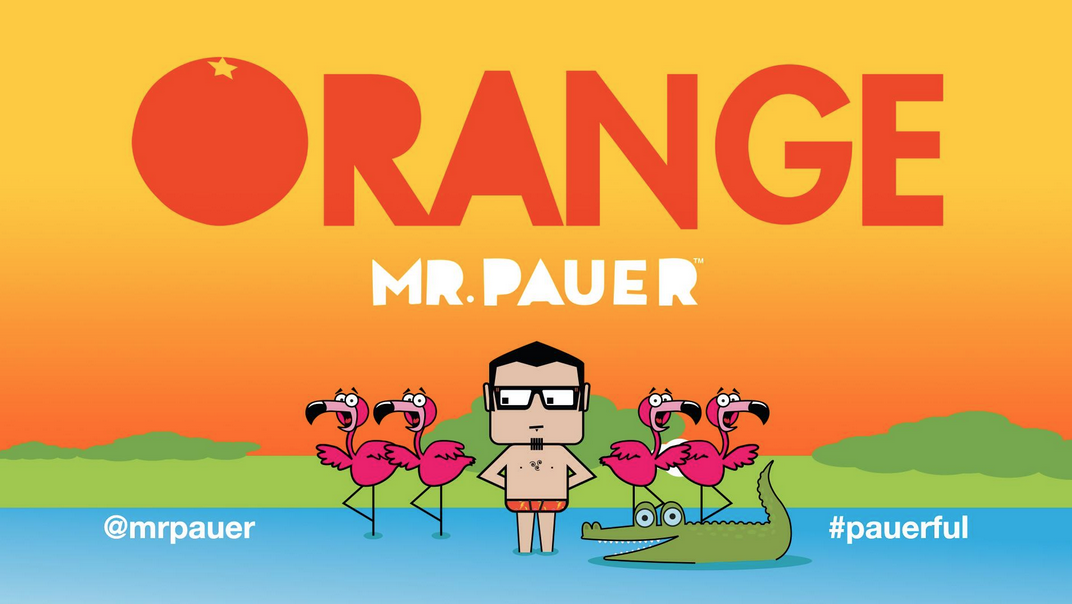 VIDEO PREMIÈRE: Mr. Pauer "Pasión (feat. Dama Vicke)"
06 August, 2015
Electrópico.
It's a subgenre coined by Miami's Mr. Pauer, a Venezuelan native who has been DJing and producing music in the Sunshine State's 'magic city' (Miami) of beautiful people for more than 15 years now.
A musician since the age of 12, Pauer (real name: Toto González) began playing instruments since he was about 10, taking a strong interest in percussion. As a teen, believe it or not, he didn't want much to do with the typical music (salsa and merengue) found playing in the caribbean city of Puerto la Cruz.
"I was in so many rock bands for years, when I was growing up. I was a big fan of alternative rock in Venezuela, and when I moved to the United States," he says "About 12 years ago, I started experimenting with music production. I went to school for it. Little by little started creating sounds, mashups for my DJ sets."
Soon, "electrópico," a fusion of electronic dance music mixed with music genres originated "between the Tropic of Cancer and Tropic of Capricorn like Salsa, Zouk, Reggae, Cumbia, Dancehall, Merengue, Kuduro, etc.," began to form.
"It became my sound. I always say it's the combination of conscious and unconscious music influences—growing up in Venezuela, salsa and merengue always playing, but I'm a rocker. All your memories are attached to some Fania song or some Wilfredo Vargas, but I was more connected to Nirvana. It was the 'fight'  between the rock and electronic. Conscious and unconscious."
This combination netted Mr. Pauer a "Best Alternative Album" Latin Grammy nomination for his album, Soundtrack in 2011.
"It was my first attempt to go out there with a new name. That was my journey. It was my rebel side coming from [rock] bands. And, it's still a journey," he says.
Next month, Mr. Pauer will release his next work, a highly collaborative one, called Orange. (Watch him describe the project with our friends at El Parlante Amarillo here.) The video for the album's second single, "Pasión," featuring Mexican-American Miami-based singer, Dama Vicke, premieres below. It was directed by Rafatoon, a motion graphic artist and art director from Bogotá, Colombia.
I got to watch Mr. Pauer perform many songs off of Orange, featuring an almost pageant-like presentation of vocalists he is collaborating with, during the Latin Alternative Music Conference (LAMC) this past July.
"With this work, I'm taking it to next level. Two people on stage with music, me drums, Daniella doing accordion. It has 14 songs with 13 vocalists," he says. (Ed. note: I wasn't kidding about the pageant thing! There are lots of singers involved, and they're all pretty beautiful!)
"That's the beauty of living in a multicultural place like Miami, we've got so many different nationalities," Pauer says. "I have 12 nationalities involved in the music production and there is singing in four languages–all from Miami. Some of them sing in English, Spanish, creole or Portuguese, but at the end of day, it's a Miami born sound."
We were especially taken with one of the male singers Mr. Pauer trotted out — Tumbao (Camilo Rafael Sierra), a Miami vocalist born in Puerto Rico. The kid has a great voice.
"This isn't just my album," Pauer says. "It's a matter of how can you activate 13 other careers. They come from the worlds of pop, hip hop, latin funk, etc. It was an experience for them to work with me, and vice versa. I love to create mashups have traction, and that aren't supposed to happen, a bolero with dub or a merengue with electro, or tambores from Venezuala with hard electronic sound."
And why the name of the album, Orange?
"It represents the official state fruit of Florida, y cuando hablas de una naranga, tienes muchos gajos (when you consider an orange, it has many segments), and that's what Mr. Pauer represents," he says.
Pauer is a trained graphic designer, and so the project's art and video projections are also his. Look out for Mr. Pauer touring the United States and Mexico for the rest of this year. Watch his new video below, and follow his work on Facebook and his website.

Follow Sounds and Colours: Facebook / Twitter / Instagram / Mixcloud / Soundcloud / Bandcamp

Subscribe to the Sounds and Colours Newsletter for regular updates, news and competitions bringing the best of Latin American culture direct to your Inbox.
Share: