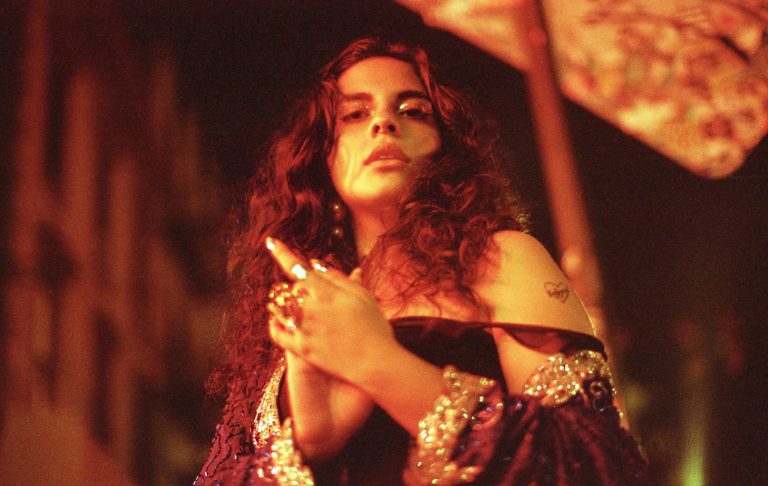 Ricardo Martinez Roa
Girl Ultra Is Trailblazing the R&B Scene in Mexico City (and beyond)
14 November, 2019
Mariana 'Nan' de Miguel, alias Girl Ultra, is the Mexican starlet writing the history of contemporary R&B in Mexico City, and further afield. Listed as one of Dazed's "most influential people shaping youth culture", alongside artists like Rosalia and Tierra Whack, heads are certainly turning her way.
Girl Ultra will play in London for the first time next Monday 18 November, so we thought we'd call her up for a chat ahead of the show.
I catch up with Mariana over the phone in Berlin, where she's waiting to get a spider's web tattoo. By the end of our conversation I certainly feel entwined in her silky web. She's lovely. Not only is Mariana forging the current sound of indie pop and R&B in Mexico through her stylised compositions and sweet melodies, but her vision is to do it as part of a team.
"I feel a responsibility to bring together this community in my city," she tells me. "Any music scene at any time has been built on teamwork. I don't want to be alone in it." Despite the waves she's making – Girl Ultra has been dubbed a "trailblazer" and a "bleeding-heart R&B diva" – she says, "I'd trade a label for a big R&B scene in which we're all nailing it."
The proof is in the pudding. Take the video for "Ruleta". A playful scene of diverse women making themselves up in a dressing up box of vintage pieces, before partying the night away at a retro CDMX party. There's this strong desire for beauty, in part overcome by a youthful sense of freedom and by celebrating each other. The closing credits read: "Most of the people you see in this video are incredible Mexican artists // Please take the time to listen to them and give them some love // Music is not a competition // Nan de Miguel (Girl Ultra) <3".
Girl Ultra is redefining the international view of Mexico by creating generational, rather than national, music. Growing up with Nickelodeon and bright pop culture, then owning a computer and searching through the mellow discographies of J. Dilla, Erykah Badu, discovering the rawness of Aretha Franklin and Marvin Gaye, led Mariana to develop a musical consciousness and begin writing.
It was this melodic R&B sound that came out. "It just felt really comfortable", Mariana explains. You can hear this in her sliding, woozy, romantic vocals, for example on "Dame Love", a recent collaboration with Cuco (which will feature on her forthcoming second album Nuevos Aires), or on her breakup album, Adiós. Her vocals, over electronic drum beats and twangy indie guitars, woo the ear with the sweetness of horchata.
"I never had musical boundaries", she states. Mariana would listen to big Latin composers Juan Jose and Juan Gabriel alongside Pink Floyd when growing up. "There's something amazing about love songs. I've been rediscovering bolero from my parents' and grandparents' records. There's a really raw feeling to it. It's all about human relationships."
You wouldn't guess Mariana was a low-key observer, shy even, when checking out her stylised, sexy, strong videos. "As Girl Ultra, I feel like this '80s woman possesses me. She's a femme fatale, outgoing, with a strong sex drive."
I ask about Girl Ultra's wardrobe. "Okay, I'm a vintage hoe. I steal from my aunties and my grandma and love vintage shoes." I think Mariana will have some fun gleaning the treasure trove of London's vintage and second-hand clothes shops.
In the same way that Mariana repurposes old clothes, she breathes new life into her own material. "Everything has the power to transform. You gotta use this to your advantage." On her current tour, she's adapting her older album Adiós into organic arrangements, finding a meeting point between Girl Ultra a year ago and on her new album: "I'm morphing my old stuff to who I am right now."
Nuevos Aires, Girl Ultra's soon-to-be-released second full-length studio album, is a raw interpretation of love. "It's from a woman's perspective and draws on different types of love, like forbidden love. There are songs about nostalgia, there's a song to my city, there's even a love song to love," she divulges. "There's a completely new energy on this album."
So what can we expect at her London show? Spanish-language crooning love songs, risqué vintage silks and a whole lot of stage presence. "The most sacred moment of my life is being on stage," Mariana says earnestly, "I really cherish it. It's some serious shit." It's Girl Ultra's first UK show, "so we'll see how London reacts. It's an experiment. To catch the vibe."
"The most sacred moment of my life is being on stage. I really cherish it. It's some serious shit."
What I gather from chatting with Mariana and listening to her magical collaborations is that through her calm energy, warm heart and smooth talent she connects with people. "Bye Bye" feat. Fntxy is irresistible, "Fuera de Lugar" with Little Jesus is a seemingly effortless alternative bop, "No Sé" with Ximena Sariñana is synthy sweetness with a sprinkle of reggaeton.
"Every collaboration came from or made a friendship," Mariana explains, "It's one of my favourite parts of writing. I pay attention to the creative process of those I admire. You also learn a lot about yourself sharing the studio, it's refreshing."
Who would she like to collaborate with in the UK? "Rex Orange County… or King Krule. I relate to his music too much." And in the world? "I'm open to whatever. I'd love to do something with Emmanuel Horvilleur of Illya Kuryaki y Los Valderramas. They were kind of the precursor to R&B in Latin America and I've loved rediscovering their discography… Steve Lacy could also be a good match."
Girl Ultra plays her debut London show at Waiting Room, Stoke Newington, on Monday 18 November ahead of the release of her new album Nuevos Aires, via Finesse Records, on November 22.
Check out Girl Ultra's most recent track, "Discreción", below:

Follow Sounds and Colours: Facebook / Twitter / Instagram / Mixcloud / Soundcloud / Bandcamp

Subscribe to the Sounds and Colours Newsletter for regular updates, news and competitions bringing the best of Latin American culture direct to your Inbox.
Share: