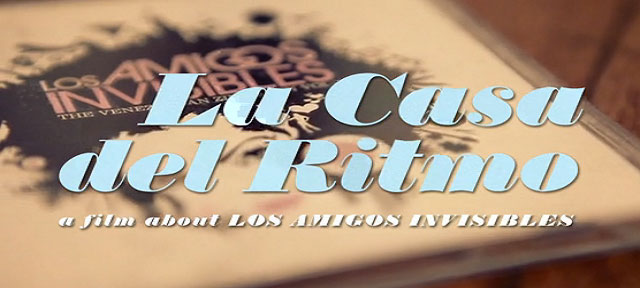 La Casa Del Ritmo
23 March, 2013
Los Amigos Invisibles have had a charmed career, there's little doubting that. Out of what sometimes feels like a musical desert they emerged out of Venezuela in 1998 with their first international release (and only second album in total) and have gone from strength to strength ever since, with releases on a variety of international labels, tours around the worldwide and a glut of Grammys (both Latin and normal). They're actually so popular with these particular awards that even their outtakes EP Not So Commercial was nominated for Best Latin Rock, Pop or Urban album.
La Casa Del Ritmo is a documentary which attempts to tell the story of the band. Featuring interviews with all band members as well as David Byrne and Yale Evelev (both of Luaka Bop records), the documentary was funded by a Kickstarter campaign in honour of the bands 20 year career. The film splices footage of these talking heads between songs captured at a performance at New York's Highline Ballroom on March 11th 2012. Showing the band at the height of their powers, a clearly-enthralled audience and a cross-section of the group's greatest hits, it's this performance which gives the documentary it's flavour. It is, after all, exactly for this reason that Los Amigos Invisibles exist. With a sound that draws heavily from soul, funk, disco and acid jazz their modus operandi has always been to get people dancing, and that is exactly what they do with hits like "Cuchi Cuchi", "Una Disco Llena", "All Day Today" and "Esto Es Lo Que Hay" (their big salsa tune!)
In short it's these songs which show why the band are so popular. Despite a tendency to camp it up on their disco numbers and pump out the day-glo Latin house beats from time to time their own brand of funk is a little tougher than this suggests. Rather than Scissor Sisters or Jamiroquai their sound often has the gritter quality of early Red Hot Chili Peppers or Cafe Tacvba, with a variety to their set that leaves barely a moment to rest.
It's interview segements of the documentary that let it down. Although these do a fine job of depicting the group's early days, their rise to success and then subsequent career, as it's only the band and their record label talking it often feels very one-dimensional. In other words, it's hard to grasp actually how significant the band are in Venezuela, how significant they are in New York (where the concert takes place) or even whether their fans are generally Latinos or across the board. It's here where the contributions of journalists, other musicians and experts – both inside and outside of Venezuela – could have really given a good account of just what exactly Los Amigos Invisibles means to the world.
What we're left with is a great concert movie and band biography rather than a great documentary. While the film shows what a force Los Amigos Invisibles can be in concert, it also makes them seem quite isolated. We're given little impression of Caracas (where all of the band members are from), of their influences aside from a few salsa records, or even of bands that have been influenced by them.
Ultimately, La Casa Del Ritmo was made by fans for the fans, and it's them which will enjoy it the most. If you're not a fan then it's hard to see what you'll get out of this as other than a brief appearance by David Byrne and the live concert. The rest of the film is really just a group of musicians talking about making and releasing music.

Follow Sounds and Colours: Facebook / Twitter / Instagram / Mixcloud / Soundcloud / Bandcamp

Subscribe to the Sounds and Colours Newsletter for regular updates, news and competitions bringing the best of Latin American culture direct to your Inbox.
Share: