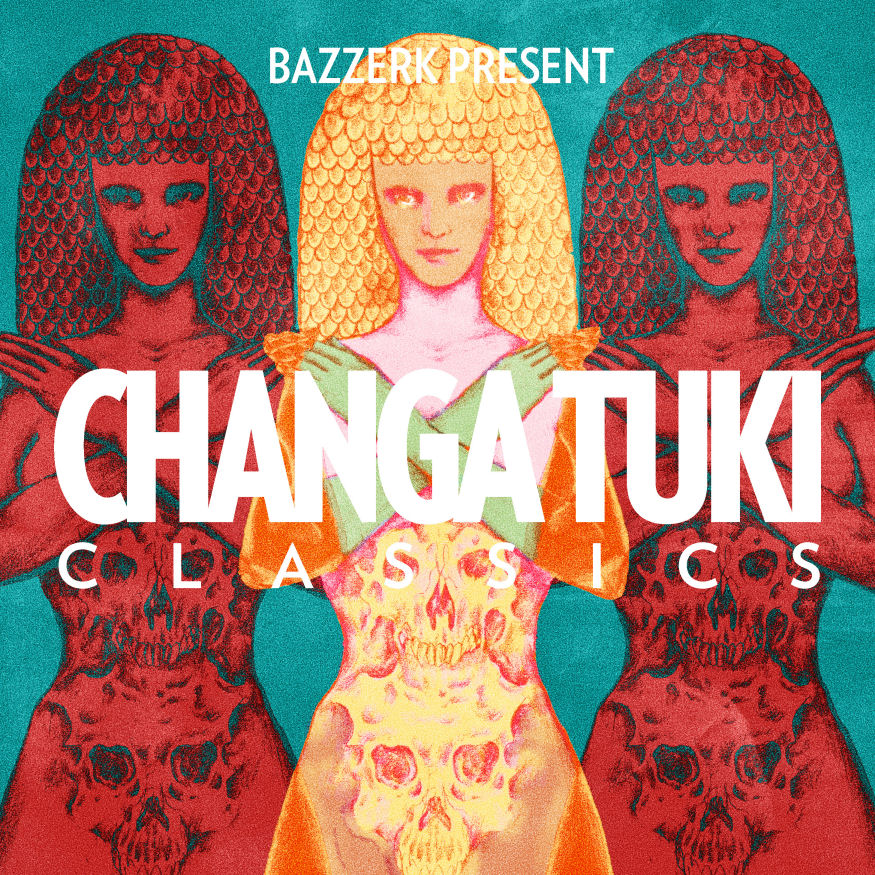 Beat hunting French duo Jess and Crabbe have been responsible for compiling genre-defining recordings of the best of the global bass movement in the past two years, most recently their collection of Angolan, Portuguese and South American kuduro, Bazzerk. The DJ duo has now given the same special treatment to changa tuki, the Venezuelan barrio dance craze that is emerging on the world stage. Changa Tuki Classics is not only a representation of the pioneers and the best music that has come out of the movement; it is also a look into the complex culture and influences behind changa tuki.
As with Bazzerk, Jess and Crabbe have managed to crate-dig their way into creating a collection of classics that you'd be hard-pressed to find in any record store, specifically because changa tuki culture, like hip hop and rap in the 70s and 80s in the United States, is all about the mixtape and the street sold CD-Rs. For any old school techno fan (or any form of electronic music, really), Changa Tuki Classics is a trip down memory lane. As the genre is deeply influenced by 90s techno and MC culture, the songs are all in the 135 to 140 bpm range and they're closer to the techno classics than anything you might hear out of the scene today. The production on most of the tracks is incredibly clean, but you won't find any of the glitter and dust of recent electronic music productions. In fact, with Changa Tuki Classics you get hard-thumping percussion lines, plenty of break beats and the ubiquitous siren; the call of any hardcore party-goer to get to the dance floor.
It's amazing how much UK tribal and Chicago house has also influenced these musicians; you can hear the beats meant to get under your skin in DJ Yirvin's "Ya Yahoo" and "Popo Sound", and Dj Yet's "You", among others. Dj Baba's "Bass This (Incognitus Mix)" is also a gem in a record full of them, proving that you can go back to basics and still make music that sounds as fresh and relevant as anything out there. Pocz, Pacheko , Jairomendezz and M Peach, the "new school" of changa tuki , take over the last half of the record to show off the new sounds coming out of Venezuela in a sort of passing of the baton from the originators.
One of the funnest and interesting additions to the record are the interludes between every two or three tracks. These – like DJ Baba the Raptor's proclamation that "you aren't listening to some terrible pop, reggaeton or vallenato song" or Pocz and Pacheko's Abstractor Radio opening – are mostly there to establish and acknowledge the street cred needed to actually represent changa tuki, not only as a genre, but as a culture of its own. Much like 90s Caribbean underground reggae (very different from reggaeton), changa tuki is fuelled by loyalty to the different barrios and battles, in which not only the musicians but the dancers participate in.
If you don't know anything about changa tuki or if you're a fan, Jess and Crabbe have done an excellent job in creating a public record of an incredibly interesting and intense genre and culture. No tropical clichés run through this record. In fact, if they didn't tell you it's from Venezuela maybe you wouldn't know, and that is not a bad thing. In fact, I consider it a great legacy to have created music that has the chance to, not only transcend geographical and cultural lines, but also stand the test of time. And if it makes you dance your ass off, even better.
Changa Tuki Classics is out now on Mental Groove Records and is available from iTunes and Amazon
Listen to the album below:


Follow Sounds and Colours: Facebook / Twitter / Instagram / Mixcloud / Soundcloud / Bandcamp

Subscribe to the Sounds and Colours Newsletter for regular updates, news and competitions bringing the best of Latin American culture direct to your Inbox.
Share: