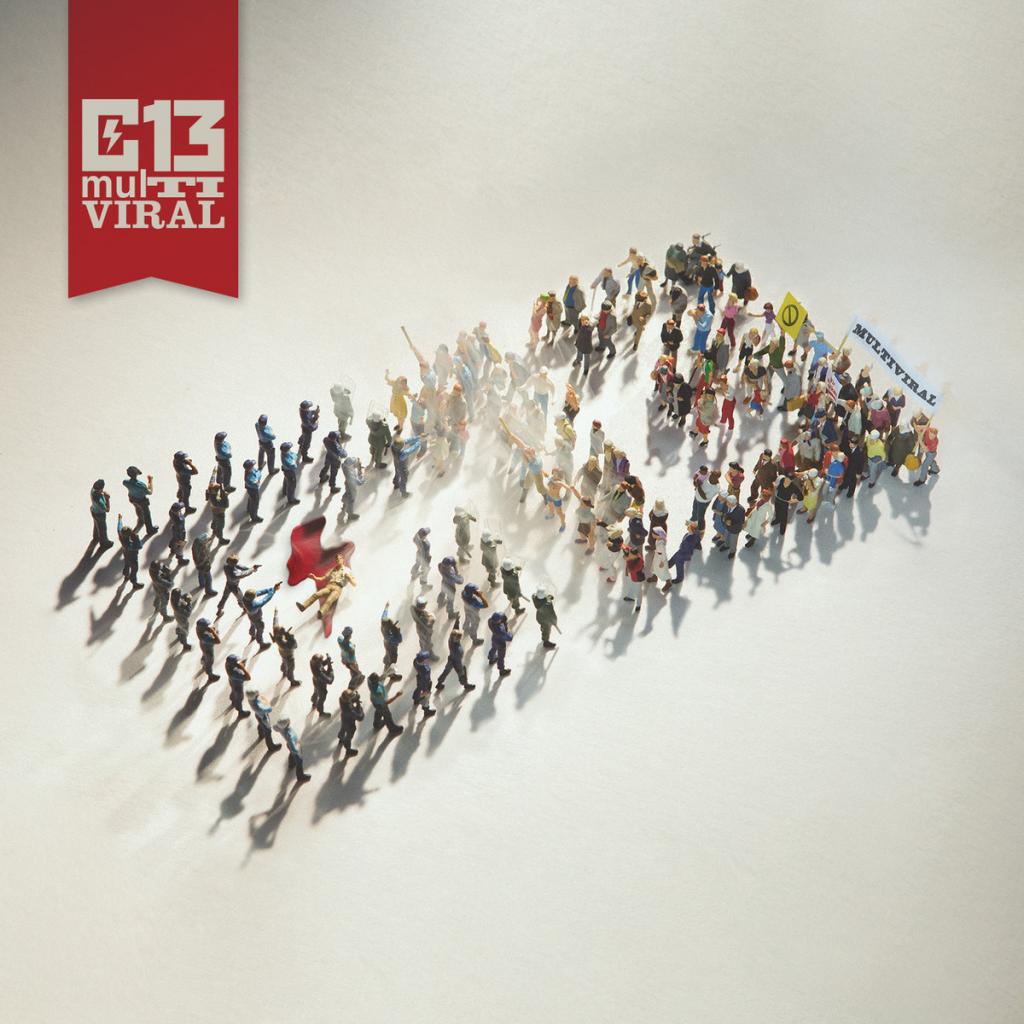 Few albums are as well crafted and thought out as Calle 13's fifth record MultiViral. Through it, the hybrid rap/alt-rock/urban/experimental band delivers its most sophisticated and best produced record thus far. It's playful, profound and melodic while having raw power and guts unlike any other. The combination of the album's arc, its craft and the variety of its sound while keeping a cohesive backbone is what makes MultiViral a virtually perfect record.
Like many of Calle 13's previous projects, MultiViral is a tour de force of intellectual flexing and lyrical gymnastics. The album begins with acclaimed writer Eduardo Galeano inviting the listener to take a stroll down 13th Street (Calle 13) and thus the journey begins. In what appears to be a nod to Galeano's Open Veins of Latin America, the first track is punctuated with a heartbeat reminiscent of indigenous roots mixed with an epic tinge of Explosions in the Sky-like guitar strings and drums. The build is great with René Pérez Joglar's lyrical dances culminating in "la muerte nunca nos venció porque todo lo que muere es porque alguna vez nació." Roughly, a battle cry saying that death never defeated us since things die only because they've been born. A perfect opening for the journey that lies in front of the listener.
Now, for the first interlude. And let's talk about the interludes, because both of them are so purposeful that it's mind-blowing. Normally, interludes are the time for a macho flex of shout outs, or often, they're cop-outs when you can't really figure out an album's flow. But in MultiViral they function as tiny introductions for the next track or artful transitions out of the previous one, thus gelling the record even more solidly together. The first interlude takes us out of the album's preface, so to speak, and into one of the best tracks of the record: "El Aguante."
Never did I think I would use a reference to Dropkick Murphys and mean it as a compliment. "El Aguante" is the song you want to hear in a bar before you go out and riot. It's a Celtic anthem, it's a political anthem, it's just an anthem like no other. Everything about this song, from its infectious beat to the brilliant use of found bar sound as Pérez Joglar (aka Residente) names all the things that human beings put up with (from the smell of cigarettes to Agent Orange to being seasick to war) to its ending with the sound of clanking cups as he raises a toast to putting up with things is inviting the listener to participate in Calle 13's revolution.
"Ojos Color Sol," the album's gorgeous love song (and maybe a reference to Pérez Joglar's wife, Soledad Fandiño) shows us MultiViral's soft underbelly, and like their Los De Atrás Vienen Conmigo track "La Perla" (featuring Rubén Blades), this song resuscitates another Latin American musical great: Silvio Rodríguez. Rodríguez's soft distinctive crooning is a great palate cleanser from the chaotic bar fight hymn we heard in "El Aguante." It's as if Calle 13 are letting us know that there is love even in the greatest acts of musical rebellion.
The album's single and title track is actually not the most interesting track musically speaking, but its inception is fascinating. The lyrics were taken from tweets that Pérez Joglar requested (and received) and he recorded the song with Julian Assange. It's a song similar to "La Bala" — with Tom Morello's guitar rocking out all over it. It has the raw power of a Rage Against the Machine song, made even more so with Julian Assange's narration and its collagey feel. It's powerful, yes—but not the most interesting track of the record, which just goes to show the type of solid ground that the album rests on.
The album's heart beats fast and furious on "Adentro," MultiViral's rawest track. If Pérez Joglar were Eminem in 8 Mile, this would be the battle-winning rhyme. It's what good hip-hop should be, lyrically pliant and intelligent, full of energy and completely unpredictable. Each beat and each rhyme is entirely satisfying, and as Pérez Joglar gets angrier and angrier with the song's progression, it's hard not to get chills. When he lists his faults for other rappers to call him out on, it's hard not to see these as signs of immense prowess. And they are. This song is magical and dark at the same time. Seldom has a track had such cojones. When Pérez Joglar spits "aunque para seguir siendo honesto, yo soy el mejor en esto" (if we're still being honest, I'm the best at this game), you cannot help but agree.
MultiViral soars, spits, takes you on a roller coaster and leaves you satisfied like no record I have heard in years. John Leguizamo transitions us to "Los Idiotas," a lightly hilarious song about the importance of being an idiot with an infectious beat. "Fuera de la Atmósfera del Cráneo" soars in the skies with its airplane sounds. "Gato Que Avanza, Perro Que Ladra" smartly says "no soy cuadrado, soy multilátero, soy lo que escuchan los boxeadores antes de subir al cuadrilátero." (I'm not square, I'm multi-lateral. I'm what boxers listen to before stepping onto the ring). And the last song "Así de Grande Son las Ideas" is a sweet conclusion about the immortality of ideas. It's the perfect bookend to the beginning Galeano intro, which mentions how when "old men die, they stretch their hands out" like babies, and this closing track is about a wise old man whose ideas strech beyond him. A perfect endnote to the odyssey that Calle 13 takes its listeners on in MultiViral.
MultiViral is available from iTunes and Amazon

Follow Sounds and Colours: Facebook / Twitter / Instagram / Mixcloud / Soundcloud / Bandcamp

Subscribe to the Sounds and Colours Newsletter for regular updates, news and competitions bringing the best of Latin American culture direct to your Inbox.
Share: