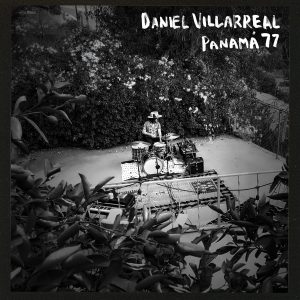 Review
Daniel Villareal – Panamá 77
Forever famous for its canal and straw hats, Panama could be creating some kind of drumming legacy: Billy Cobham, of course, and now Daniel Villareal, a celebrated sticks-man on the Chicago jazz and Latin scenes who was born in Panama City in 1977. And what a deft drummer he is! Admittedly, Villareal spent much of 2021 in post-production, adding layers of percussion and piecing the recorded music together with engineer Dave Vettraino; nevertheless the percussion comes over as natural, organic and anything but showy: a joy to listen to throughout, absolutely integral to the overall sound, subtle, funky and inventive. Villareal drums with two other outfits in the area that have blipped across the home radar: the Los Sundowns and Dos Santos, whose intermittently brilliant City Of Mirrors I reviewed on this site back in November of last year. It's as if Villareal has taken the brightest threads from its diverse canvas to weave a multi-textural debut album that works wonders.
The album's title suggests how personal a project this is, and the drummer himself describes it as "an affirmation of both my origin story and who I'm today." During his youth in Panama City, Villareal was part of the Central American punk and hardcore scenes, and it wasn't until his move to the U.S. around 20 years ago that he started playing traditional Latin music: at first on a farm, where he was a social worker helping migrant workers reach community health clinics, and latterly as a sideman on the Chicago music scene. If there's little immediate evidence of his punk roots on Panamá 77, the urgent two-minute, high-intensity first single, "Uncanny", comes to a sudden Clash-like halt, and there are faint echoes of the Velvets' "Venus In Furs" on the eerie and edgy "Cali Colors", with its drone-like strings courtesy of Marta Sofia Honer and some terrific minimalist guitar provided by ex-Tortoise, Jeff Parker. Both beautiful and slightly disquieting, it threatens to erupt throughout nearly six minutes. It doesn't, but keeps you on the edge of your seat. The other Honer string arrangement works a different kind of magic on "18th & Morgan", taking the listener back to the Mizell brothers' funky work in the 1970s with Blue Note artists, Donald Byrd and Bobbi Humphrey.
The album's modus operandi reflects its genesis in Los Angeles. Following a gig there in 2019, Villareal recorded an improvisation with a group of friends that included the aforementioned Mr. Parker. Subsequent recordings were added in LA and Chicago with different core bands to flesh out the raw material that would be embellished in post-production. As Villareal suggests, "I see my life and my music as a collaboration of improvisation and intention all in the spirit of community and joy." That collaboration is a keynote. Villareal and his chosen musicians brilliantly integrate jazz and Latin folk influences to create a rich textural variety, but a careful listen to many of the compositions reveals an often very simple underlying initial improvisation, built around, say, a basic drum pattern or bass, guitar or electric piano refrain. The second single, "In/On", for example, was constructed during the LA sessions around the first bits of music improvised by Villareal with Jeff Parker, once more, and bassist Anna Butterss. "Activo" seems to pair nicely with it: a six-note repetitive refrain over background crowd sounds fleshed out by some delicate guitar and percussion, building relentlessly to a subtle climax.
There are other discernible pairs. "Bella Vista" and "Messenger", vehicles for some sublime percussion work to open and close the album respectively, could result from the same improvised session – the former accompanied by a tenor sax, the latter by a guitar. "Ofeilia" and "Patria" both exude a Central American flavour characterised by an extra-terrestrial organ sound. The latter, the current single, translates as "motherland"; a tribute to the drummer's father, an accomplished organist, and its composer, Avelino Muñoz (also an organist).
Which leaves the wickedly funky "Sombras", with its chicken-scratch guitar (this time probably Nathan Karagianis of Dos Santos), phat bass and funky drumming; "Parque En Sais", characterised by jungle-rich percussion, electric piano and the influence perhaps of Chicago's revered Tribe collective; and "I Didn't Expect That", just over a minute's worth of conventional guitar-trio jazz.
I didn't expect these dozen tracks from a pair of big cities to be quite this good. Similar yet quite singular in their different ways, they defy genres and add up to a truly exciting, excellent first album. More soon, please.
Panamá 77 is out now on International Anthem

Follow Sounds and Colours: Facebook / Twitter / Instagram / Mixcloud / Soundcloud / Bandcamp

Subscribe to the Sounds and Colours Newsletter for regular updates, news and competitions bringing the best of Latin American culture direct to your Inbox.
Share: